2022 Israeli Elections: A Victory for Settler Colonialists or for the Palestinian Liberation Struggle?
EDITORIAL, 14 Nov 2022
#771 | Richard Falk – TRANSCEND Media Service
There is no doubt that the November 1st Israeli elections will be of lasting significance for both the evolving character of the Israeli state and prospects for realizing the basic rights of the Palestinian people. To put the issue more starkly, the months and years ahead will reveal whether Israel consolidates its status as a settler colonial state or, quite the opposite, the Palestinian struggle exhibits increased resistance to Israeli rule reinforced by an intensifying global solidarity movement, which is given added vitality by mobilizations of pro-Palestinian activism throughout the Global South and renewed support within the United Nations.
On the Israel side, the Netanyahu victory in this fifth attempt of the Likud in the last four years to provide the leadership of the Israeli governing process. The election was never consequential in terms of the fundamental issues of immediate relevance to the Palestinian people. A broad spectrum of the Jewish citizenry of Israel including the anti-Netanyahu opposition headed by Yair Lapid and Benny Gantz both affirmed the policies and practices of Israel that had led to the emergence of an international civil society consensus that Israel was guilty of imposing an apartheid regime of control on the Palestinians.
Also, outside the scope of contention in the election, was the maintenance of the strategic partnership with the United States and the continuing normalization diplomacy initiated at the end of Trump's presidency in 2020. Netanyahu's conforming views were summarized convincingly by the journalist and Israeli apologist, Bret Stephens, in the following self-serving language: "His views on the Palestinians reflect a resigned Israeli consensus: Peace will come when a future generation of Palestinian leaders — not the theocrats of Hamas or the kleptocrats of Fatah — abandon their dreams of destroying the Jewish state. Until then, Israel will accept an unhappy status quo as the best of bad alternatives." [Stephens, NY Times, Nov. 8, 2022]
What then made these election results significant? It is, first of all, Likud's willingness to embrace an electoral strategy that relied on a coalition with Religious Zionism (RZ), an ultra-nationalist political party headed by notorious anti-Palestinian racists, Itamar Ben-Gvir and Bezalel Smotrich. Netanyahu obviously cared so much about reclaiming leadership in Israel as to accept such notorious partners indicated how far his opportunism stretches. It is near certain that the Netanyahu cabinet will grant RZ unprecedented legitimacy and influence, thereby bringing to the highest echelons of government in Israel outright fascists and uninhibited advocate of state and civic terrorism. RZ leaders proclaim their readiness to expel forever Palestinians and even Jews from Israel who are deemed by their extremist standards 'disloyal' to the state of Israel.
Not only this, RZ proposes unilateral annexation of the West Bank and turning violence=prone settlers phenomenon loose to perpetrate daily acts of terrorism on Palestinian civilians. Such an ethos is captured by the recurrent street chant of RZ's powerful youth militant faction—'death to the Arabs.' Until recently Ben-Gvir had a portrait of Baruch Goldstein the perpetrator of the mosque massacre killing 29 Muslims at prayer hanging in his Hebron living room. We can presume that these views are not entirely uncongenial to Likud loyalists or to Netanyahu himself, who has shown annexationist, rightest, aggressive and racist tendencies during his long political career.
These tendencies seem inhibited only by his pragmatic concerns for power balances and relations with the U.S. In fact, relations with the U.S. has risen new heights of mutuality during the Trump/Biden presidencies, with the latter actually describing himself as a non-Jewish Zionist. It can be also taken for granted that Netanyahu will personally benefit from this alliance with RZ given that it accords priority to weakening the independence of the Israeli judiciary, which under their 'Law and Justice Plan' would lead to the dismissal of the corruption charges that have been hanging over Netanyahu's head for several years.
In the end these Israeli elections may turn out to be important mostly because of lending robust indirect support for completing the still unfinished project of establishing Israel as 'a settler colonial state.' There has been an overall failure on the part of Israeli critics to distinguish between the reality of a settler colonial state and the aspiration to establish and maintain such a political arrangement. As the leading theorist of settler colonialism, Patrick Wolfe, has emphasized, the project of settler colonialism seeks to replace the native population or completely marginalize its existence.
Despite the Nakba, or catastrophe, and continuing efforts at replacement and marginalization the Palestinian people remain a formidable demographic presence in Israel and Occupied Palestine with a strong record of steadfastness (or samud) in relation to their continued existential effort to end a prolonged ordeal of subjugation and uphold their inalienable right of self-determination. In this essential sense, Israel aspires to achieve a settler colonial reality but has not yet either completed the project in the manner of such states as the United States, Canada, and Australia or abandoned it as did Algeria and South Africa. Israel has coercively imposed and shamelessly claimed racial supremacy in its 2018 Basic Law but it remains subject to a credible challenge from the Palestinian resistance, and has not been able to replace or marginalize the Palestinian people.
And yet Israeli electoral outcome assumes an ominous importance. Without adopting the name RZ it seems likely committed to take further steps in the direction of completing the Settler Colonial Project. It rather openly favors ethnic cleansing in a further reenactment of the 1948 expulsion, the Nakba, and also seeks to push for an end to the 'occupation' status of the West Bank by incorporating the West Bank into Israel in a manner similar to the sovereignty effectively claims asserted with respect to Jerusalem after the 1967 war. How well Netanyahu the pragmatist resists the almost certain intense ideological push in support of the programmatic goals of RZ remains to be seen. He will certainly give ground if he wants to stay in power, but how much and with what effects remains an unknown. If one adds the highly religious parties, Shas and United Torah Judaism, to the leverage exerted by RZ, control in the Knesset will definitely shift its locus from secular Zionism to religious Zionism with an accompanying implicit commitment to a settler colonial outcome.
There are two notable examples of resistance to settler colonialism that bear close examination: Algeria and South Africa. In both instances, the colonialist domination and exploitation were accompanied by an interest in the de facto marginalization of the native populations. The settler presence in Algeria was strong, at one point representing 1/9 of the French population, and generating severe racist anxieties in France about treating Algerian natives equally with French citizens, a move was designed by colonialists in Paris to bring a measure of legitimacy to settler colonial domination. [see Joseph Massad, "Algeria, Israel and the Last European Settler Colony in the Colony in the Arab World," Middle East Eye, 19 July 2022].
Similarly in South Africa the settle colonial aspirations of the ruling European minority, about ¼ of the overall population, resorted to the establishment of tribal Bantustans that gave Africans nominal autonomy within assigned territorial enclaves that were notable for  poor agricultural land and thought to be without valuable natural resources. These attempts at stabilizing and legitimating settler colonialism failed, succumbing to the anti-racist and anti-colonial flow of history. Israel has so far been able to persist as a settler colonial project because of Zionist resolve and the benefits of Western geopolitical and geoeconomic muscle. Yet the road to Palestinian liberation is far from having reached a dead end.
Several factors, including some prior to the Israeli elections, suggest that a change in the direction of the political winds in favor of Palestinian aspirations might not be an empty dream. These include second thoughts in the Arab World on the net benefits of the normalization agreements, a revival of interest in the 2002 Arab Peace Proposals put forward by King Abdullah of Saudi Arabia, and a strongly supported UNGA Resolution condemning Israel's development, retention, and possession of nuclear weapons outside the regulatory scope the Nonproliferation Treaty regime.[See UNGA Res. A/C.1/77/L.2, 152-5, Oct. 25, 2022] Undoubtedly, the most influential of these pre-election developments helpful to the Palestinian struggle, was the historic First Report of Francesca Albanese in her role as the new UN Special Rapporteur for Occupied Palestine, which offers a compelling analysis of why the denial of the Palestinian right of self-determination is such a fundamental breach of justice and legal obligation. [A/77/356, 21 Sept. 2022]
The election themselves, while unlikely in the short run to weaken support for Israel among Western governments are likely to have a galvanizing effect on civil society actors, including faith communities and labor unions. The anti-Arab, anti-Islamic imaginary has become more vivid due to the prominence of RZ and the aggressive postures of Netanyahu likely motivated by this last chance to enhance his legacy by solidifying Israeli dominance and territorial through the further trampling on the basic right of the Palestinian people living under occupation. Currently, the biggest unknown, with a transformative potential to promote the Palestinian struggle is the possible awakening the Global South to the realization that until Palestinian self-determination is achieved the anti-colonial movement has not finished its work of ending European colonialism.
__________________________________________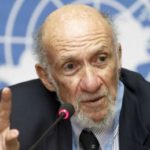 Richard Falk is a member of the TRANSCEND Network, Albert G. Milbank Professor Emeritus of International Law at Princeton University, Chair of Global Law, Faculty of Law, at Queen Mary University London,  Research Associate the Orfalea Center of Global Studies at the University of California, Santa Barbara, and Fellow of the Tellus Institute. He directed the project on Global Climate Change, Human Security, and Democracy at UCSB and formerly served as director the North American group in the World Order Models Project. Between 2008 and 2014, Falk served as UN Special Rapporteur on Human Rights in Occupied Palestine. His book, (Re)Imagining Humane Global Governance (2014), proposes a value-oriented assessment of world order and future trends. His most recent books are Power Shift (2016); Revisiting the Vietnam War (2017); On Nuclear Weapons: Denuclearization, Demilitarization and Disarmament (2019); and On Public Imagination: A Political & Ethical Imperative, ed. with Victor Faessel & Michael Curtin (2019). He is the author or coauthor of other books, including Religion and Humane Global Governance (2001), Explorations at the Edge of Time (1993), Revolutionaries and Functionaries (1988), The Promise of World Order (1988), Indefensible Weapons (with Robert Jay Lifton, 1983), A Study of Future Worlds (1975), and This Endangered Planet (1972). His memoir, Public Intellectual: The Life of a Citizen Pilgrim was published in March 2021 and received an award from Global Policy Institute at Loyala Marymount University as 'the best book of 2021.' He has been nominated frequently for the Nobel Peace Prize since 2009.
Tags:
BDS Boycott Divestment Sanctions
,
Colonialism
,
Cultural violence
,
Direct violence
,
Ecocide
,
Gaza
,
Genocide
,
Israeli Apartheid
,
Israeli Army
,
Israeli occupation
,
Middle East
,
Nakba
,
Palestine
,
Palestine/Israel
,
Sociocide
,
State Terrorism
,
Structural violence
,
Violent conflict
,
West Bank
,
Zionism
This article originally appeared on Transcend Media Service (TMS) on 14 Nov 2022.
Anticopyright: Editorials and articles originated on TMS may be freely reprinted, disseminated, translated and used as background material, provided an acknowledgement and link to the source, TMS: 2022 Israeli Elections: A Victory for Settler Colonialists or for the Palestinian Liberation Struggle?, is included. Thank you.
If you enjoyed this article, please donate to TMS to join the growing list of TMS Supporters.


This work is licensed under a CC BY-NC 4.0 License.