(Italiano) Fare Storia e Memoria E' Necessario. Il Percorso Atipico Proposto da Collettivamente Memoria per Il Giorno Della Memoria 2023
ORIGINAL LANGUAGES, 30 Jan 2023
Silvia Berruto – TRANSCEND Media Service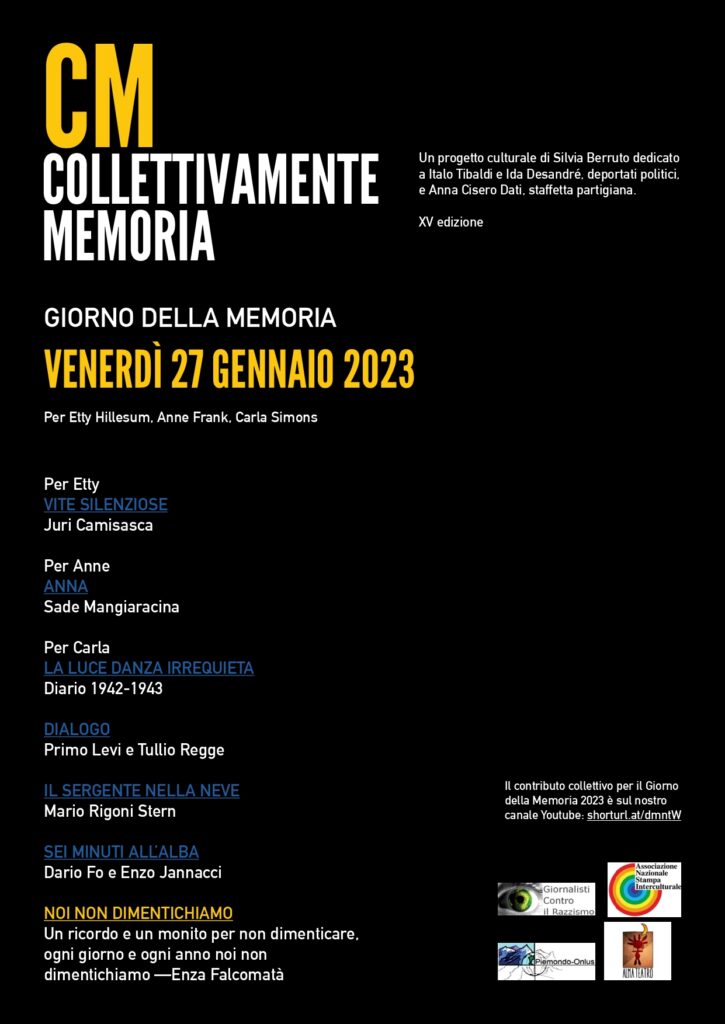 Silenzio.
Dal Silenzio. Al silenzio.
Il percorso per il Giorno della Memoria 2023, proposto dal progetto culturale Collettivamente memoria, ha un andamento circolare: dal silenzio al silenzio.
A' rebours.
Et vice-versa.
Dal Silenzio. Al silenzio.
Un silenzio assordante. Permanente. Senza possibilità altre.
Perché le parole non ci sono. Non, non sono sufficienti.
Possono esserlo i fatti e le suggestioni.
Le idee interpretate da chi sa portarci fuori dall'apparente fissità del silenzio, anche solo per un poco.
Con la forza dell'evocazione.
Vite silenziose di Juri Camisasca è dedicata a Hetty Hillesum.
Testimone a Westerbork e a Auschwitz.
«Quando preghi per qualcuno gli dai un po' della tua forza, alleggerisci le sue ali.  […] sola come un angelo ferito, con la voce piena di vita ti sento ancora gridare: mi basta essere, mi basta vivere, mi bastano poche cose. Mi basta essere, mi basta vivere, tra vite silenziose».
Destini incrociati per le tre donne a cui cerchiamo di rendere omaggio: Etty, Anne e Carla.
Quando dai suoni mozzafiato del pianoforte di Sade Mangiaracina ecco Anna.
Siamo catapultati, senza via di scampo, nella storia e nella memoria di Anne Frank.
Si apprezzino i diversi climax del brano.
L'ossessiva ripetizione di un fraseggio verso la fine del brano per oltre un minuto.
La ripresa di un frammento noto.
Poi la fine.
Indispensabile quanto necessario il diario di Carla Simons.
Dall'epilogo à rebours et vice-versa.
E' un'opera necessaria.
Meravigliosa quanto struggente.
Dalla mortalità delle esistenze all'immortalità dell'anima.
Persempre.
Dialogo è un testo necessario che ben restituisce la posizione ingombrante di molti noi quando veniamo messi all'angolo dall'incapacità e dallo spaesamento provati nei confronti della Shoah.
L'estratto da Il sergente nella neve per ricordare le guerre e le dinamiche, perverse, che in esse si producono.
Per il tenente l'anziano nel letto è un partigiano che, nella realtà, altro non è che un paralitico.
Le donne e i bambini …
A ricordare, se ancora ce ne fosse bisogno, che nelle guerre le vittime civili sono il 90%.
Sei minuti all'alba evoca gli ultimi minuti di vita di un partigiano prima della fucilazione.
Dedicata al padre, Giuseppe Jannacci, partigiano, che si è distinto per un'azione di difesa partigiana in piazza Novelli a Milano.
Enzo avrebbe sottilineato la motivazione della dedica così: «Vorrei dedicare questa canzone a mio padre, è importante ricordare visto che oggi (la canzone è del 1965, ndr) c'è chi confonde la Repubblica di Salò con la Repubblica di San Marino».
Imperdibile.
In milanés.
Senza fine è Noi non dimentichiamo di Enza Falcomatà.
Mònito e memoria insieme.
Nell'autenticità della dichiarazione di intenti che dice a tutti perché NOI di Collettivamente memoria lavoriamo ogni giorno sulla memoria.
E' l'unico contributo senza audio.
Nel silenzio assordante che ci circonda.
Questa serie di contributi non è la scaletta di uno spettacolo, non potrebbero mai esserlo.
Non è una commemorazione.
Non è una lezione.
Non è una lettura.
Non è.
E' un percorso piuttosto a ostacoli.
Con le testimonianze della volontà di vivere di Etty, Anne e Carla. Nonostante tutto.
Per quel che sta dentro molte e molti di noi che come qualcuno ebbe a dire: per quanto è stato e sta in te e non ti lascerà per sette generazioni.
E' un tentativo altro di fare storia e memoria attraverso le nostre suggestioni e il nostro portato culturali.
Chi sceglierà di percorrere questo percorso potrà costruirsene uno proprio, o nessuno, in varie direzioni, en avant et à rebours, trasversali. Con direzioni ostinate e contrarie.
Perché è necessario.
Noi non dimentichiamo, per la quindicesima volta, gli amici e maestri Italo Tibaldi e Ida Desandré deportati politici e Anna Cisero Dati staffetta partigiana.
Oltre a tutte e tutti quelli che non sono tornati.
Questo tentativo, ancora una volta per l'esattezza la quindicesima, non sarebbe stato senza:
il canto prezioso di Juri Camisasca che ha autorizzato «con gioia» – e ancora una volta – la proiezione del video,
la voce che dà canto alle parole del silenzio facendosi incanto, a cura della nostra amica e grande, grande, attrice Paola Roman,
Il pianoforte di Sade, vera rivelazione, non solo per me, per il brano Anne. Per l'empatia e per la forza che sprigiona,
la capacità di Enzo di farci essere presenti al presente,
la sensibilità e la sollecitazione quotidiana a non dimenticare per l'attivismo e la convinta partecipazione dell'amica sempre presente Enza Falcomatà,
la precisione, lo stile, la vicinanza e la locandina. Oltre a ore di lavoro lavorate in professionalità e la cura, a cura di Enrico G. che non so mai come devo presentare,
di tutte e di tutti quelli di Collettivamente memoria,
di tutte e di tutti quelli che ci sono accanto.
Dal Giorno della Memoria alla memoria di tutti i giorni come, ci, diceva sempre Italo Tibaldi,
attendo Vostre.
POSTER LINKS:
VITE SILENZIOSE


ANNA


LA LUCE DANZA IRREQUIETA. Epilogo


DIALOGO


IL SERGENTE NELLA NEVE


SEI MINUTI ALL'ALBA
________________________________________________

Silvia Berruto è membro della rete TRANSCEND per la Pace, Sviluppo e Ambiente, giornalista contro il razzismo, antifascista, amica e persuasa della nonviolenza.
® Riproduzione riservata
Go to Original – silviaberruto.wordpress.com
DISCLAIMER: The statements, views and opinions expressed in pieces republished here are solely those of the authors and do not necessarily represent those of TMS. In accordance with title 17 U.S.C. section 107, this material is distributed without profit to those who have expressed a prior interest in receiving the included information for research and educational purposes. TMS has no affiliation whatsoever with the originator of this article nor is TMS endorsed or sponsored by the originator. "GO TO ORIGINAL" links are provided as a convenience to our readers and allow for verification of authenticity. However, as originating pages are often updated by their originating host sites, the versions posted may not match the versions our readers view when clicking the "GO TO ORIGINAL" links. This site contains copyrighted material the use of which has not always been specifically authorized by the copyright owner. We are making such material available in our efforts to advance understanding of environmental, political, human rights, economic, democracy, scientific, and social justice issues, etc. We believe this constitutes a 'fair use' of any such copyrighted material as provided for in section 107 of the US Copyright Law. In accordance with Title 17 U.S.C. Section 107, the material on this site is distributed without profit to those who have expressed a prior interest in receiving the included information for research and educational purposes. For more information go to: http://www.law.cornell.edu/uscode/17/107.shtml. If you wish to use copyrighted material from this site for purposes of your own that go beyond 'fair use', you must obtain permission from the copyright owner.