Articles by Aída Chávez
We found 2 results.
---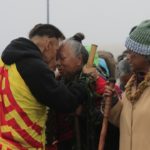 Activists Camped at Hawaii's Mauna Kea Face Government Opposition as They Attempt to Block Telescope Construction on Sacred Land
Aída Chávez – The Intercept, 29 Jul 2019
24 Jul 2019 – On July 17, police in riot gear arrested at least 33 Native Hawaiian elders, or kupuna, for peacefully blocking construction of a massive telescope on sacred land on the dormant volcano of Mauna Kea. The arrests came after the kupuna — some of whom use canes or wheelchairs — were blocking the road to the summit. Shortly after the arrests, Hawaii Gov. David Ige signed an emergency order to give law enforcement more authority to remove activists on Mauna Kea, close roads, and ensure delivery of materials to the construction site.
→ read full article
---
An Al Jazeera Reporter Went Undercover with the Pro-Israel Lobby in Washington
Aída Chávez and Ryan Grim – The Intercept, 16 Oct 2017
9 Oct 2017 – The four-part series, "The Lobby," dug into the Israeli embassy in London, as well as several other pro-Israel lobby groups, and their campaign to "take down" British Foreign Office Minister Sir Alan Duncan. The investigation led to the resignation of a top Israeli official in London, as well as a high-profile complaint that Al Jazeera had broken broadcasting regulations in the United Kingdom.
→ read full article
---