Articles by Alex Kane
We found 7 results.
---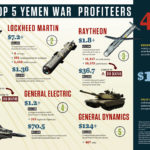 Here's Exactly Who's Profiting from the War on Yemen
Alex Kane – In These Times Magazine, 27 May 2019
June 2019 – The war has devastated Yemen's infrastructure, destroyed or damaged more than half of Yemen's health facilities, killed more than 8,350 civilians, injured another 9,500 civilians, displaced 3.3 million people, and created a humanitarian disaster that threatens the lives of millions as cholera and famine spread through the country. U.S. arms merchants, however, have grown rich. The U.S. could stop weapon sales if it wanted to.
→ read full article
---
How Israel Became a Hub for Surveillance Technology
Alex Kane – The Intercept, 24 Oct 2016
Israel's cyberwarriors are increasingly taking their skills to the private surveillance industry. And now Israel, the self-proclaimed "startup nation," is selling its products around the world to governments that want to spy on their own citizens.
→ read full article
---
A Look Back at What Snowden Told the World about the U.S.-Israel Relationship
Alex Kane | Mondoweiss – TRANSCEND Media Service, 3 Oct 2016
Snowden revealed a great deal about the U.S.-Israeli relationship. His leaks provide an unprecedented look at how the U.S. and Israel share intelligence, and also reveal the tensions in the relationship. What he told the world about the U.S.-Israel relationship.
→ read full article
---
It's Time for Israel to Disarm
Alex Kane – Al Jazeera America, 14 Sep 2015
A Nuke-Free Israel Will Create a More Stable Middle East – The American policy of shielding Israel's nuclear weapons continues to be the main obstacle to nuclear disarmament in the region.
→ read full article
---
"Combat Proven": The Booming Business of War in Israel
Alex Kane – The Intercept, 8 Jun 2015
The wars in Gaza have devastated the population, but they've benefited weapons manufacturers looking to market their products. Inside an Israeli arms expo.
→ read full article
---
6 Things You Buy That Help Support Israeli Brutality
Alex Kane – AlterNet, 11 Nov 2013
Some companies have factories located in one of the 125 officially recognized settlements in occupied Palestine, which are illegal under international law. Others contribute to the maintenance of an occupation through cooperation with the Israel Defense Forces, whose main goal is to protect illegal settlements and exercise dominion over the lives of millions of Palestinians. Buying these products gives profits to companies that exploit Palestinian land and resources.
→ read full article
---
Israeli Beauty Products Company Ahava Complicit in the Sins of Occupation
Alex Kane - AlterNet, 27 Sep 2010
Ahava is owned by entities deeply involved in Israel's settlement project in the occupied West Bank. Activists are fighting to show it can't hide its dirty side.
→ read full article
---