Articles by Brian Terrell
We found 3 results.
---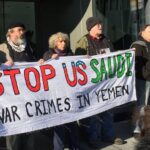 Ending the Other War in Yemen
Brian Terrell | Peace Voice – TRANSCEND Media Service, 15 Feb 2021
On 4 Feb President Joe Biden announced "we are ending all American support for offensive operations in the war in Yemen, including relevant arms sales." Stating an intention is not fulfilling it and considering Biden's further pledge, "to continue to support and help Saudi Arabia defend its sovereignty and its territorial integrity and its people," his use of the word "relevant" to modify "arms sales" could indicate a convenient loophole.
→ read full article
---
Drones, Sanctions and the Prison Industrial Complex: A Catholic Worker Report
Brian Terrell, warisacrime – TRANSCEND Media Service, 13 May 2013
In the final weeks of a six month prison sentence for protesting remote control murder by drones, I can only reflect on my time of captivity in light of the crimes that brought me here. In these ominous times, it is America's officials and judges and not the anarchists who exhibit the most flagrant contempt for the rule of law.
→ read full article
---
Message from Brian Terrell As He Prepares to Begin His 6 Month Prison Term for Protesting Drone Warfare
Brian Terrell – Voices for Creative Nonviolence, 19 Nov 2012
Last April [2012], Brian Terrell was arrested for trespassing while protesting the US drone program at Whiteman Air Force Base in Missouri. He must report to a South Dakota federal prison to serve six months for the misdemeanor. Novenber 14, 2012 – I just got word from the US Bureau of Prisons via Catholic Worker-attorney Ruth O'Neill that the institution that I am to report to by 2 PM on November 30 [2012] is the prison camp at Yankton, South Dakota.
→ read full article
---