Articles by Charles Webel
We found 4 results.
---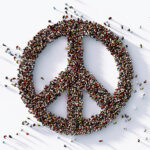 Is Peace Possible?
Charles Webel | UNYP – TRANSCEND Media Service, 2 Dec 2019
Most of us think we know what peace is, but people often have very different definitions of this apparently simple word. And although almost everyone would agree that some form of peace—however it is defined—is desir¬able, there are often forceful, even violent, disagreements over how to obtain it. Peace is like the human project itself—a work (and a word) in progress.
→ read full article
---
Assessing the War on Terror
Edited by Charles Webel and Mark Tomass – TRANSCEND Media Service, 27 Feb 2017
This volume is a collection of articles that critically examine the efficacy, ethics, and impact of the War on Terror as it has evolved since 9/11. It will be of much interest to students and scholars of terrorism and counter-terrorism, foreign policy, Middle Eastern politics, security studies and IR, as well as policy makers.
→ read full article
---
The Ethics and Efficacy of the War on Terrorism: Fighting Terror without Terror? Or How to Give Peace a Chance
Charles Webel | Tikkun – TRANSCEND Media Service, 5 Sep 2016
Throwing a bomb is bad,
Dropping a bomb is good,
Terror, no need to add,
Depends on who's wearing the hood.
— Roger Woddis
→ read full article
---
Terrorism: Origins, Analysis & Resolution
TRANSCEND Member Prof. Charles Webel - TRANSCEND Media Service, 9 Apr 2012
This course will focus on contemporary international terrorism, including the current "global war on terror." It will familiarize students with contemporary theories and methods of understanding and preventing terrorism, focusing on international conflicts and conflict resolution.
→ read full article
---