Articles by David Smith
We found 7 results.
---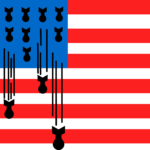 'Space Force': Trump Orders New Branch of US Military
David Smith – The Guardian, 25 Jun 2018
Trump claims plan will keep US ahead in space race, prompting fears over militarisation of space. We must have American dominance in space, he says.
→ read full article
---
Standing Rock Resistance: Something to Teach Us about Living Well
David Smith-Ferri - CounterPunch, 21 Nov 2016
Somehow, through all of this, almost all of the protestors remained peaceful, calling out to each other "Stand in your prayer," and holding their ground. And where they didn't remain peaceful, setting fires that burned a couple of cars, they were rebuked by the movement's leadership. In a statement made after the arrests, Standing Rock Sioux Tribal Chairman Dave Archambault II makes it clear that no form of violence by anyone is acceptable.
→ read full article
---
How Africa's Fastest Solar Power Project Is Lighting Up Rwanda
David Smith – The Guardian, 30 Nov 2015
East African plant is completed in less than a year – creating jobs and setting the country on the path to providing half its population with electricity by 2017.
→ read full article
---
Tanzania Accused of Backtracking over Sale of Masai's Ancestral Land
David Smith, Africa correspondent – The Guardian, 24 Nov 2014
Masai told to leave historic homeland by end of the year so it can become a private hunting reserve for the Dubai royal family.
→ read full article
---
Nobel Literature Laureate Nadine Gordimer Dies Aged 90
David Smith – The Guardian, 21 Jul 2014
Nobel-prize-winning chronicler of apartheid died peacefully in Johannesburg on Sunday [13 Jul 2014].
→ read full article
---
Palestine Poems after Operation Pillar of Cloud
David Smith-Ferri – Voices for Creative Nonviolence, 31 Dec 2012
The Israeli military's eight-day assault
on the people of Gaza
was no downy pillar of cloud
no feathered wing
moving lightly across the landscape…
→ read full article
---
Coca-Cola Accused of Propping Up Notorious Swaziland Dictator
David Smith in Johannesburg – The Guardian, 9 Jan 2012
The king has travelled to Coca-Cola's headquarters in Atlanta in the US, much to the disgust of Swazi political activists. Mswati III has 13 wives and hosts an annual dance where he can choose a new bride from tens of thousands of bare-breasted virgins. With a fortune of about $100m, he presides over one of the worst-off countries in the world, with most people living in absolute poverty. Political parties are banned and activists are regularly arrested, imprisoned and tortured.
→ read full article
---