Articles by Denise Chow
We found 1 results.
---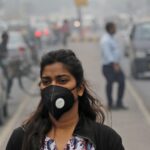 Carbon Dioxide in Earth's Atmosphere Reaches Record High, Researchers Say
Denise Chow – NBC News, 2 Dec 2019
25 Nov 2019 – The concentration of carbon dioxide in Earth's atmosphere has reached a record high, according to a report released today by the World Meteorological Organization. Carbon dioxide traps heat from the sun and can linger in the atmosphere for centuries.
→ read full article
---