Articles by Greg Grandin
We found 10 results.
---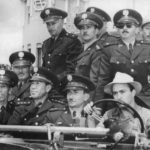 Washington Trained Guatemala's Killers for Decades
Greg Grandin and Elizabeth Oglesby – The Nation, 18 Mar 2019
The US Border Patrol played a key role in propping up Latin American dictatorships.
→ read full article
---
Sure, Washington Has Always Supported Democracy in Haiti
Greg Grandin – The Nation, 1 Feb 2016
American politicians' rhetoric on Haiti remains woefully disconnected from reality.
→ read full article
---
Eduardo Galeano: A Prophet Who Looks Backward
Greg Grandin – The Nation, 20 Apr 2015
Eduardo Galeano, one of Latin America's most beloved writers, died on Monday [April 13, 2015] in a hospital in Montevideo, after a long battle against lung cancer. His first book, Las venas abiertas de América Latina (Open Veins of Latin America), which the late Hugo Chávez famously presented to Barack Obama as a present, appeared in 1971.
→ read full article
---
Misery Made Me a Fiend: Latin America and the Torture Report
Greg Grandin – The Nation, 15 Dec 2014
11 Dec 2014 – A central player in the Bush-Cheney's torture program is Jose A. Rodriguez during the worst of the barbarity—the rectal hummus flushes, drills, dogs, broken limbs, sexual humiliation and assault, sleep deprivation, intense heat, intense cold, blood thinners, beatings and deaths from exposure. Rodriguez was born in Puerto Rico and joined the CIA in 1976.
→ read full article
---
Why the Left Continues to Win in Latin America
Greg Grandin – The Nation, 3 Nov 2014
Washington-led and financed anti-communism united the right's various branches. Without such an organizing principle the right can't electorally compete with what voters, all things considered, want: economic justice, a dignified life, peace and social welfare.
→ read full article
---
Cuba's Sending Doctors to Fight Ebola in West Africa — How Will the US React?
Greg Grandin – The Nation, 20 Oct 2014
15 Oct 2014 – Last week, BBC News reported that Cuba had sent 165 healthcare workers to Sierra Leone to help that country fight Ebola. Another 296 doctors and nurses are scheduled to arrive in Liberia. In addition to West Africa, Cuba is also sending specialists to Nicaragua, though that country has not yet had a reported case, to prepare local doctors and nurses in case there is an outbreak.
→ read full article
---
'The New York Times' Wants Gary Webb to Stay Dead
Greg Grandin – The Nation, 20 Oct 2014
Kill the Messenger, a movie starring Jeremy Renner, just opened, about the life and death of Pulitzer Prize–winning journalist Gary Webb, who committed suicide in 2004. Webb came late to the Iran/Contra scandal, long after most of the mainstream media had moved on.
→ read full article
---
'The Economist' Has a Slavery Problem
Greg Grandin – The Nation, 22 Sep 2014
Multiple commentaries from the journal show a pattern of making sure white people aren't taken for total villains when discussing slavery.
→ read full article
---
Reading Melville in Post-9/11 America
Greg Grandin – The Nation, 20 Jan 2014
The author's half-forgotten masterpiece, Benito Cereno, provides fascinating insight into issues of slavery, freedom, individualism—and Islamophobia.
→ read full article
---
The Latin American Exception: How a Washington Global Torture Gulag Was Turned Into the Only Gulag-Free Zone on Earth
Greg Grandin - TomDispatch, 25 Feb 2013
The map tells the story. To illustrate a damning new report, "Globalizing Torture: CIA Secret Detentions and Extraordinary Rendition," recently published by the Open Society Institute, the Washington Post put together an equally damning graphic: it's soaked in red, as if with blood, showing that in the years after 9/11, the CIA turned just about the whole world into a gulag archipelago. No region escapes the stain. No region, that is, except Latin America.
→ read full article
---