Articles by James Risen
We found 9 results.
---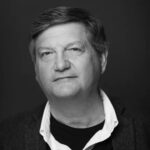 The Journalist and the Whistleblower
James Risen | The Intercept - TRANSCEND Media Service, 19 Apr 2021
13 Apr 2021 – As the government attacks press freedom, reporters must consider their responsibility to sources — and each other.
→ read full article
---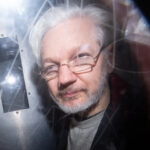 The Biden Administration's Continued Push for Julian Assange's Extradition Is Bad News for Journalism
James Risen | The Intercept - TRANSCEND Media Service, 15 Feb 2021
11 Feb 2021 – During the course of his career as the founder of WikiLeaks, Julian Assange has managed to anger both of America's major political parties. A successful prosecution of Assange could empower governments to go after journalists for publishing classified information.
→ read full article
---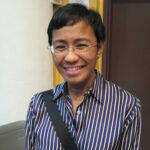 Philippines: Maria Ressa's Libel Conviction Is a Blow to Press Freedom
James Risen | The Intercept - TRANSCEND Media Service, 22 Jun 2020
15 Jun 2020 – Journalist Maria Ressa, who has long resisted efforts by Filipino President Rodrigo Duterte to throw her in jail and shut down her Manila-based news organization, was found guilty on criminal libel charges in a Filipino court today. The editor who has come to symbolize the global fight for press freedom now faces the prospect of up to six years in prison, even as she continues to fend off other legal assaults from the Duterte regime.
→ read full article
---
Trump Finds Reason for the U.S. to Remain in Afghanistan: $1 Trillion in Untapped Mineral Deposits
Mark Landler and James Risen – The New York Times, 7 Aug 2017
25 Jul 2017 — President Trump, searching for a reason to keep the United States in Afghanistan after 16 years of war, has latched on to a prospect that tantalized previous administrations: Afghanistan's vast mineral wealth, which his advisers and Afghan officials have told him could be profitably extracted by Western companies.
→ read full article
---
Pentagon Curbs Use of Psychologists with Guantánamo Detainees
James Risen – International New York Times, 4 Jan 2016
31 Dec 2015 – The United States military has sharply curtailed the use of psychologists at the prison at Guantánamo Bay, Cuba, in response to strict new professional ethics rules of the American Psychological Association, Pentagon officials said.
→ read full article
---
NSA Spying Relies on AT&T's 'Extreme Willingness to Help'
Julia Angwin & Jeff Larson, ProPublica; Charlie Savage & James Risen, The New York Times; Henrik Moltke & Laura Poitras, special to ProPublica – TRANSCEND Media Service, 17 Aug 2015
15 Aug 2015 – The National Security Agency's ability to spy on vast quantities of Internet traffic has relied on a single company: the telecom giant AT&T. It has given the N.S.A. access, through several methods covered under different legal rules, to billions of emails as they have flowed across its domestic networks.
→ read full article
---
Outside Psychologists Shielded U.S. Torture Program, Report Finds
James Risen – The New York Times, 20 Jul 2015
The report, completed this month, concludes that some of the American Psychological Association's top officials, including its ethics director, sought to curry favor with Pentagon officials by seeking to keep the association's ethics policies in line with the Defense Department's interrogation policies.
→ read full article
---
American Psychological Association Bolstered C.I.A. Torture Program, Report Says
James Risen – The New York Times, 11 May 2015
30 Apr 2015 — The American Psychological Association secretly collaborated with the administration of President George W. Bush to bolster a legal and ethical justification for the torture of prisoners swept up in the post-Sept. 11 war on terror, according to a new report by a group of dissident health professionals and human rights activists.
→ read full article
---
N.S.A. Collecting Millions of Faces from Web Images
James Risen and Laura Poitras – The New York Times, 9 Jun 2014
The spy agency's reliance on facial recognition technology has grown significantly over the last four years as the agency has turned to new software to exploit the flood of images included in emails, text messages, social media, videoconferences and other communications, top-secret documents reveal.
→ read full article
---