Articles by Palestinian BDS National Committee
We found 3 results.
---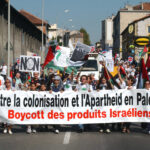 European Court of Human Rights Deals Major Blow to Israel's War on Palestine Solidarity
Palestinian BDS National Committee - TRANSCEND Media Service, 15 Jun 2020
11 Jun 2020 – ECHR rules unanimously that the French highest court's criminal conviction of Israel boycott advocates violates the article on freedom of expression of the European Convention on Human Rights. Decision has major implications for anti-BDS state repression in Europe including Germany, where advocates for Palestinian rights face fierce restrictions on their civil rights.
→ read full article
---
BDS Movement Calls for Solidarity Actions as Palestinian Prisoners Enter Fourth Week of Hunger Strike
Palestinian BDS National Committee | Mondoweiss – TRANSCEND Media, 15 May 2017
9 May 2017 – Today, the mass hunger strike by Palestinians in Israeli prisons is in its critical fourth week, at which point the hundreds of hunger strikers may find standing up difficult or impossible. The BNC is confident that this hunger strike demanding dignity and freedom will further nourish nonviolent popular resistance to Israeli injustice and advance the BDS movement's aspirations for freedom, justice and equality.
→ read full article
---
SodaStream to Close Illegal Settlement Factory in Response to Growing Boycott Campaign
Palestinian BDS National Committee - TRANSCEND Media Service, 17 Nov 2014
– SodaStream to benefit from Israel's displacement of Palestinians in Naqab
– Retailers and investors dropped SodaStream over BDS pressure
→ read full article
---