Articles by Philip Weiss
We found 9 results.
---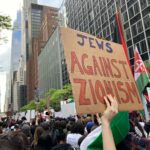 US Jews Are Turning against Zionism in a 'Surge' — Pro-Israel Voices Lament
Philip Weiss | Mondoweiss - TRANSCEND Media Service, 28 Jun 2021
19 Jun 2021 – In recent days, four pro-Israel writers have lamented that American Jews are turning against Zionism in the wake of the latest Gaza attack. Two speak of a "surge in anti-Zionism" among Jews.
→ read full article
---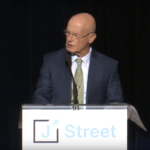 Former Israel Commander Says Israel's 'Unjust' War in Palestine Fuels 'Anti-Semitism around the World'
Philip Weiss | Mondoweiss – TRANSCEND Media Service, 18 Nov 2019
5 Nov 2019 – Last week a former Israeli security official urged American Jews to restrain Israel's "unjust" war in Palestine because it fuels anti-Semitism around the world. The statement is remarkable because that view is generally seen as anathema: saying that Israel's actions have any role in the growth of anti-Semitism.
→ read full article
---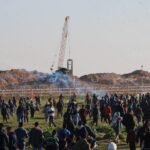 Israelis Were 'Saddened' to Have to Kill Gaza Protesters, to Avert 'Bloodbath'
Philip Weiss | Mondoweiss – TRANSCEND Media Service, 14 Oct 2019
4 Oct 2019 – Have you watched reports of the Chinese government's response to protesters in Hong Kong? The fact that the violent protesters hurl bricks and molotovs is treated as just another form of protest. Contrast those stories to the sympathetic coverage of Israel killing 200 protesters at the Gaza fence and maiming hundreds of others. American Jews think of Judaism as a universal religion, but for Israelis, Judaism is a Jewish nation centered in Israel whose survival is at stake with the right of return of Palestinian refugees.
→ read full article
---
Why Did Brookings Institution Hold a Secret Panel Countering BDS?
Philip Weiss, Mondoweiss – TRANSCEND Media Service, 28 Dec 2015
Americans should be asking why such a conference is taking place behind closed doors at a leading liberal thinktank– and why it's tackling BDS, which Israeli leaders have termed an "existential" threat to Israel. The gathering is a reflection of the power of the Israel lobby in Washington.
→ read full article
---
US Press Blacks Out Israeli Defense Minister's Citation of 'Nagasaki and Hiroshima' as Model for Dealing with Iran
Philip Weiss, Mondoweiss – TRANSCEND Media Service, 25 May 2015
"I do remember the story of President Truman was asked, How do you feel after deciding to launch the nuclear bombs, Nagasaki and Hiroshima, causing at the end the fatalities of 200,000, casualties? And he said, When I heard from my officers the alternative is a long war with Japan, with potential fatalities of a couple of millions, I thought it is a moral decision. We are not there yet. But that what I'm talking about."
→ read full article
---
Hannah Arendt: Born in Conflict, Israel Will Degenerate into Sparta, and American Jews Will Need to Back Away
Philip Weiss –TRANSCEND Media Service, 28 Jul 2014
Zionism Reconsidered, 1944: Note her predictions of the Nakba, of unending conflict, of Zionist dependence on the American Jewish community, of ultimate conflict with that American Jewish community, and the contribution of political Zionism to world anti-semitism.
→ read full article
---
It's Time for the Media to Talk about Zionism
Philip Weiss – TRANSCEND Media Service, 10 Dec 2012
American media are not talking to their readers about Zionism, the ideology that is at the heart of the problem in Israel and Palestine. The media are honest about other movements of a religious character, from evangelism to opposition to stem-cell research to radical Islam. So they should be honest with them about Zionism.
→ read full article
---
Arendt and Einstein Warned of 'Fascism' Rising in Israel 60 Years Ago
Philip Weiss, MondoWeiss – TRANSCEND Media Service, 8 Oct 2012
Among the most disturbing political phenomena of our times is the emergence in the newly created state of Israel of the "Freedom Party" (Tnuat Haherut), a political party closely akin in its organization, methods, political philosophy and social appeal to the Nazi and Fascist parties. It was formed out of the membership and following of the former Irgun Zvai Leumi, a terrorist, right-wing, chauvinist organization in Palestine.
→ read full article
---
RETHINKING ZIONISM
Philip Weiss, 12 Jan 2009
Dana Goldstein, whose thoughtful condemnation of the Gaza slaughter after years of reserve I welcome, is a little uncomfortable with the embrace. She points out that I have identified myself as a non- or anti-Zionist, and says that anti-Zionism is redolent of antisemitism. She's a post-Zionist, she says. Goldstein's comments deserve a response, especially at […]
→ read full article
---