Diagnosis & Prognosis: The Ukrainian Conflict-Formation
EDITORIAL, 16 Feb 2015
#363 | Naakow Grant-Hayford - TRANSCEND Media Service
The successful expansion of the economic-political-military codes and institutions of both EU and NATO in the general direction of Russia since the end of the Cold War, has again, as in the case of Georgia in 2008, openly clashed with Russian interests in its immediate orbit and set ablaze Eastern Ukraine. Fueled by local ethno-nationalistic tensions and geo-economic interests on all sides, the conflagration has already displaced 1 million people and caused 5400 deaths in ten months. "The EU's humanitarian aid amounts to € 95M, the estimated need to accommodate the people of Ukraine is of course far higher."
As East Ukraine burns, powerful U.S. policy makers propose to provide Kiev with more sophisticated lethal incendiaries to the tune of 3 bn $. The logic: To reduce the killing, enable Kiev to kill even more – albeit defensively. Not a word about the civilians caught in between. A view perfectly in line with the post-modern Nobel Peace Prize politics Obama promised to pursue during his Oslo acceptance speech. Meanwhile, a YouTube video showing the right wing Russian State-Duma politician Jewgenij Alexejewitsch Fjodorow, has surfaced in which he explains that Russia's current military doctrine foresees direct retaliatory strikes against Berlin and Washington as the programmatic response to any high-powered attacks by Kiev. Russia according to him, refuses a proxy-war in its immediate vicinity and is poised to retaliate straight to NATO members. Quite plausible that this is the conclusion drawn by Russian hardliners from the Carter-Brzezinski administration's success in bleeding the Soviet Union to it's demise in Afghanistan. In a recent analysis, Mearsheimer understates his understanding of escalation-dynamics "Our understanding of the mechanisms of escalation in crises and war is limited at best", but his conclusion is congruent with escalation-analysis by leading peace- and conflict-researchers such as Friedrich Glasl and Johan Galtung. When realist- and peace-research scholars agree, political decision-makers better listen: Increasing Ukrainian fire-power will lead to catastrophe.
 Therapy: Does "Minsk II" live up to standards of expertise in advanced conflict transformation?
Minsk II is very strong on negative peace and very weak on positive peace. It is strongly focused on reestablishing the Westphalian prerogative of Kiev with regards to state monopoly over arms and governance in the entire territory – rather unrealistic as Minsk II does not specify what guarantees for autonomy, self-governance or equity the separatists will get in exchange. More negotiations will be needed to bring in more nuance and tackle missing societal subtleties. In view of the tone and line of Minsk II, Ukrainians are in for a rough year.
Is MINSK II People Centric enough?
Barely! If the ethical principle is Homo Res Sacra Hominibus and humanist policies should enact macro-political hippocratic policies, then tending to the Basic Human Needs of all those affected by the ongoing violence in the conflict arena would be the priority – which it clearly is not. Minsk II mentions humanitarian concerns only once in point 7 – out of a total of 13. If this translates into policy, many people will continue to suffer in the conflict arena.
Does MINSK II tackle the delicate Ethnos question?
Minsk II makes zero mention of Ethnic discrepancies in the field. Maybe because Germany doesn't remember what those are about and France has a salient interest in suppressing such reflections. Be that as it may, Ukraine must guarantee legal protection, economic inclusion and cultural integration of Russian minorities with guaranteed protection of their minority rights including concrete financial and cultural cooperation with Russia in improving the lives of the Russian minority inside Ukraine. This is fundamentally a question of culture and identity politics.
Does MINSK II untie the military knots? Barely.
Regarding NATO expansion in the general direction of Russia: Not mentioned once in Minsk II. This will return to haunt the region, thus must be negotiated along the more pragmatic demand of freezing the status quo in order to convince Russia to return to a less alarmist perception of international relations. Armament of either party must stop by whoever is delivering or intending to deliver.
Regarding the ceasefire, the key marker of negative peace: Though heavily ridiculed by MSM for even showing up to the #minsksummit, the presence of separatist leaders was procedurally crucial for a sustainable solution – an opportunity forgone. This is evidenced by separatist leader Aleksandr Zakharchenko's most recent declaration of the neuralgic city of Debaltseve as exempt from the ceasefire agreement. This dissonance within hours of Poroshenko enforcing Kiev's side of the ceasefire does not come as a surprise to mediators trained in the TRANSCEND Method, as the quality of a peace-proposal hinges upon the degree of attention paid to the concerns of all parties to the conflict. The legitimate needs, grievances and aspirations of all the parties with a stake in the outcome of  the conflict must be mapped as meticulously as possible as a prerequisite for a sustainable solution: The current deviations from the Minsk ÍI accords were both predictable and avoidable. Though points 4 and 5 sound like far reaching concessions, they clearly didn't go deep enough: The Russian relation to separatists must be made more transparent with public exploration in a conference towards identifying and negotiating their expectations for what is to become of them after the ceasefire. A Truth and Reconciliation and Fact finding mission in Pretoria's TRC format to provide justice to the bereaved and victims in light of the 5400 deaths and the numerous cases of abuse & expulsion that occured during the past 10 months will be needed. Here again: No mention of such subtleties in Minsk II.
Does Minsk II tackle all political aspirations tabled in an equitable manner? Barely.
Separatist interests: What are the separatist's political terms for autonomy and how can these be reconciled with Ukrainian political prerogatives? Minsk II is centered on the underlying assumption of a strong central Ukrainian state – which the separatists in south Luhansk and south east Donetsk have proven it is not. Constitutional reform and decentralization as mentioned in point 11 will have to be constructed through a genuine dialogue between Kiev, Donetsk & Luhansk. Minsk II sounds quite apodictic in tone in Kiev's favor but that should be difficult to uphold in practice because of the effective popular legitimacy the separatists yield in their strongholds. Solving the Ukrainian conundrum at the political level will require constructing a resilient form of federalism with sectoral decentralization and tangible-sensible degrees of autonomy for the subsidiary parts. N.B: Someone needs to gently break it to Kiev that federalism, when well done, means subsidiarity and not territorial disintegration. Obviously not France.
Russia's interests: Just as with NATO's interests: zero mention in Minsk II. Russia is highly tense as it perceives much of Western international politics (see Baltic States, Georgia, Libya & Syria) as chipping away at Russian exogenous interests. After stepping up in Syria against interventionist clamors, Ukraine seems to be "where the buck ultimately stops" for Russia. Further Russian existential fears concern domestic inefficiencies regarding its ability to integrate its diverse ethnos into a coherent and cohesive demos. International empathy and practical support could help Russia democratize deeper, better accommodate its minorities and equalize the relations between its dominant nation and the others: With the Rus forming 80 %, enforcing minority rights becomes paramount. Germany, India, Switzerland, Spain and Belgium for that matter have varying, highly instructive degrees of experience with the democratic management of local autonomy and could form a transnational expert advisory-group to support Russia in its ongoing developmental efforts – the key question will of course focus on how to scale up the lessons learned to Russian territorial dimensions. The point would be to increase Russian institutional capabilities towards more equitable interdependence for its numerous federal parts and populations.
Does MINSK II tackle the core economic questions constructively? Barely.
It has been argued, that the economic questions were the tipping point of the crisis in 2014. Minsk II pays very little attention to the underlying regional economic contradictions and rather zooms in on reestablishing functionality for Kiev. Here is what is missing in Minsk II: Ukraine must receive guarantees for territorial integrity with its industrial backbone in and around Donetsk accessible for its cohesive economic future. Inversely Ukrainian guarantees must be delivered for the legal protection of extant Russian investments in Eastern Ukraine. The key word here is: Legal.
What about Russian anxieties regarding negative effects of successful economic free-trade cooperation between EU and Ukraine for its own economy and its standing agreements with the Eurasian Economic Union (EEU)? In the context of economic sanctions against Russia, further talk about EU-Ukrainian association must be held in light of the above sensitivities. An interstate economic cooperation for gas, steel and industry between Ukraine, Russia and other regional vested interests – see EEU – may help overcome the current tug of distrust. EU and OSCE can be of educated assistance to CIS oversight in this matter.
Finally: IMF, WB, EU, U.S., Russian and lesser publicized investors such as the BRICS' New Development Bank should explore profitable Ukrainian markets and invest into the creation of secure jobs for Ukrainians without a hidden political or military agenda. UNCTAD can be tasked with dispatching a supervising body of experts to guarantee the impartiality of such investments.
________________________________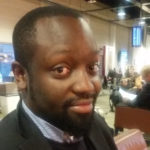 Naakow Grant-Hayford graduated in Political Science  from the Philipps-University of Marburg/Germany in 2008. He is a Conflict Transformation specialist and a mediation-trainer for TRANSCEND-International and a co-founder in 2011 of the Galtung-Institut for Peace Theory and Peace Practice of which he is the current director.
This article originally appeared on Transcend Media Service (TMS) on 16 Feb 2015.
Anticopyright: Editorials and articles originated on TMS may be freely reprinted, disseminated, translated and used as background material, provided an acknowledgement and link to the source, TMS: Diagnosis & Prognosis: The Ukrainian Conflict-Formation, is included. Thank you.
If you enjoyed this article, please donate to TMS to join the growing list of TMS Supporters.


This work is licensed under a CC BY-NC 4.0 License.
3 Responses to "Diagnosis & Prognosis: The Ukrainian Conflict-Formation"