Forgotten People © – Human Lives . . .
TRANSCEND MEMBERS, 18 Jul 2016
Anthony Marsella, Ph.D. – TRANSCEND Media Service
3 Jul 2016 – Today, as I read the daily news from different I-phone app news' sources, I came across a posting on several sites, about an accident in Florida. An old bus, driving agricultural workers south to work in fields, had crashed into a semi-trailer in Florida. Five passengers were killed; 25 were injured. It was a horrible site.
The bus, built in 1979, had run a red light, failed to stop, and crashed into the passenger side of a large semi with full force, bursting both vehicles into flames. And as a seeming final offense and indignity to life, the vehicles were caught beneath electrical power lines, making it impossible to save any caught in the bus. None of the passengers who survived spoke English. They were Haitian.
The bus was headed toward Belle Glade, Florida, described by Pastor Frantz Gaudard, of the First Haitian Community Church, as a haven for Haitian migrant workers. The driver of the bus, 56 years old Haitian, Elie Dupiche,   survived, but is in critical condition. The driver of the semi, 55 year old Gordon Sheets, from New York State, died.
One more traffic accident; one more headline of deaths and injuries on our roads. Daily fare now! But what sealed my mind about this accident, this human tragedy, was the anonymity of death. True, many victims will be known and remembered to those whose lives were connected — grieving spouses, crying children, perhaps distant cousins and aunts living thousands of miles away.  Yet still: "Forgotten People!"
The passengers on the aged bus were migrant Haitian farm workers, many unknown to each other; possibly undocumented workers who had braved ocean waters in leaking boats, hoping to find work and a new life. Hope!
The migrant Haitian farm workers cut sugar cane in northern states between October and May. They were headed to Florida to work in corn fields, dozing, staring out dirty windows, oblivious to their date with destiny. In their minds, the journey was part of survival: work and meager pay. Now life for 25, ending in a fiery death, posted on news apps: "Forgotten People!"
Yes, I know my words can be answered by scores claiming they are not forgotten: relatives, friends, even distant relations in Haiti, all sharing the sadness and grief.  Tears, sobs, screams of anguish, at the deaths and struggle for survival . . . for dignity in a world easily forgetting lives lived and lost. It is commonplace! It is reflexive.  For "Forgotten People," it is a tragic story as life continues, caught in yet more tragedies and sorrow.
I Could Not Forget . . . !
My attention to the news story could not pass to the next posting. Images of the events remained with me: my senses now continuing to see the crash, hear the screams, and smell the burning flesh. I tried to move to the next posting, concerned with salaries of athletes, celebrity divorces, exposes of politicians currying favor from other politicians and from news' reporters, and more deaths from bombing and drones across the world.
The next postings, endless daily fare, a gift of the internet linking us to the world beyond our doorways: events, forces, changes, people and the intertwining of all of them. At some point, the mind begins to habituate to the stories, and also seeks to make sense of the collection; a gruesome potpourri punctuated by seemingly ludicrous and insulting events.
We are now, more than ever before in history connected to everyone and everything! Too often, in the process, we become passive overloaded carriers of information, dulled now by the amount, immune now to the carnage, choosing to sigh in disbelief, and to move on to the next story or the tasks of our day.
"Forgotten People . . ."
In the minutes following my reading the posting, my mind wandered to a score of associations.  How many other "Forgotten People" are there across our land and the world?  Lives lived with little promise of hope, comforted often by religious beliefs in salvation, and a better place.
I imagined a graphic display as testimony to their lives. Nothing promising a better life, nor redemption, but only a display, perhaps like a granite tombstone, enduring as long as someone noticed and observed and understood.  How inadequate!  How insufficient! How sullied even amidst good intentions. All stained by the continued existence of "Forgotten People."
FORGOTTEN PEOPLE
Human Lives Lived Amid Suffering and Deprivation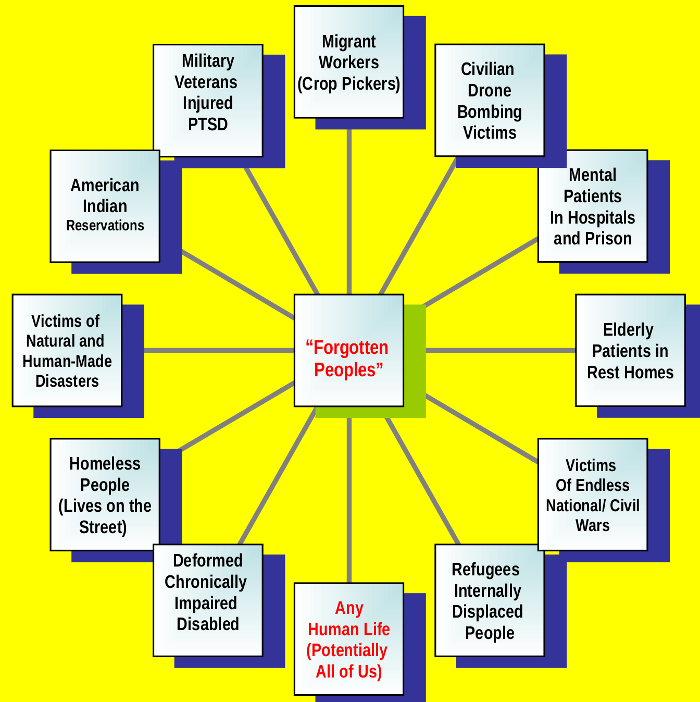 What can be said?  What can be done?  Has not human life, and the lives of all animals, insects, and ocean creatures always existed, only to be forgotten, save those whose acts bring memory? Is this the course of evolution? Is it part of human nature to focus on the now, on our survival, feeling fortunate we are not in the path of being forgotten?  Of being anonymous! Will we one day honor and remember robots?
And as human population grows and grows, what promises can there be of salvation identity, and safety, security, survival? What promises of escape from poverty, exploitation, wars, abuses of person and race, gender, tribe, and chance events of accidents? None! We are, all of us, alive. Privileged with the gift of life, and yet subject to its offenses and abuses.
Perhaps only through recognizing our common humanity and our shared life impulse can the sorrows and struggles of many be reduced or limited.  May "Forgotten People" be acknowledged, remembered, attended to by those escaping the indignities and humiliations of those who fortunes have placed them out of harm's way!
I can hear cynics asking me: "What do you want me to do? Cry for the world?"  My answer is "yes!"
Anthony J. Marsella, Ph.D            
Began: 7/3/2016 10:27 AM
7/3/2016 11:54 AM
Ended: 7/3/2016 1:07 PM
______________________________________
Anthony J. Marsella, Ph.D., a  member of the TRANSCEND Network, is a past president of Psychologists for Social Responsibility, emeritus professor of psychology at the University of Hawaii, and past director of the World Health Organization Psychiatric Research Center in Honolulu. He is known nationally and internationally as a pioneer figure in the study of culture and psychopathology who challenged the ethnocentrism and racial biases of many assumptions, theories, and practices in psychology and psychiatry. In more recent years, he has been writing and lecturing on peace and social justice. He has published 21 books and more than 300 articles, chapters, book reviews, and popular pieces. He can be reached at marsella@hawaii.edu.
This article originally appeared on Transcend Media Service (TMS) on 18 Jul 2016.
Anticopyright: Editorials and articles originated on TMS may be freely reprinted, disseminated, translated and used as background material, provided an acknowledgement and link to the source, TMS: Forgotten People © – Human Lives . . ., is included. Thank you.
If you enjoyed this article, please donate to TMS to join the growing list of TMS Supporters.


This work is licensed under a CC BY-NC 4.0 License.