The Peace Mask Project Celebration in Hiroshima
TRANSCEND MEMBERS, 20 Mar 2017
Robert Kowalczyk and Kimberlye 'Kya' Kowalczyk – TRANSCEND Media Service
Peace Mask Project celebrates the completion of 100 Peace Masks of 1st to 4th generation Hibakusha in an endeavor to honor their 71-year appeals for peace and to amplify their call for a future free from the threat of nuclear weapons.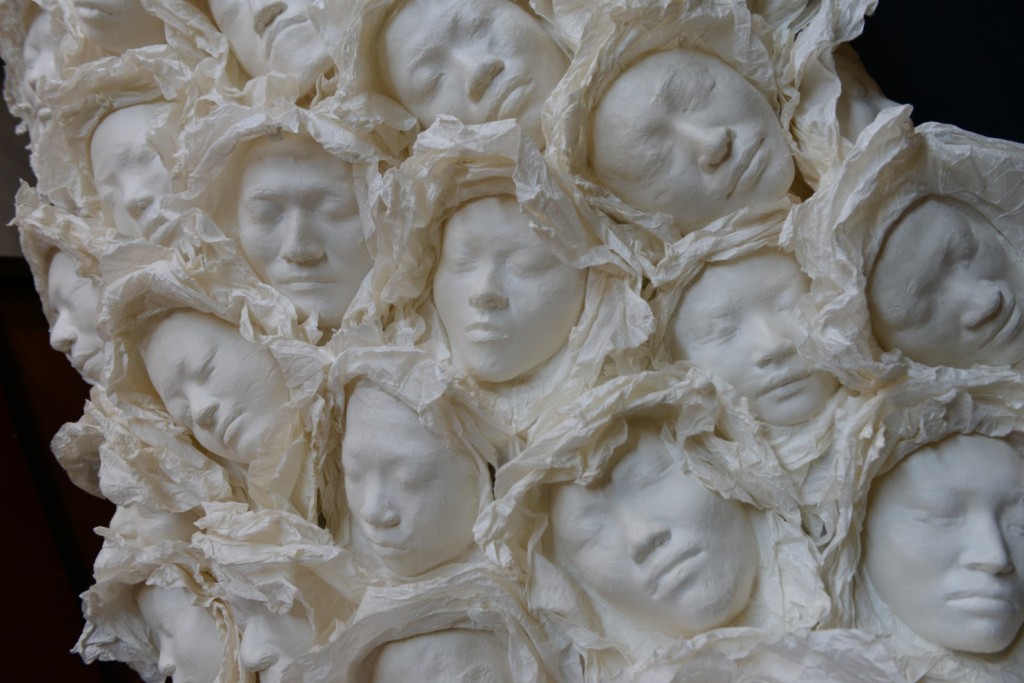 March 24-26, 2017, Hiroshima
Peace Mask Project, an international NPO based in Kyoto, Japan, has been working for the past 17 years to use communal art as a vehicle for mutual understanding and peacebuilding. The traditional handmade washi masks of individual participants are created in community-led workshops. Each Peace Mask is handcrafted, taking between one to two hours to create. Exhibitions of the assembled Peace Masks celebrate the uniqueness of the individual while simultaneously displaying the significance of our shared humanity.
Founding Artist, Myong Hee Kim, who was born in Seoul, Korea, began to make Life Masks in 2000 to celebrate the co-sponsorship of the World Cup by Japan and Korea. Following final exhibitions in both Yokohama and Seoul, which displayed the Life Masks of 1,587 individuals from the two countries, in June and December of 2002, the endeavor became known as the Peace Mask Project (PMP). Since then PMP has held community-based mask making workshops, talks and exhibitions in Japan, Korea, the United States and other countries.
After being established as a Kyoto City registered NPO in late 2014, the Hibakusha Peace Mask Project was launched in November of that year. Now after 16 months, under the guidance of our Honorary Director, Professor Ikuro Anzai and in collaboration with Nihon Hidankyo and other Hibakusha organizations, we have completed the creation of 100 Peace Masks of 1st to 4th generation Hibakusha. The main aim of the project is to honor the legacy of the Hibakusha while amplifying their call for a future free from nuclear weapons.
Recent drastic changes in geopolitics have put the world in an increasingly unstable situation in which the risk of global nuclear war has significantly increased. Early this year, the Doomsday Clock of the Bulletin of Atomic Scientists was reset to two and a half minutes before midnight; the closest it has ever been since 1960. As John Hersey once expressed, "What has kept the world safe from the bomb since 1945 has not been deterrence, in the sense of fear of specific weapons, so much as it's been memory. The memory of what happened at Hiroshima (and Nagasaki)." More than 71 years have passed since the end of World War II, and memories have naturally grown shorter with each year.
In this context, Hibakusha Peace Mask Project has two main goals. The first is to emphasize that nuclear weapons now have only one target: Humanity. Because of this nondiscriminatory global nature of these ultimate weapons of war, the current project includes a number of non-Japanese survivors of the nuclear bombings of Hiroshima and Nagasaki.  Secondly, in order to place the focus on future generations, we have included not only the first generation survivors but also their descendants. Incorporating both the international and intergenerational elements further emphasizes that the Hibakushas' messages are both global and are focused on humanity's future rather than its tragic past.
According to Myong Hee Kim,
 "For the Hibakusha to contribute to the project with a gift of their own face is a highly personal expression of their deep hopes for a more peaceful world; a world free of nuclear weapons. The process of making the plaster mold requires patience, peace and sincere trust on the part of the model. The oldest participants in this project were 92 years old. What struck me most about this first generation is that they are truly courageous. They came prepared to contribute to peace and I felt no hesitation in their trust. I realized that this strength grew from a very painful and deeply meaningful experience. One which they hoped no other generation would ever suffer."
The first-generation Hibakusha are now elderly and many have expressed their experiences countless times. However, never before has their silent testimony been displayed in this way through the power of community-led art. Following the completion of Phase One on March 26th, the goal of Phase Two of the project is to exhibit these 100 Hibakusha Peace Masks both elsewhere in Japan and internationally. The time has come when the horrifying messages from 1945 are in particular need of renewed global attention and discussion.
The masks are made from handmade Echizen washi, locally produced in Fukui Prefecture, home of Kim's studio. Although they appear delicate and ephemeral, handmade washi papers are known to last hundreds of years if properly taken care of. Therefore the artwork itself is a living legacy, a historic archive of 100 lives affected by the nuclear bombings of Hiroshima and Nagasaki.
We cordially invite members of TRANSCEND,the public and the media to attend the project's events organized in Hiroshima to celebrate the completion of Phase One of the Hibakusha Peace Mask Project. A photo opportunity with the Hibakusha Peace Mask Project models will be made possible in front of the Hiroshima Peace Memorial immediately following the March 26th event at the museum.
************************
March 26th 13:30 ~ 15:30 MAIN EVENT:
Location: Hiroshima Peace Memorial Museum, Conference Room #1 (Admission Free)
"The Path Towards Nuclear Disarmament in 2017"
(Keynote: Professor Ikuro Anzai, Honorary Director, Kyoto Museum for World Peace)
March 24th ~ 26th EXHIBITION:
Location: Myokeiin Temple 妙慶院 広島市中区小町2−1(2 F)
Hibakusha models and members of the Peace Mask Project team, including founding artist Myong Hee Kim, will attend both events.
Media Contact: Mayumi Futaba (NPO Director) — English & Japanese
mayumikakuyama@yahoo.co.jp // 090-3840-2779
_____________________________________________
Related Coverage:
"Korean Artist in Japan Hopes to Help a New Generation Embrace Peace"
Anna Fifield, The Washington Post, October 14, 2014
Robert Kowalczyk is a member of the TRANSCEND Network for Peace, Development and Environment, former Professor and Department Chair of the Department of Intercultural Studies in the School of Art, Literature and Cultural Studies of Kinki University, Osaka, Japan. Currently, he is the International Coordinator of Peace Mask Project.
Kimberlye Kowalczyk, former TRANSCEND Media Service Resident Journalist, is a member of the TRANSCEND Network for Peace, Development and Environment and director of communication at Peace Mask Project. She has been a lecturer at Kyoto University of Foreign Studies, founder of Media for Peacebuilding, and lecturer at Doshisha Women's College of Liberal Arts. She studied Conflict Transformation at the School for International Training. Kya is originally from Kyoto, Japan.
This article originally appeared on Transcend Media Service (TMS) on 20 Mar 2017.
Anticopyright: Editorials and articles originated on TMS may be freely reprinted, disseminated, translated and used as background material, provided an acknowledgement and link to the source, TMS: The Peace Mask Project Celebration in Hiroshima, is included. Thank you.
If you enjoyed this article, please donate to TMS to join the growing list of TMS Supporters.


This work is licensed under a CC BY-NC 4.0 License.