The Climate Emergency
EDITORIAL, 22 Apr 2019
#583 | John Scales Avery – TRANSCEND Media Service
Greta Thunberg's Speech at Davos, January 2019
Appearing among billionaires, corporate CEO's and heads of state at the Davos Economic Forum in Switzerland, like a new Joan of Arc, 16-year-old Swedish climate activist Greta Thunberg called on decision-makers to fulfill their responsibilities towards future generations. Here are some excerpts from her speech:
"Our house is on fire. I am here to say, our house is on fire. According to the IPCC, we are less than 12 years away from not being able to undo our mistakes. In that time, unprecedented changes in all aspects of society need to have taken place, including a reduction of our CO2 emissions by at least 50%…

"Here in Davos – just like everywhere else – everyone is talking about money.

 It seems money and growth are our only main concerns.

"And since the climate crisis has never once been treated as a crisis, people

 are simply not aware of the full consequences on our everyday life. People are

 not aware that there is such a thing as a carbon budget, and just how incredibly

 small that remaining carbon budget is. That needs to change today.

"No other current challenge can match the importance of establishing a wide, public awareness and understanding of our rapidly disappearing carbon budget, that should and must become our new global currency and the very heart of our future and present economics.

"We are at a time in history where everyone with any insight of the climate crisis that threatens our civilization – and the entire biosphere – must speak out in clear language, no matter how uncomfortable and unprofitable that may be.

"We must change almost everything in our current societies. The bigger your carbon footprint, the bigger your moral duty. The bigger your platform, the bigger your responsibility."
Worldwide School Strike, 15 March 2019
Over 1.5 million young students across all continents took to the streets on Friday, 15 March for the first ever global climate strike. Messages in more than 40 languages were loud and clear: world leaders must act now to address the climate crisis and save our future. The school strike was the largest climate action in history. Nevertheless it went almost unmentioned in the media,
Here are some of the statements by the students explaining why they took part in the strikes:
"In India, no one talks about climate change. You don't see it on the news or in the papers or hear about it from government. We want global leaders to declare a climate emergency. If we don't act today, then we will have no tomorrow. "
— Vidit Baya, 17, Udaipur, India.

"We face heartbreaking loss due to increasingly extreme weather events. We urge the Taiwanese government to implement mitigation measures and face up to the vulnerability of indigenous people, halt construction projects in the indigenous traditional realm, and recognise the legal status of Plains Indigenous People, in order to implement environmental protection as a bottom-up approach."
— Kaisanan Ahuan, Puli City, Taiwan.

"We have reached a point in history when we have the technical capacities to solve poverty, malnutrition, inequality and of course global warming. The deciding factors for whether we take advantage of our potential will be our activism, our international unity and our ability to develop the art of making the impossible possible. Whether we succeed or not depends on our political will."
— Eyal Weintraub, 18, and Bruno Rodriguez, 18, Argentina.

"I want to be certain that our government is committed to investing in a just transition to a more sustainable country, that we will lower carbon emissions and curb climate change. I am joining this strike to demand that decisions are more future-focused and that policy will reflect our environmental rights as written in our constitution,"
— Dona Van Eeden, 21, Cape Town, South Africa.

"The damage done by multinationals is enormous: the lack of transparency, dubious contracts, the weakening of the soil, the destruction of flora and fauna, the lack of respect for mining codes, the contamination of groundwater. In Mali, the state exercises insufficient control over the practices of the multinationals, and it is us, the citizens, who suffer the consequences. The climate alarm has sounded, and the time has come for us all to realise that there is still time to act locally, in our homes, our villages, our cities"
— Mone Fousseny, 22, Mali.

"The governments failed to respond properly to the dramatic challenge of our climate crisis. Our generation, the least responsible for the acts of the polluters, will be the ones to see the most devastating impacts of climate change. World leaders are losing the window to act, but we are not going to stand still watching their inertia."
— Greta Thunberg, Sweden
Floods in Iran and Climate Change
According to a recent United Nations report, extreme weather events displaced 2 million people during 2018. While no single event can be unambiguously attributed to anthropogenic climate change, scientists believe the increasing frequency of extreme weather events is definitely linked to global warming. The same is true of their increasing severity.
The World Meteorological Organization's statement on the state of global climate in 2018.
The report states that during 2018, extreme weather events impacted roughly 62 million people, of whom 2 million were displaced from their homes. In the words of the WMO report,
"The physical signs and socio-economic impacts of climate change are accelerating, as record  greenhouse gas concentrations drive global temperatures towards increasingly dangerous levels."
UN Secretary General Antonio Guterres, speaking at the launching of the WMO report, used the occasion to remind global leaders of the urgency of the climate emergency. Guterres has convened a climate summit meeting scheduled for September 23, 2019, and referring to the meeting, he said:
"Don't come with a speech, come with a plan. This is what science says is needed. It is what young people around the globe are rightfully demanding."
Two weeks previously, on March 15,  one and a half million students from more that 130 countries had skipped school to participate in the largest climate demonstration in history, demanding action to save the future from the threat of catastrophic climate change.
The Tragic Floods in Iran
The recent tragic flood disasters in Iran are an example of the socio-economic impact of extreme weather events. Besides causing numerous deaths, the floods also inflicted economic damage amounting to hundreds of millions of dollars. Below is a link to a BBC video which can give us some understanding of the tragedy.
Books Discussing the Climate Emergency:
http://eacpe.org/app/wp-content/uploads/2019/03/We-need-an-ecological-revolution-John-Scales-Avery.pdf
http://eacpe.org/app/wp-content/uploads/2019/02/Saving-the-Future-John-Scales-Avery.pdf
http://eacpe.org/app/wp-content/uploads/2017/11/The-Climate-Emergency-Two-Time-Scales-by-John-Scales-Avery.pdf
http://eacpe.org/about-john-scales-avery/
__________________________________________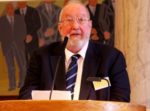 John Scales Avery, Ph.D., who was part of a group that shared the 1995 Nobel Peace Prize for their work in organizing the Pugwash Conferences on Science and World Affairs, is a member of the TRANSCEND Network and Associate Professor Emeritus at the H.C. Ørsted Institute, University of Copenhagen, Denmark. He is chairman of both the Danish National Pugwash Group and the Danish Peace Academy and received his training in theoretical physics and theoretical chemistry at M.I.T., the University of Chicago and the University of London. He is the author of numerous books and articles both on scientific topics and on broader social questions. His most recent books are Information Theory and Evolution and Civilization's Crisis in the 21st Century (pdf).
Tags:
Climate Change
,
Conflict
,
Environment
,
Geopolitics
,
Policy
,
Politics
,
Solutions
This article originally appeared on Transcend Media Service (TMS) on 22 Apr 2019.
Anticopyright: Editorials and articles originated on TMS may be freely reprinted, disseminated, translated and used as background material, provided an acknowledgement and link to the source, TMS: The Climate Emergency, is included. Thank you.
If you enjoyed this article, please donate to TMS to join the growing list of TMS Supporters.


This work is licensed under a CC BY-NC 4.0 License.
2 Responses to "The Climate Emergency"