The Hellish Cycle
TRANSCEND MEMBERS, 27 May 2019
Baher Kamal | Human Wrongs Watch – TRANSCEND Media Service
Indebted, exploited, hunted down, shamed at home… the harsh reality of Southeast Asia's migrants.
15 May 2019 – Sorry for coming back to this issue, but its immense human dimension justifies this new attempt to report on another aspect, which is deliberately hidden, unwanted to be seen by the new wave of racist, xenophobe, far-right pseudo-politicians, which is now steadily growing in the biggest industrialised powers on Earth: United States and so far a full dozen of European countries. See what it is about.
Further to the 8 May 2019 article The Most Expensive 529 Billion Dollars, informing about the immense human cost that over 260 million migrant workers worldwide have to pay to rescue their impoverished families, now it has been reported that tens of millions of them are left far worse off, both economically and socially, when they return home, all of this due to a hellish cycle of debts and indebtedness.
In fact, the International Organization for Migration (IOM) on 10 May 2019 reported that 1 in 6 migrants in Southeast Asia sub-region are forced to struggle with debt when they return to their countries of origin, being indebtedness a key factor in influencing migration outcomes and an important element in the decision-making process of migrants.
Southeast Asia sub-region is home to around 650 million people living in 11 countries: Brunei, Cambodia, East Timor (Timor-Leste), Indonesia, Laos, Malaysia, Myanmar (Burma), the Philippines, Singapore, Thailand, and Vietnam.
Debt, a primary cause to migrate
The findings of the study Debt and the Migration Experience: Insights from Southeast Asia tells that debt is often a "primary cause" of migration.
"With households routinely taking on debt to cope with acute crises such as illness and failed crops, the growth and availability of formal loans offered by banks and micro-finance institutions in rural areas is contributing to changing borrowing patterns and an increased burden of debt among low-income households."
In some contexts, loans undertaken can be far greater than average income, and migration is increasingly seen as a coping strategy in response to debt stress. "In Cambodia, for example, over 40 per cent of rural remittance-receiving households report repayment of debt as the main use of remittances."
Meantime, migrants also take on debt to fund their journeys, IOM explains, adding that the increasing cost of migration and recruitment in the region, often taken on by employees, causes prospective migrants to borrow heavily in order to cover the cost of recruitment. Full repayment of these loans can take anywhere from months to years.
In addition, debt undertaken by migrants to gain legal status or extend their stay legally has been flagged as a particular area of concern. "The unpredictable legal costs in countries of destination make it difficult for migrants to anticipate them. This subsequently causes them to resort to loans and take on a higher burden of debt," adds the report.
The findings are based on qualitative interviews conducted throughout 2018 with current and returned migrants in Cambodia, Myanmar and Thailand, as well as survey data collected by IOM and the International Labour Organization (ILO).
Exposed, exploited, discriminated
The International Organization for Migration concludes that there is a "strong link between indebtedness and increased vulnerability to trafficking and related exploitation." Reason: migrants in debt are more likely to make potentially risky choices, often choosing to remain in jobs with poor working conditions, while wage deductions used by employers to cover recruitment costs can also inhibit workers from changing jobs or leaving.
Meanwhile "debt contributes to negative economic, social and psychosocial outcomes when migrants returned home. Indebted migrants were more likely to encounter financial insecurity due to a lack of savings, struggling businesses and difficulties in finding decent work."
In addition to reduced financial status, the study finds that indebted returnees also reported social and psychological problems, including shame, embarrassment and discrimination in their communities, as well as harassment and violence from lenders. "These pressures subsequently provided strong incentives for them and their families to migrate again."
In short, the 2019 Debt and the Migration Experience: Insights from Southeast Asia study underlines the very fact that debt and indebtedness are central to the lives of migrants from this Asian sub-region. And that indebtedness can motivate the need for migration and, conversely, migrants regularly use loans to finance costly cross-border moves.
It also strongly emphasises the key facts that the remittances that migrants then send home are often used to repay household debt.
The wider picture
Being part of the big Asia-Pacific region, South-East Asia –also known as the Greater Mekong sub-region- appears to be among the most impacted by poor, informal and vulnerable working conditions.
On this, the International Labour Organization's report Asia-Pacific Employment and Social Outlook 2018 sheds light on the labour market challenges facing this big region, considered the most populous of the world.
According to the report's first edition, although the regional unemployment rate is projected to remain at 4.1 per cent through 2020, the vulnerable employment rate is expected to creep up towards 49 per cent, reversing a downward trend of at least two decades.
While the Asia-Pacific region has made rapid progress to substantially reduce extreme poverty, one fourth of all workers in the region – 446 million workers – still lived in "moderate or extreme poverty" in 2017 and "nearly half of the workforce – 930 million people – were still making a living in vulnerable employment as own-account or unpaid contributing family workers."
The ILO report informs that high employment ratios and productivity gains in the region mask persistent and worrying decent work deficits.
"Many people, in particular in the region's developing economies, still have no choice but to take jobs with poor working conditions that do not generate stable incomes nor safeguard them and their families against poverty in the longer term," says Sara Elder, the lead author of the report and Head of the ILO Regional Economic and Social Analysis unit.
"What is especially frustrating here is that despite the region's important economic gains, there are still so many workers just barely getting by. Any household crisis – injury or death of a breadwinner, loss of job, natural disaster, crop failure, etc. – threatens to push them backwards into poverty."
Informal, low-paid or even unpaid jobs
While in the Asia and the Pacific region more than 2 in 3 workers were in informal employment in 2016 –which is closely linked to the 48.6 per cent of workers still in vulnerable categories of employment– the informal employment rate is particularly high in Southern Asia, where almost 88 per cent of workers were informally employed.
Also while large numbers of workers in the Asia-Pacific region, especially those in low-paid jobs, work more than 48 hours per week, the average hours worked in Southern Asia and Eastern Asia in 2017 were the world's highest, at 46.4 and 46.3 hours per week, respectively.
In other words, tens of millions of human beings who have been impoverished, find themselves forced to borrow, migrate to pay back their debts, be exploited, detained, persecuted, trafficked, trapped behind fences and walls, obliged to return and to be strangled by lenders, while socially shamed and discriminated in their own societies.
Most probably none of the new xenophobe, supremacist, populist politicians who are more and more on the rise in the US and Europe would want to hear a word about this hidden side of migration.
And even if they did, they would just ignore such an inhumane reality, continue with their inflammatory speeches, feeding irrational fears, spreading hate sentiments in their citizens through indiscriminately demonising all migrants… for the sake of winning elections.
Wouldn't it be wiser, human and rational to stand against that fact that the world military expenditure grew to 1.8 trillion dollars in 2018?
Even for purely selfish motivations, wouldn't this huge amount of tax-payers' money which is spent on producing killing machines, be best devoted to alleviate the incalculable consequences of climate change? One such consequence would be that climate migrants might reach one billion by 2050!
_____________________________________________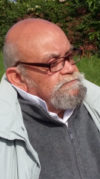 Baher Kamal, a member of the TRANSCEND Network for Peace Development Environment, is an Egyptian-born, Spanish national, secular journalist, with over 45 years of professional experience — from reporter to special envoy to chief editor of national dailies and an international news agency. Baher is former Senior Advisor to the Director General of the international news agency IPS (Inter Press Service) and he also contributed to prestigious magazines such as TRANSCEND Media Service, GEO, Muy Interesante, and Natura, Spain. He is also publisher and editor of Human Wrongs Watch.
Go to Original – human-wrongs-watch.net
Tags:
Africa
,
Children
,
Conflict
,
Economics
,
Environment
,
Europe
,
Geopolitics
,
Human Rights
,
Justice
,
Migrants
,
Politics
,
Power
,
Refugees
,
Slave labor
,
Slavery
,
UK
,
UN
,
USA
,
Violence
,
West
,
World
DISCLAIMER: The statements, views and opinions expressed in pieces republished here are solely those of the authors and do not necessarily represent those of TMS. In accordance with title 17 U.S.C. section 107, this material is distributed without profit to those who have expressed a prior interest in receiving the included information for research and educational purposes. TMS has no affiliation whatsoever with the originator of this article nor is TMS endorsed or sponsored by the originator. "GO TO ORIGINAL" links are provided as a convenience to our readers and allow for verification of authenticity. However, as originating pages are often updated by their originating host sites, the versions posted may not match the versions our readers view when clicking the "GO TO ORIGINAL" links. This site contains copyrighted material the use of which has not always been specifically authorized by the copyright owner. We are making such material available in our efforts to advance understanding of environmental, political, human rights, economic, democracy, scientific, and social justice issues, etc. We believe this constitutes a 'fair use' of any such copyrighted material as provided for in section 107 of the US Copyright Law. In accordance with Title 17 U.S.C. Section 107, the material on this site is distributed without profit to those who have expressed a prior interest in receiving the included information for research and educational purposes. For more information go to: http://www.law.cornell.edu/uscode/17/107.shtml. If you wish to use copyrighted material from this site for purposes of your own that go beyond 'fair use', you must obtain permission from the copyright owner.