A. C. Bhaktivedanta Swami Prabhupada (1 Sep 1896 – 14 Nov 1977)
BIOGRAPHIES, RELIGION, INSPIRATIONAL, SPIRITUALITY, 26 Aug 2019
Posted by Gaurakisora dasa (ACBSP) – TRANSCEND Media Service
Abhay Charanaravinda Bhaktivedanta Swami Prabhupada was a Gaudiya Vaishnavism spiritual teacher (guru) and the founder preceptor (acharya) of the International Society for Krishna Consciousness (ISKCON), commonly known as the "Hare Krishna Movement".  In 1959 he took a vow of renunciation (sannyasa) and started writing commentaries on Vaishnava scriptures. In his later years, as a traveling Vaishnava monk, he became an influential communicator of Gaudiya Vaishnava theology to India and specifically to the West through his leadership of ISKCON, founded in 1966. As the founder of ISKCON, he "emerged as a major figure of the Western counterculture, initiating thousands of youngsters around the world." He received criticism from anti-cult groups, as well as a favorable welcome from religious scholars such as J. Stillson Judah, Harvey Cox, Larry Shinn and Thomas Hopkins, who praised Bhaktivedanta Swami's translations and defended the group against distorted media images and misinterpretations. He has been described as a charismatic leader, in the sense used by sociologist Max Weber, as he was successful in acquiring followers in the United States, Europe, India and elsewhere. After his death in 1977, ISKCON, the society he founded based on a type of Hindu Krishnaism using the Bhagavata Purana as a central scripture, continued to grow. In February 2014, ISKCON's news agency reported to have reached a milestone of distributing over half a billion books authored by Bhaktivedanta Swami Prabhupada, since 1965. (Wikipedia)
Srila Prabhupada was an Indian spiritual teacher who founded the International Society for Krishna Consciousness (ISKCON). Also known as Abhay Charanaravinda Bhaktivedanta Swami Prabhupada, he is counted among the most prominent Vedic scholars, translators, and teachers of the modern era. Credited with translating and commenting on over 80 volumes of the Vedas' most important sacred bhakti texts, including the Bhagavad Gita and Srimad-Bhagavatam, he is regarded as the world's most prominent contemporary authority on bhakti-yoga. Born to a family of devout Vaishnavas, he developed a deep devotion towards Lord Krishna at a young age. So strong was his love for the lord that at the age of five, he single-handedly organized a neighborhood Ratha-yatra festival to glorify Lord Jagannatha! Even while growing up, he was more interested in visiting temples than in playing with other children. He realized the true purpose of his life at the age of 26 when he first met his eternal spiritual master Srila Bhaktisiddhanta Sarasvati Thakura who instructed him to go to the West and spread Krishna Consciousness in the English language. Even though it would be several years before he could finally travel to the West, once he set foot in the US, there was no looking back. He went on to found the International Society for Krishna Consciousness in New York City which is today a worldwide confederation of more than 550 centers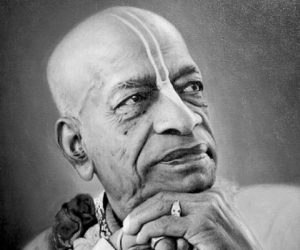 Childhood & Early Life
He was born as Abhay Charan, on 1 September 1896, in Calcutta, India. His parents, Sriman Gour Mohan De and Srimati Rajani De, were devout Vaishnavas (devotees of Vishnu).
He became a devotee of Lord Krishna at a young age and loved to visit temples. In fact he was so devoted that he preferred to pray to the lord instead of playing with his friends.
He went to the Scottish Church College where he received a European led education. He was a good student and graduated in 1920 with majors in English, philosophy and economics. However, he refused to take his diploma as a protest against the British in response to the budding Indian independence movement.
In 1922, he first met Srila Bhaktisiddhanta Sarasvati Gosvami, a prominent devotional scholar and the founder of sixty-four branches of Gaudiya Mathas (Vedic institutes). Gosvami took a liking towards the devout young man and asked him on their very first meeting to spread Vedic knowledge through the English language in the West.
Abhay Charan became the great scholar's pupil and several years later, his formally initiated disciple at Allahabad, in 1933.
Later Life
In 1944, he started the publication called 'Back to Godhead' from his home in Calcutta. The magazine, which aimed at spreading Krishna consciousness, was published and distributed by him single-handedly during the initial days. He was the magazine's sole writer, designer, publisher, editor, copy editor and distributor.
For three years he toiled to spread knowledge about the benign grace of Lord Krishna through his magazine and suffered several physical hardships in his quest to popularize the publication. His efforts were recognized by the Gaudiya Vaishnava Society in 1947 and he was awarded the title 'Bhaktivedanta', meaning "one who has realised that devotional service to the Supreme Lord is the end of all knowledge".
A married man with a family by now, Srila Prabhupada retired from married life at the age of 54 in 1950. After four years, he adopted the 'vanaprastha' (retired) order to devote more time to his divine purpose.
He then travelled to the holy city of Vrindavana where he became involved in years of deep study and writing. He lived a very humble life and in 1959 he renounced all his worldly ties and took the order of 'sannyasa'. The same year, he began working on what would become his masterpiece: a multivolume translation and commentary on the 18,000-verse Srimad-Bhagavatam (Bhagavata Purana).
The next six years of his life were spent in intense Krishna bhakti. He took darshan of Madana Mohana, Govindaji, Gopinatha, and Radha Ramana regularly and performed intensive Krishna bhajana. During bhajana he received the blessings and guidance from Sri Rupa Gosvami.
He finally got the chance to travel to the west in 1965 when he boarded a steamship bound from Calcutta to New York City. He was 69 at that time, but was determined to spread the Krishna consciousness to the people of the west.
He founded the International Society for Krishna Consciousness (ISKCON), also known as the Hare Krishna movement, in 1966 in New York City. The founding of this organization launched one of the fastest-growing spiritual movements in the history of the world.
Addressed as Srila Prabhupada from the late 1960s, he proceeded to inspire thousands of people, both Westerners and Indians, to devote their lives to Krishna consciousness. Once ISKCON was well established in the US, he started working towards spreading the organization's mission to other countries.
In spite of his advancing age he was deeply devoted to his cause and spent the 1970s travelling around the world establishing over a 100 Radha-Krishna temples in all the major cities of the Americas, Europe, Africa, India, Asia, and Australia. He also gained a huge following of disciples hailing from different countries and initiated a total of 5,000 sincere disciples.
He was also a prolific writer who translated and authored several books. Over the last two decades of his life he translated over sixty volumes of classic Vedic scriptures into the English language. His books are popular all over the world and have been translated into several different languages.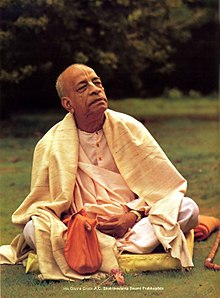 Major Works
Srila Prabhupada is best remembered as the founder of the International Society for Krishna Consciousness (ISKCON) in New York City. The society which he initially struggled to establish soon became a fast-growing spiritual movement and today is a worldwide confederation of more than 550 centers, including 60 farm communities, 50 schools and 90 restaurants.
Personal Life & Legacy
He was married and had a family. He later on renounced his family life in order to focus on the spiritual purpose of spreading awareness about Krishna consciousness.
Srila Prabhupada died on 14 November 1977, at the age of 81.
A number of memorial samadhis or shrines were constructed all over the world by the followers of ISKCON in his remembrance.
*************
Swami Prabhupada, between 1968 and 1977:

✅ Dictated 22,000 pages of text.

✅ Translated and elaborated meanings for the 18,000 verses of Srimad-Bhagavatam. To read one verse and purport a day, it would take the reader 49 years to complete.

✅ Translated and wrote meanings for the 700 verses of the Bhagavad-gita. Reading a verse with purport per day would take 2 years to finish.

✅ Translated and wrote meanings for the 17 volumes of Caitanya Caritamrta – a total of 2,170 pages or 11,555 verses. Reading one verse and purport per day would take 31 years to complete, and one page per day would take 6 years.

✅ Wrote "The Teachings of Lord Caitanya", "The Nectar of Devotion", "The Teachings of Lord Kapiladeva" and "Sri Isopanisad".

✅ Created the magazine "Back to Godhead", which has 1,000,000 copies distributed monthly.

✅ Wrote 7,000 letters to his disciples, which were published in a 5-volume book collection.

✅The compiled Srimad-Bhagavatam classes he taught generated a collection of 11 volume books.

✅ The compiled Bhagavad-gita classes he taught generated a collection of 7 volumes.

✅Recorded conversations have been compiled into 42 books.

✅ Established 108 temples worldwide.

✅ Published 147 books. Reading them at the rate of one book a month would take 13 years.

✅ Traveled 14 times around the world, changing directly the lives of 10,000 persons who became his initiated disciples.

✅ Accomplished all this in just 11 years! Between 69 and 80 years old!
________________________________________________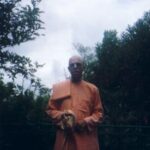 Gaurakisora dasa, born Antonio Carlos da Silva Rosa in Brazil, 1946, was accepted as Srila Prabhupada's disciple in Jun 1975 in Los Angeles, California and received Brahmana initiation at a later date in Vrndavana, India. He is founder-editor of the pioneering Peace Journalism website, TRANSCEND Media Service-TMS (from 2008), an assistant to Prof. Johan Galtung, Secretary of the International Board of the TRANSCEND Network for Peace Development Environment, and recipient of the Psychologists for Social Responsibility's 2017 Anthony J. Marsella Prize for the Psychology of Peace and Social Justice. He completed the required coursework for a Ph.D. in Political Science-Peace Studies (1994), has a Masters in Political Science-International Relations (1990), and a B.A. in Communication (1988) from the University of Hawai'i. Originally from Brazil, he lives presently in Porto, Portugal. Antonio was educated in the USA where he lived for 20 years; in Europe-India since 1994. Books: Transcender e Transformar: Uma Introdução ao Trabalho de Conflitos (from Johan Galtung, translation to Portuguese, 2004); Peace Journalism: 80 Galtung Editorials on War and Peace (2010, editor); Cobertura de Conflitos: Jornalismo para a Paz (from Johan Galtung, Jake Lynch & Annabel McGoldrick, translation to Portuguese, 2010). TMS articles by Mr. Rosa HERE. Videos HERE and HERE.
Go to Original – thefamouspeople.com
Tags:
Bhagavad-gita
,
Bhagavatam
,
Bhakti Yoga
,
Biography
,
Hinduism
,
ISKCON
,
India
,
Prabhupada
,
Religion
,
Spirituality
,
Vaishnavism
,
Vedas
,
Vedic Culture
DISCLAIMER: The statements, views and opinions expressed in pieces republished here are solely those of the authors and do not necessarily represent those of TMS. In accordance with title 17 U.S.C. section 107, this material is distributed without profit to those who have expressed a prior interest in receiving the included information for research and educational purposes. TMS has no affiliation whatsoever with the originator of this article nor is TMS endorsed or sponsored by the originator. "GO TO ORIGINAL" links are provided as a convenience to our readers and allow for verification of authenticity. However, as originating pages are often updated by their originating host sites, the versions posted may not match the versions our readers view when clicking the "GO TO ORIGINAL" links. This site contains copyrighted material the use of which has not always been specifically authorized by the copyright owner. We are making such material available in our efforts to advance understanding of environmental, political, human rights, economic, democracy, scientific, and social justice issues, etc. We believe this constitutes a 'fair use' of any such copyrighted material as provided for in section 107 of the US Copyright Law. In accordance with Title 17 U.S.C. Section 107, the material on this site is distributed without profit to those who have expressed a prior interest in receiving the included information for research and educational purposes. For more information go to: http://www.law.cornell.edu/uscode/17/107.shtml. If you wish to use copyrighted material from this site for purposes of your own that go beyond 'fair use', you must obtain permission from the copyright owner.