Africa India Relations — Promoting Harmony and Goodwill
TRANSCEND MEMBERS, 16 Sep 2019
Dr Ravi P Bhatia – TRANSCEND Media Service
Africa is a continent comprising 54 countries and has a population of about 1.3 billion people of which Nigeria on the western coast is the most populated one. Incidentally India itself has a population of the same size.
Africa is a multi lingual continent and has vast diversities — social, economic, racial and historical. It has been colonised by several colonial powers — Portugal, Spain, Germany, Holland, Belgium, Italy for brief periods of time. But the most important colonial powers have been France and England. France had colonised a few north western countries including, Morocco, Algeria, Tunisia, Côte d'Ivoire,   Chad etc and as a result, the French language is widely spoken in these countries; they are also known as Francophone countries.
The British colonialism was mainly confined on the eastern part of the continent— Kenya, Uganda  and South Africa on the southern side of Africa. Mozambique had been colonised by Portugal.
Egypt is another country in the north eastern side of the continent that has a long and rich civilisation. It now connects the Mediterranean and Red Seas and is located near Greece, Saudi Arabia, Iraq as well as Israel. Egypt's civilisation is universally admired and some of its artefacts are found in a few well known museums in France, England and elsewhere. Pharaohs are also part of this heritage.
India's relationship with Africa dates to pre historical times and the precolonial period for the purposes of exchange of trade and culture. This relationship was fortified mainly by Britain which had colonised India also. Africa needed labour in agriculture and for several infra development activities; the labour was supplied mainly from India and neighbouring regions. Trade and commercial relations also were promoted.
The challenges faced by Indian indentured labour in S Africa, Uganda, Kenya are well known as a result of Mahatma Gandhi's long stay — 21 years in S Africa. His interaction with the country's leaders — Nelson Mandela, Bishop Tutu and others have been documented by Gandhi himself and others. In fact his stay was politically a learning experience for Gandhi. The ideas of peaceful protests and Satyagraha developed as political tools by Gandhi against racism, injustice, freedom are now well established in many parts of the world apart from India and S Africa. Many countries including India gained their independence from colonial rule after the end of WW II with help of these political means of Gandhi.
Several places — Johannesburg, Durban, Cape Town, Tolstoy Farm (developed by Gandhi) are well known names to Indians as a result of the challenges faced by Gandhi and how they were overcome by him. Although he faced racialism and injustice himself, today there are statues of this great icon of India in these places.
As a result of India's policies of having good relationships not only with the rich prosperous countries — USA, Russia, England, France China, Japan etc but also with  Africa and countries on the east, several initiatives are being taken to promote trade and goodwill with them. Towards this end, a Seminar was held a few weeks back in New Delhi the Indian capital, on the Legacies of Gandhi and Nelson Mandela.
Last week (3, 4 September) a conference was held in Delhi again, on  India-Africa Partnership in a Changing Global Order  to discuss the challenges being faced by the people of Africa and India.   Delegates who participated in the conference were from different fields — culture, education, science and technology, apart from some students and some political personalities. H.E. Alem Woldemariam, the Ambassador of Eritrea was present and also addressed the audience.
Some of the areas discussed in the Conference included Enhancing People to People Cooperation, Common Security Challenges, Promoting Economic Development, Factoring Diaspora Relationship, etc. An Indian scholar who had travelled to many regions of the continent and had met Indian Diaspora living there made a very interesting presentation on these people, some of whom had been living in Africa for four generations. She spoke of their perspectives of India and how, given any opportunity they travel to India to learn about India which they somehow feel is their motherland. They also faced difficulties in India trying to locate and meet people who were relatives of their parents or grandparents.
Another interesting presentation made was on the popularity of Hindi cinema— usually called Bollywood, in some parts of Africa. The African people loved Indian cinema for its dances and music and social issues that were highlighted in some of the films. The speaker mentioned that even though there were occasionally no subtitles to the Hindi dialogs, they still enjoyed these films, some of which made a lot of money. The audiences loved some popular actors like Shahrukh Khan, Amitabh Bachman, Raj Kapoor and Nargis among others.
Another interesting topic that was discussed was on the status of African students in Indian Universities and Colleges. Many students come to India  because studying in India is much cheaper than in Europe or USA or Canada. But they face several problems including racial remarks that some students face and not receiving in time, scholarships and stipends they are entitled to. The speakers were sympathetic to these issues and suggested how these problems could be reduced.
Incidentally I am participating in a conference in Cape Town on 18 – 20 September. I will perhaps better appreciate the problems of overseas students during my stay in that place.
Like most International Conferences, there were also preventions made by some political personalities including Ambassadors and officers working in commercial enterprises in Africa. They presented a different perspective and offered some suggestions to improve India Africa Partnership. In this context, the Valedictory Address was made by the Vice President of India Shri M Venkaiah Naidu, whose photograph is appended in this article.
Altogether an interesting and enriching experience that promoted harmony and goodwill among delegates, students and scholars.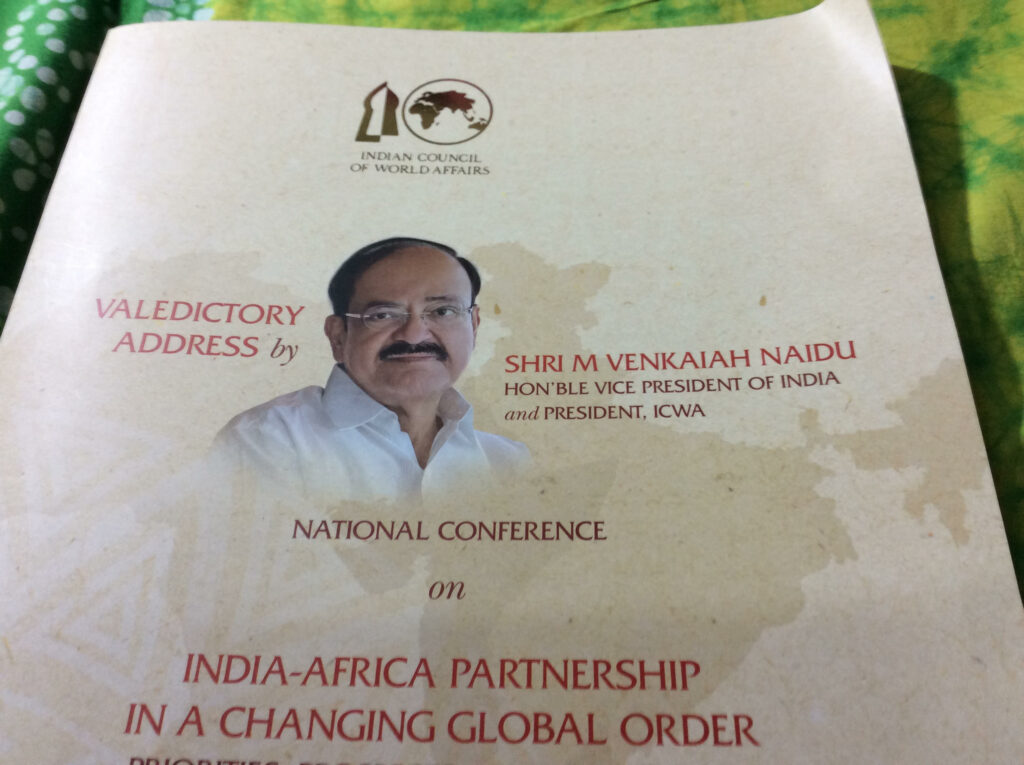 ______________________________________________

Dr Ravi P Bhatia is a member of the TRANSCEND Network for Peace Development Environment, an educationist, Gandhian scholar and peace researcher. Retired professor, Delhi University. His new book, A Garland of Ideas—Gandhian, Religious, Educational, Environmental was published recently in Delhi. ravipbhatia@gmail.com
Tags:
Africa
,
India
,
South Africa
This article originally appeared on Transcend Media Service (TMS) on 16 Sep 2019.
Anticopyright: Editorials and articles originated on TMS may be freely reprinted, disseminated, translated and used as background material, provided an acknowledgement and link to the source, TMS: Africa India Relations — Promoting Harmony and Goodwill, is included. Thank you.
If you enjoyed this article, please donate to TMS to join the growing list of TMS Supporters.


This work is licensed under a CC BY-NC 4.0 License.
One Response to "Africa India Relations — Promoting Harmony and Goodwill"