(Italiano) Al SIPRI parla il ministro degli esteri dell'Iran – e i media non colgono
ORIGINAL LANGUAGES, 9 Sep 2019
Jan Oberg – Centro Studi Sereno Regis – TRANSCEND Media Service
4 Settembre 2019 – Il 21 agosto2019 il ministro degli esteri dell'Iran, Dr. Javad Zarif, ha tenuto una conferenza al SIPRI, Stockholm International Peace Research Institute.
Zarif ha parlato lungamente, senza copione, il modo particolareggiato e riferendosi a fatti storici della regione e del conflitto, in base a una struttura coerente di teorie, concetti e interpretazione, che, presi nell'insieme, lo pongono in una categoria unica fra i ministri degli esteri mondiali.
C'è davvero di che essere grati al SIPRI per averlo invitato.
La Risoluzione 598 del 1987 del Consiglio di Sicurezza ONU cui si riferisce Zarif è leggibile qui.
Attenzione politicamente corretta e di stanca routine dei principali media svedesi
In termini generali, i principali media svedesi hanno promosso un'immagine negative dell'Iran e dello stesso Javad Zarif. La massima trattazione in merito ha riguardato i diritti umani in Iran, l'Iran come minaccia e sostenitore del terrorismo, la pena di morte, e le proteste da parte di un gruppo di esuli iraniani in protesta fuori dall'edificio del SIPRI – per l'essere l'Iran sotto pressione economica e lo stesso Zarif in posizione indebolita. E su un giornalista iraniano che ha disertato durante la visita della delegazione a Stoccolma.
I media hanno anche sottolineato che Zarif sta conducendo un "tour di fascinazione" e che egli stesso è un diplomatico "molto affascinante" e d'esperienza – con la subdola implicazione che non si può fidarsi di lui.
La tesi di partenza della Televisione Svedese è che si tratta di un uomo sotto pressione che cerca di salvare l'accordo JCPOA – il che implica che egli/l'Iran stanno negoziando da una posizione di perdente – invece di dire che gli USA sono i soli ad essersi ritirati dall'accordo e ad aver intensificato le sanzioni a livello soffocante e che la UE non è stata in grado di mobilitare un sostegno di fatto per l'accordo e mantenerne gli impegni – cioè aumentare la propria cooperazione con l'Iran.
Nel breve podcast si può anche sentire la corrispondente dal medio oriente della Radio Svedese, Cecilia Uddén, dire che Zarif è in Europa per raccogliere sostegno al caso dell'Iran e che, affascinante com'è, "non ha neppure l'aspetto degli altri ayatollah"… e che non indossa mai né cravatta né turbante… (!) E poi ci sono Dagens Nyheter, Svenska Dagbladet – entrambi a far notare che fin dai titoli che ha criticato il presidente Trump – e Swedish Broadcasting (Sveriges Radio) – per lettori che capiscano lo svedese.
Nessuno che io abbia visto ha avuto la capacità intellettuale di trasmettere i punti dettagliati, elaborati e ben presentati espressi dal ministro degli esteri presso SIPRI.
Nessuno che abbia esaminato il contest più ampio del conflitto fra Iran e USA/Occidente dal 1953.
Nessuno che abbia fatto notare che il ritiro USA dall'accordo sul nucleare JCPOA è una violazione USA del diritto internazionale in quanto l'accordo è incorporato nella Risoluzione 2231 del Consiglio di Sicurezza ONU.
Né si è citato che l'Iran ha accettato il regime d'ispezione più esteso e severo di sempre e che numerosi rapporti – anche statunitensi – documentano che l'Iran ha adempiuto ai propri obblighi ai sensi dell'accordo.
Nessuno si è chiesto se sia accettabile che il popolo iraniano – oltre 80 milioni – debba patire le conseguenze di aspre, soffocanti sanzioni.
Nessuno ha fatto notare che gli USA applicano sanzioni extraterritoriali agli alleati – insistendo che vengano applicate leggi USA da terzi, che in caso contrario vengono puniti.
E ovviamente nessuno ha citato che Israele è una potenza – unico paese del Medio Oriente – dotata di armi nucleari con un bilancio militare proporzionalmente molto maggiore che l'Iran, non è membro del NPT (Trattato di Non-Proliferazione) e non accetta alcuna ispezione sul proprio territorio.
Insomma, la trattazione mediatica della visita in Svezia di Zarif è stata invariabilmente un'illustrazione che i liberi media occidentali oggi sostanzialmente definiscono la propria libertà come libertà di essere ignoranti, selettivi e partigiani come gli aggrada –e che l'omissione è almeno quanto la falsità un enorme problemi per le possibilità dei consumatori di media di capire gli affari internazionali.  Il pubblico non è stato certo servito in termini d'informazione rilevante, onesta e varia. Lo sono stati invece altri interessi – come quelli collegati ai valori dominanti e ai governi occidentali, e quindi l'orientamento della Svezia a favore della politica estera USA.
____________________________________________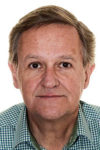 Il Prof. Jan Oberg è direttore della TFF e membro della rete TRANSCEND per la Pace, Sviluppo e Ambiente.
Titolo originale:Iran's Foreign Minister Speaks at SIPRI–And the Media Don't Get It
Traduzione di Miki Lanza per il Centro Studi Sereno Regis
Go to Original – serenoregis.org
Tags:
Geopolitics
,
International Relations
,
Iran
,
MENA
,
Nonviolence
,
Nuclear Energy
,
Nuclear Weapons
,
Peace
,
Politics
,
Solutions
,
West
,
World
DISCLAIMER: The statements, views and opinions expressed in pieces republished here are solely those of the authors and do not necessarily represent those of TMS. In accordance with title 17 U.S.C. section 107, this material is distributed without profit to those who have expressed a prior interest in receiving the included information for research and educational purposes. TMS has no affiliation whatsoever with the originator of this article nor is TMS endorsed or sponsored by the originator. "GO TO ORIGINAL" links are provided as a convenience to our readers and allow for verification of authenticity. However, as originating pages are often updated by their originating host sites, the versions posted may not match the versions our readers view when clicking the "GO TO ORIGINAL" links. This site contains copyrighted material the use of which has not always been specifically authorized by the copyright owner. We are making such material available in our efforts to advance understanding of environmental, political, human rights, economic, democracy, scientific, and social justice issues, etc. We believe this constitutes a 'fair use' of any such copyrighted material as provided for in section 107 of the US Copyright Law. In accordance with Title 17 U.S.C. Section 107, the material on this site is distributed without profit to those who have expressed a prior interest in receiving the included information for research and educational purposes. For more information go to: http://www.law.cornell.edu/uscode/17/107.shtml. If you wish to use copyrighted material from this site for purposes of your own that go beyond 'fair use', you must obtain permission from the copyright owner.