Seeds of Sustenance/Freedom vs. Seeds of Suicide/Surveillance
TRANSCEND MEMBERS, 23 Sep 2019
Prof. Vandana Shiva | Navdanya – TRANSCEND Media Service
7 Sep 2019 – Seed is the basis of food and agriculture.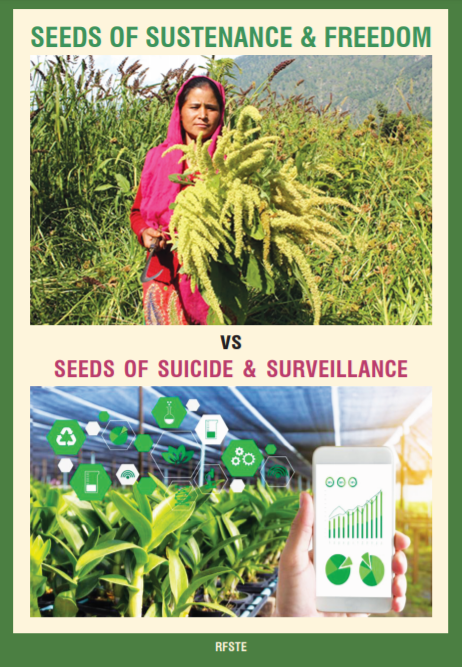 Seed Sovereignty is the foundation of food sovereignty.
Corporations that made war chemicals introduced these chemicals as agrichemicals.
In the first Green Revolution they changed the seeds to adapt to chemicals.
In the second Green Revolution they tried to own and control the seed itself through genetic engineering and patents.
There is now an attempt to introduce the third Green Revolution with total control over the seed through the convergence of industrial breeding and surveillance digital technologies.
What is at stake is our biodiversity and our freedom.
Part I
Seeds of Chemicalisation: First "Green Revolution"
In the 1960s, when the Green Revolution was imposed on the Third World, we were told without chemicals and the "miracle seeds" of Green Revolution we will starve.
The rhetoric was "chemicals will feed us".
The first Green Revolution was the re-colonization of India's food and agriculture. Punjab as the first colony of this Green Revolution was forced to adopt chemicals and dwarf varieties adapted to chemicals.
Through the seed, the corporations and their war chemicals completely destroyed peaceful ecological agriculture in Punjab.1 Seeds of "dwarf varieties" were bred to withstand high doses of fertilisers. They were falsely named "High Yielding Varieties" (HYVs) when they were merely "High Response Varieties" that responded to chemicals as Dr. Palmer concluded in the United Nations Institute for Social Development (UNRISD) study on the impact of seeds.
As discussed in the book, The violence of the Green Revolution:
"The dwarf gene was essential to the technological package of the Green Revolution, which was based on intensive inputs of chemical fertilizers. The taller traditional varieties tended to 'lodge' with high applications of chemical fertilizers because they converted the nutrients into overall plant growth. The shorter, stiffer stems of dwarf varieties allowed more efficient conversion of fertilizer into grain…The linkage between chemical fertilizers and dwarf varieties that were established through the breeding programs of CIMMYT and IRRI created a major shift in how seeds were perceived and produced, and who controlled the production and use of seeds."
The illusion that was created was that the Green Revolution produced more food. However HYVs seeds replaced the diversity of indigenous seeds bred for nutrition, taste and resilience. Rice and wheat mono cultures increased at the cost of pulses, oil seeds, millets, vegetables, fruits. Punjab was made the "bread basket" to supply rice and wheat to all of India, but Punjab was destroyed because the Green Revolution destroyed soil, water and biodiversity which are the nature's capital on which food production depends.
And more food and nutrition was not produced. What increased were rice and wheat as commodities. And the metric of "Yield per Acre" was used to hide true productivity.
"Yield per Acre "measures commodities extracted from farms, not the health of the farm, the farmer, or the food.
The false claim that 'Chemicals produce more food and are necessary to feed the world is based on the claim of productivity gains and the higher "yield per acre" of the Green Revolution, but as the Violence of the Green Revolution and Health Per Acre3 show us, this was just a false comparison.
TO RED THE FULL REPORT, Download PDF file:
_______________________________________________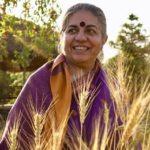 TRANSCEND Member Prof. Vandana Shiva is a physicist, ecofeminist, philosopher, activist, and author of more than 20 books and 500 papers. She is the founder of the Research Foundation for Science, Technology and Ecology, and has campaigned for biodiversity, conservation and farmers' rights, winning the Right Livelihood Award [Alternative Nobel Prize] in 1993. She is executive director of the Navdanya Trust.
Navdanya and the Navdanya movement were created by Dr. Vandana Shiva 30 years ago in India to defend Seed and Food sovereignty and small farmers around the world. Navdanya pioneered the movement of seed saving and seed freedom, which began in response to the crisis of erosion of agricultural biodiversity and introduction of GMOs and patents on seeds through intellectual property rights (IPRs) and so-called 'free trade' agreements. It has long fought against biopiracy, the patenting of indigenous knowledge by self-interested multinational corporations and won cases related to Neem, basmati rice and wheat in India. Navdanya promotes a new agricultural and economic paradigm, a culture of food for health, where ecological responsibility and economic justice replace the present greed, consumerism and competition which have become dominant in society. It aims at regaining the common good as a foundation for a renewed sense of community, solidarity and culture of peace. We strive to achieve these goals through the conservation, renewal and rejuvenation of the gifts of biodiversity we have received from nature and our ancestors, and to defend these gifts as commons. More…
Tags:
Activism
,
Agriculture
,
Biodiversity
,
Capitalism
,
Conflict
,
Development
,
Ecofeminism
,
Economics
,
Environment
,
Farming
,
Fraud
,
GMO
,
Genetic engineering
,
Genetic manipulation
,
India
,
Justice
,
Media
,
Monsanto
,
Nonviolence
,
Organic food
,
Peace
,
Politics
,
Power
,
Public Health
,
Roundup
,
Social justice
,
Solutions
,
USA
,
Vandana Shiva
,
Whistleblowing
,
World
DISCLAIMER: The statements, views and opinions expressed in pieces republished here are solely those of the authors and do not necessarily represent those of TMS. In accordance with title 17 U.S.C. section 107, this material is distributed without profit to those who have expressed a prior interest in receiving the included information for research and educational purposes. TMS has no affiliation whatsoever with the originator of this article nor is TMS endorsed or sponsored by the originator. "GO TO ORIGINAL" links are provided as a convenience to our readers and allow for verification of authenticity. However, as originating pages are often updated by their originating host sites, the versions posted may not match the versions our readers view when clicking the "GO TO ORIGINAL" links. This site contains copyrighted material the use of which has not always been specifically authorized by the copyright owner. We are making such material available in our efforts to advance understanding of environmental, political, human rights, economic, democracy, scientific, and social justice issues, etc. We believe this constitutes a 'fair use' of any such copyrighted material as provided for in section 107 of the US Copyright Law. In accordance with Title 17 U.S.C. Section 107, the material on this site is distributed without profit to those who have expressed a prior interest in receiving the included information for research and educational purposes. For more information go to: http://www.law.cornell.edu/uscode/17/107.shtml. If you wish to use copyrighted material from this site for purposes of your own that go beyond 'fair use', you must obtain permission from the copyright owner.