Scientists and Spirituality — Moving away from Materialism
TRANSCEND MEMBERS, 20 Apr 2020
Ravi P Bhatia – TRANSCEND Media Service
Like other well known personalities who have interests in different fields, scientists also have creative tendencies towards diverse areas including music, literature and spirituality.
We know of scientists such as Copernicus, Galileo, Newton, who excelled in their attempts to understand the workings of the universe and have made lasting contributions. However, they were also drawn towards and affected by the teachings of the Church. In a few cases, as in the motion of Earth around the Sun, the Church believed otherwise — the Earth is stationary and the Sun moves around it. Only after a long dispute and after telescopic observations of the Moon and the Sun, did the Church agree to the heliocentric theory — movement of the Earth around the Sun.
Albert Einstein was also concerned about the importance of God and how it affected humanity. But he went on to say that he did not believe in a personal God who was concerned about the actions or lives of individual human beings but nevertheless affected humanity in profound ways. He also stated that he was not an atheist. In an article he stressed the futility of human desires that never cease in individuals. This is similar to what the Bhagwad Gita says about man's nature and consciousness.
Einstein also loved to play the violin, when he was not working on his pioneering and abstract work in relativity. Another Nobel Laureate in physics from USA, Murray Gellmann (1929-2019), who is well known for his research in elementary particles, was also an avid drummer. Similarly other scientists were also interested in music and played some instruments like violin or piano or sitar.
People have fought over religious conflicts, but they have also made  great contributions in art, architecture, philosophy, literature and other areas based on their religious beliefs. Who can dispute the beauty of several architectural creations such as Sistine Chapel, the headquarters of the Catholic Church in the Vatican City, Notre Dame Cathedral in Paris, Somnath Temple in Gujarat, the Taj Mahal in Agra, and countless other religious monuments all over the world? Recently several beautiful temples have been constructed in many parts of the world by members of the International Society for Krishna Consciousness-ISKCON also known as the Hare Krishna Movement, owing to the devotees' love–prema bhakti–for Lord Krishna.
Recently there was a report in newspapers about a 68-year-old American-born nuclear physicist who got inspired by the Hare Krishna doctrine. After becoming familiar with Vedic philosophy, he decided to move away from physics into the spiritual realm of ISKCON and became known as Guru Prasad Swami– the Physicist Monk.
On asked why he decided to switch from physics, he replied that physics only talks of matter and how it behaves in different situations, and develops theories to explain its behaviour. But it cannot explain what consciousness is, an idea that spirituality does address. He also referred to Srila Prabhupada, the founder of ISKCON, who taught that one should not fear death, a transition from the physical state to a spiritual one.  He was also inspired by Gandhi's simple lifestyle and his emphasis on truth and nonviolence.
Today's materialistic world promotes wanting and craving for more and more despite the inequality that it creates, resulting in destruction of the Earth and its ecosystem. A book entitled Systematic Alternatives published in India in 2018 addresses the environmental, economic and civilizational crises the world faces in consequence of the capitalist system, which promotes profiteering at the expense of the planet and of humanity.
In such a situation, the Hare Krishna Movement of ISKCON and individuals like the Physicist Monk, give us hope for our future.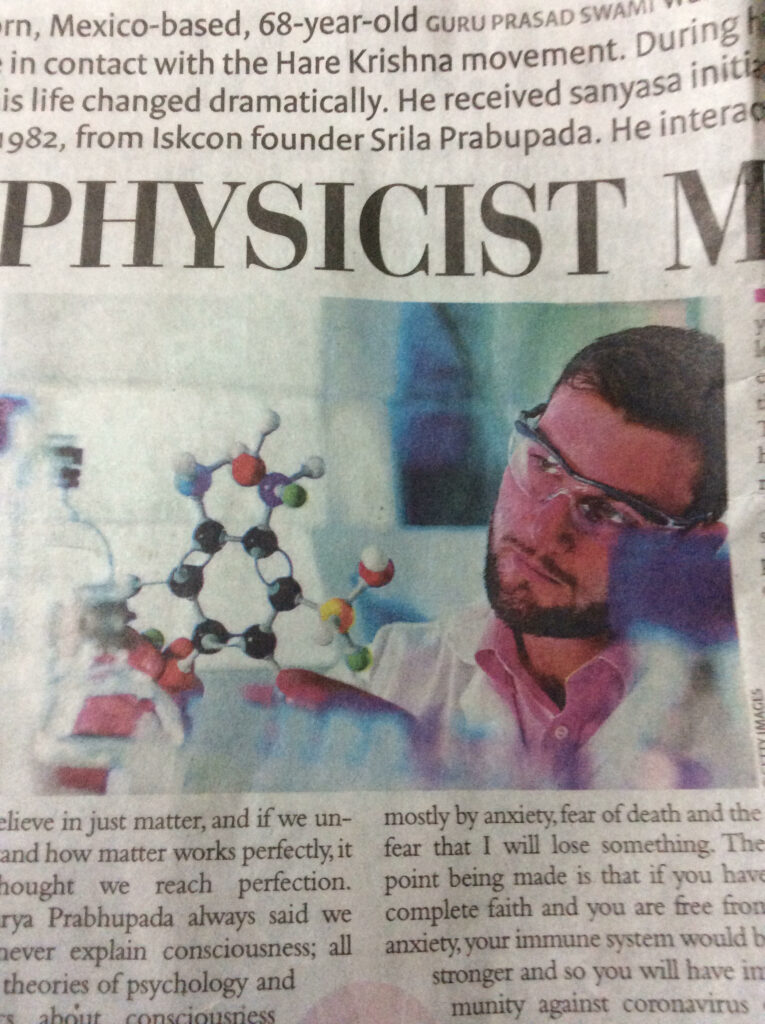 ______________________________________________

Dr Ravi P Bhatia is a member of the TRANSCEND Network for Peace Development Environment, an educationist, Gandhian scholar and peace researcher. Retired professor, Delhi University. His new book, A Garland of Ideas—Gandhian, Religious, Educational, Environmental was published recently in Delhi. ravipbhatia@gmail.com
Tags:
ISKCON
,
Inspirational
,
Krishna Consciousness
,
Materialism
,
Science and Spirituality
,
Spirituality
This article originally appeared on Transcend Media Service (TMS) on 20 Apr 2020.
Anticopyright: Editorials and articles originated on TMS may be freely reprinted, disseminated, translated and used as background material, provided an acknowledgement and link to the source, TMS: Scientists and Spirituality — Moving away from Materialism, is included. Thank you.
If you enjoyed this article, please donate to TMS to join the growing list of TMS Supporters.


This work is licensed under a CC BY-NC 4.0 License.
2 Responses to "Scientists and Spirituality — Moving away from Materialism"