State of the Empire
TRANSCEND MEMBERS, 30 Nov 2020
Mazin Qumsiyeh – TRANSCEND Media Service
24 Nov 2020 – Briefing on the state of the empire, ending on a positive note.

First, the bad news: unemployment in Gaza now at 82%, economy of Palestinians de-developed by Israeli apartheid, Netanyahu visiting the Kleptocracy known as "Saudi Arabia", weapon sales to human rights abusers accelerating, millions infected daily by the COVID19, rich got richer, poor got poorer, rich people get healthcare and the rest suffers and much more.
Things will get worse under Biden as is clear from the appointment of elite war mongering Zionists for key positions like his Chief of Staff, his Secretary of State or his Secretary of the Treasury (unfortunately few people will look into their background). This bodes ill for the USA and the world. Not one single progressive was appointed to any key position in the Biden "team". The change is merely to go back to plain vanilla US empire in its classic (less Trumpian) form. Bombs will start again to rain on poor people everywhere thanks to Blinkin (who helped start the war on Yemen). Genocidal sanctions on countries will increase under Yelen (representing big Bankers). Asserting "leadership" in the world under Biden means trashing human rights to support despotic "allies" like Saudi Arabia.
The world is a very dangerous place and is about to get more dangerous. Tens of millions of people in Egypt for example may starve when the Nile is restricted with Ethiopian and Israeli collaboration. Israel is deep into these issues. Tigray and Amhara regions of Ethiopia (sources of Nile) are led by People who do not like the Zionists while the central government of Ethiopian fighting them with Israeli help is Zionized.
See for example: https://www.timesofisrael.com/nine-israelis-rescued-from-ethiopian-war-zone-in-complex-operation/
Russia's interference to stop the Israeli/US-egged war between Armenia and Azerbaijan (also using Israeli weapons and "advisors") was a blow but I am sure the Biden Administration will not take a hands-off approach in this or let Russia continue to play peace-making role. Similarly, we expect the war on Syria, Libya, and Yemen by puppets of the US/Israel to flare-up under Biden /Blinkin unless the public wakes up. Biden will continue to support the so called allies that violate human rights.
They will work harder than Trump to subjugate Cuba, Venezuela, and other countries that fail to support Apartheid Israel. The public should insist that the Biden administration should not do what other Democratic administrations did: collude with despotic regimes like Saudi Arabia, Israel, UAE, Brazil (destroying the Amazon), Bahrain, and India. In the case of Israel also fund its apartheid regime to the tune of 4 billion/year. We should instead insist that they stop starving countries respecting the will of their people (like Yemen and Venezuela).
As far as Palestine is concerned, what Trump failed to achieve in complete subjugation of the self-appointed leadership will be easier to do by Biden (initial evidence: complete return to normalization/ Oslo failed strategies by Abu Mazen without even the tokenness of consulting with other PLO factions). Again more people must awaken to the machinations engineering a world of domination by rich billionaires.
The genocidal policies of the USA will not change by simply electing one corporate funded candidate over another corporate funded person. For the Palestinian self-appointed "leaders" I say please wake-up and join the axis of resistance instead of going back to failed policies of begging your oppressors. On good news, more people are waking up, writing, engaging in civil disobedience, refusing to take part in oppression, engaging in BDS, planting, growing, educating children, engaging in civil service, and much more. Millions of candles are lit (lighting a candle better than cursing the dark).
And the good news: I am honored and humbled to report that locally here in Palestine goodness is still all around us.  Millions of people have not succumbed to the propaganda. It is truly an honor to see Palestinians, Egyptians, Bahrainis, Sudanese, and other people reject normalizing oppression.  Life is good but life is also a struggle. Goodness will prevail. The 99% will eventually win over the 1% (actually more like 0.01% that wants to run the world).
____________________________________________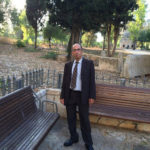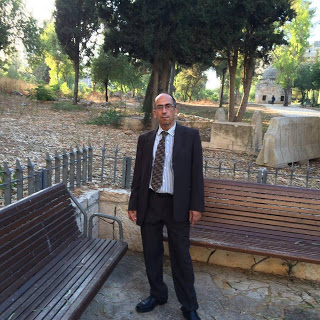 Mazin Qumsiyeh, associate professor of genetics and director of cytogenetic services at Yale University School of Medicine, is founder and president of the Holy Land Conservation Foundation and ex-president of the Middle East Genetics Association. He won the Raymond Jallow Activism Award from the national Arab American Anti-Discrimination Committee in 1998. He is co-founder and national treasurer of Al-Awda, the Palestine Right to Return Coalition, and has written extensively about the Middle East. Qumsiyeh is a member of the TRANSCEND Network for Peace Development Environment, author of Sharing the Land of Canaan and Popular Resistance in Palestine, a professor at Bethlehem University and director of the Palestine Museum of Natural History in Bethlehem. http://palestinenature.org
Join the BDS-BOYCOTT, DIVESTMENT, SANCTIONS campaign to protest the Israeli barbaric siege of Gaza, illegal occupation of the Palestine nation's territory, the apartheid wall, its inhuman and degrading treatment of the Palestinian people, and the more than 7,000 Palestinian men, women, elderly and children arbitrarily locked up in Israeli prisons.
DON'T BUY PRODUCTS WHOSE BARCODE STARTS WITH 729, which indicates that it is produced in Israel.    DO YOUR PART! MAKE A DIFFERENCE!
7 2 9: BOYCOTT FOR JUSTICE!
Tags:
Checkpoints
,
Conflict
,
Coronavirus
,
Fatah
,
Gaza
,
Geopolitics
,
Hamas
,
Human Rights
,
ICC
,
Israel
,
Nakba
,
Oslo Accords
,
Palestine
,
Palestine/Israel
,
Politics
,
Power
,
Settlers
,
Social justice
,
State Terrorism
,
UN
,
USA
,
Violence
,
West Bank
,
Zionism
This article originally appeared on Transcend Media Service (TMS) on 30 Nov 2020.
Anticopyright: Editorials and articles originated on TMS may be freely reprinted, disseminated, translated and used as background material, provided an acknowledgement and link to the source, TMS: State of the Empire, is included. Thank you.
If you enjoyed this article, please donate to TMS to join the growing list of TMS Supporters.


This work is licensed under a CC BY-NC 4.0 License.