Designate Myanmar Coup Group as Terrorists
ASIA--PACIFIC, 22 Feb 2021
Maung Zarni – TRANSCEND Media Service
"Myanmar coup group leaders need to be designated TERRORISTS who use the national armed forces to mass-slaughter unarmed peaceful citizens – protesters, non-Muslim ethnic communities and Rohingya."
— Al Jazeera English News Hour, 21 Feb 2021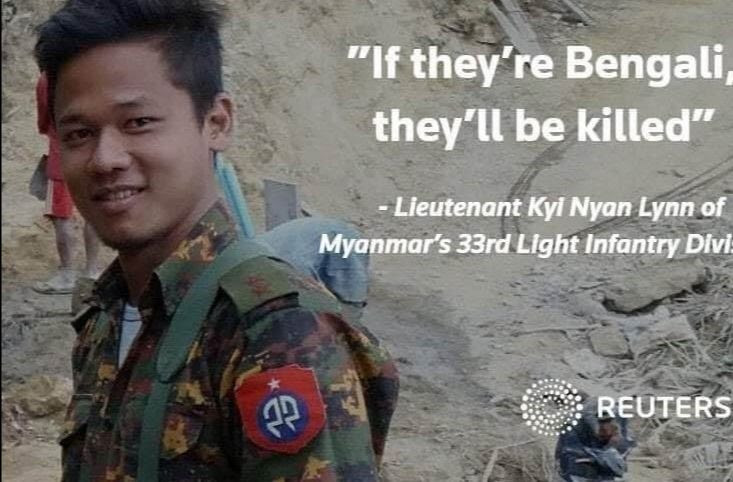 21 Feb 2021 – I have been running on empty for the last 3 weeks since I "watched" the real-time coup on my chat box as the messages of raids and detention arrived  a few informed sources.
Concerned about another wave bloodbath by Myanmar Tatmadaw or military – which have on its civilian channel MRTV issued a chilling warning to the public, which have overwhelming support – anti-coup Civil Disobedience Movement – that the coup leaders are going to use lethal force should the protesters take to the street tomorrow (22 Feb in Myanmar).
The Internet shut down in Rangoon is from 1 am till 12 noon, and 4 am to 8 pm martial law, which bans gathering of more than 5 people, is issued.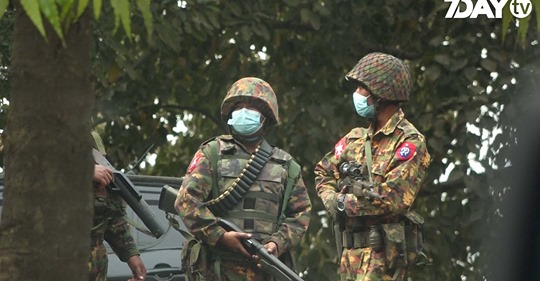 Along with "shoot to kill", needless to say.   This is all Déjà vu -1962, 1975, 1988, 2007, and now 2021.
Light Infantry Division 33 (in pix above) – known for its genocidal killings, violence and destruction against Rohingyas in the late summer months of Aug and September – are being deployed on the streets of Mandalay since yesterday.   Snipers are easily spotted while the military intelligence agents, plainclothes and in uniform are seen recording every protests and "the ground situation" for identifying key organizers using Chinese Facial Recognition Tech for subsequent arrests and kidnapping.
LID 77 have been in Yangon for a week or longer.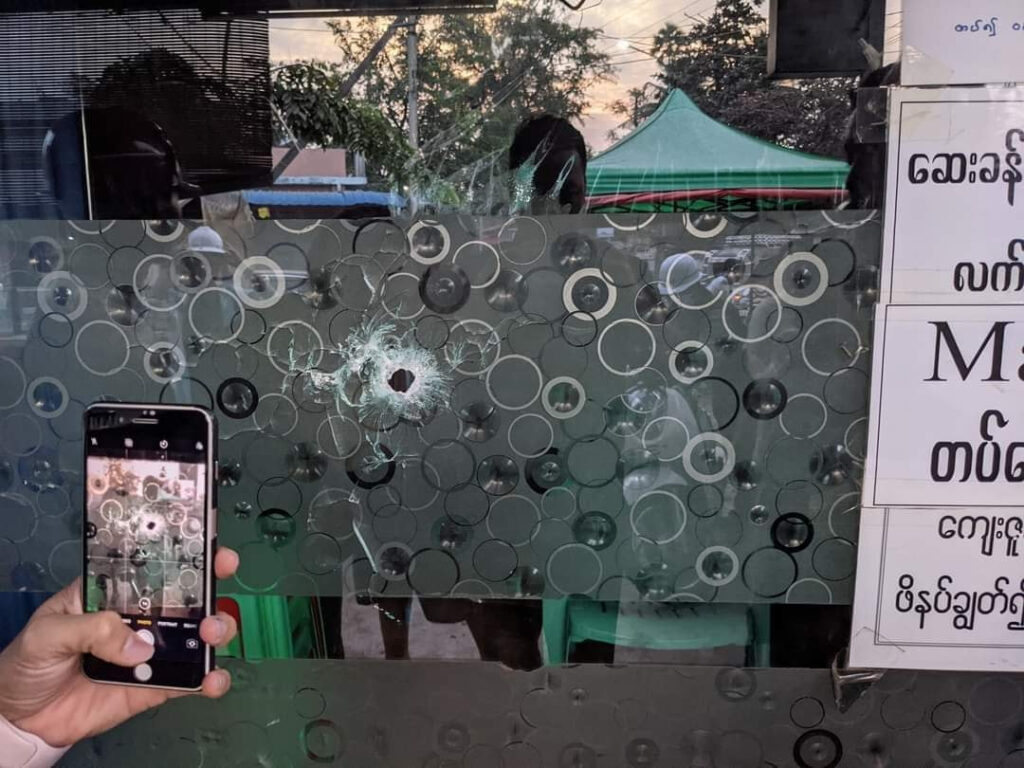 Leopards do not change their spots, or "you can put the twisted tail of a dog in a bamboo stem, to straighten it.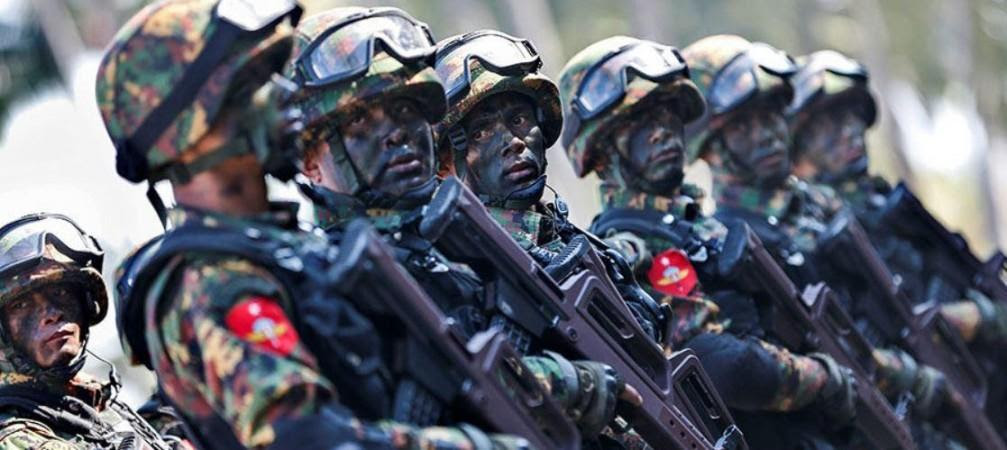 I saw a Facebook videoclip of a commando, in plainclothes, making a blatant threat that he will shoot tonight at 11 pm on patrol.
A sense of invincibility and impunity reeks in his filth-filled blood-thirsty Facebook speech.
As a 12-year old boy, I saw soldiers in combat gears on the streets of Mandalay  in 1975 uprisings – going after protesters.  And again in 1987 I saw up close truck loads of soldiers, jumping off to take positions and aiming their machine guns aiming at student protests marching near Mandalay Hotel where I worked as a daily wage tour-guide for the then "socialist" regime of Ne Win in 1987, a few years after my undergraduate years.   In Tokyo, I remembered crying with a bunch of Burmese students and migrant workers when we saw on Japan's public TV NHK news videoclips of soldiers firing on unarmed civilian protesters – some teenagers  – in front of US Embassy on Merchant Street in Rangoon in August 1988.
Contrary to the overwhelming Burma expert view that only incremental progress is possible and that the Tatmadaw leaders can be reasoned with.  As I had informed Daw Aung San Suu Kyi 8 years ago when I saw her in London I would say it again: the world cannot do business with the Tamadaw leaders.    Myanmar military can NOT be informed.
This was what I was told in July 1988 in no uncertain term by one of my late uncles, a military officer, contemporary with and a colleague of formerly #3 general Shwe Mann.  My late Uncle was emphatic that I find greener pastures, and do not throw away my life or education by returning to Myanmar.   Sitting in his regional command office – in his full uniform – he bitterly and painfully described the Tatmadaw, his employer, as a thieving murderous organization.  He was trapped.   And he died a prisoner of his own guilty conscience.
I know I always say very controversial thing, whether Suu Kyi is a charlatan, or many are Burma or Burmese experts are self-interested spinmeisters who know which side of the bread is buttered, or the Buddhists are committing a genocide.
In character, I have started pushing the message – that Myanmar coup group ought to be designated TERRORISTS.  It has the benefit of being true and accurate.
I am not alone.  There is an enveloping popular sentiment across Myanmar's public and many in the diaspora that Myanmar does NOT have national armed forces that have sworn to protect the people.
The Tatmadaw have long morphed into a terrorist mafia, operating with the institiutionalized self-delusion of "patriotism".
Way past time to call a spade a spade.
___________________________________________

A Buddhist humanist from Burma, Maung Zarni is a member of the TRANSCEND Network for Peace Development Environment, former Visiting Lecturer with Harvard Medical School, specializing in racism and violence in Burma and Sri Lanka, and Non-resident Scholar in Genocide Studies with Documentation Center – Cambodia. Zarni s the co-founder of FORSEA, a grass-roots organization of Southeast Asian human rights defenders, coordinator for Strategic Affairs for Free Rohingya Coalition, and an adviser to the European Centre for the Study of Extremism, Cambridge. Zarni holds a PhD (U Wisconsin at Madison) and a MA (U California), and has held various teaching, research and visiting fellowships at the universities in Asia, Europe and USA including Oxford, LSE, UCL Institute of Education, National-Louis, Malaya, and Brunei. He is the recipient of the "Cultivation of Harmony" award from the Parliament of the World's Religions (2015). His analyses have appeared in leading newspapers including the New York Times, The Guardian and the Times. Among his academic publications on Rohingya genocide are The Slow-Burning Genocide of Myanmar's Rohingyas (Pacific Rim Law and Policy Journal), An Evolution of Rohingya Persecution in Myanmar: From Strategic Embrace to Genocide, (Middle East Institute, American University), and Myanmar's State-directed Persecution of Rohingyas and Other Muslims (Brown World Affairs Journal). He co-authored, with Natalie Brinham, Essays on Myanmar Genocide.
Tags:
Asia
,
Aung San Suu Kyi
,
Bangladesh
,
Bhasan Char refugee camp
,
Buddhism
,
Burma/Myanmar
,
Cultural violence
,
Direct violence
,
Ethnic Cleansing
,
Free Rohingya Coalition
,
Genocide
,
History
,
Human Rights
,
Institute on Statelessness and Inclusion
,
International Court of Justice
,
Justice
,
Maung Zarni
,
Racism
,
Religion
,
Rohingya
,
Social justice
,
Structural violence
,
Tendayi Achiume
,
United Nations
,
Yanghee Lee
This article originally appeared on Transcend Media Service (TMS) on 22 Feb 2021.
Anticopyright: Editorials and articles originated on TMS may be freely reprinted, disseminated, translated and used as background material, provided an acknowledgement and link to the source, TMS: Designate Myanmar Coup Group as Terrorists, is included. Thank you.
If you enjoyed this article, please donate to TMS to join the growing list of TMS Supporters.


This work is licensed under a CC BY-NC 4.0 License.