The Global Fightback against Israeli Lawfare Attacks on Advocacy for Palestinian Rights
EDITORIAL, 10 May 2021
#692 | Jake Lynch – TRANSCEND Media Service
Supporters of Palestinian rights have been fighting back successfully against efforts to silence their advocacy and suppress their solidarity actions, with major legal victories in four separate jurisdictions over the last year.
In Australia last month, Melissa Parke, a former Labor federal legislator and UN legal officer in Gaza, won a libel case against Colin Rubenstein, director of the Australia/Israel and Jewish Affairs Council. He issued a statement in settlement, affirming that she was not, in fact, "a compulsive slanderer, a conspiracy theorist, a liar, a fanatic, or an anti-Semite". Ms Parke had taken the action, she explained, "seeking an acknowledgment that I was not any of the things imputed of me" and to resist "the inappropriate weaponisation of accusations of anti-Semitism".
In March, in the United States, a federal judge dismissed a lawsuit filed by the Jewish National Fund against the US Campaign for Palestinian Rights. The JNF – a state body that acquires and administers land for the sole benefit of Israel's Jewish citizens – had accused the USCPR of engaging in "material support for terrorism"; an argument the court characterised as "to say the least, not persuasive". The conduct complained of included the Campaign's support for the Boycott, Divestment and Sanctions movement and the Stop the JNF campaign that protests against the Fund's own discriminatory practices.
Last June, the European Court of Human Rights overturned convictions of anti-Semitism against 11 activists in France who had joined the BDS campaign by urging shoppers at a Carrefour supermarket to boycott goods imported from Israel. The justices ruled unanimously to uphold the complainants' right to freedom of expression, guaranteed by the European Convention on Human Rights. The French government was ordered to pay each activist about $8,000 in damages along with their legal costs.
And just over a year ago, the UK Supreme Court overturned Whitehall regulations from 2016 that prevented local government pension funds from taking any divestment decisions that are not in line with UK foreign policy – affirming a right that also has implications for campaigns to stop funding climate destruction and the defence industry.
In two jurisdictions where official attempts to suppress Palestinian advocacy in general, and support for BDS in particular, have not yet been overturned, there are glimpses of a way ahead for solidarity actions that challenge the weaponization of anti-Semitism by the Israeli state. In Germany, cultural leaders have come together to speak out, and push back against what has been described as a "witch-hunt" directed at critics of Israel. And in Spain, where courts have declared boycott motions adopted by municipal authorities to be "unconstitutional", activists have found other angles such as declaring their space free from "Israeli apartheid".
Important as court proceedings are, they should be seen as a means to an end – the end being to focus on the injustices meted out to Palestinians and the urgency of ending them. As Melissa Parke said in her statement following the court victory in Australia: "I believe it is most important for our democratic society that persons can speak out against injustice in places such as Palestine, without being defamed for doing so".
The same applies even to the current investigation by the International Criminal Court. On the face of it, the case against Israel could not be clearer. The Fourth Geneva Convention states baldly: "An occupying power must not move any part of its population into the territory it occupies". The entire programme of Jewish settlement-building on the West Bank should be ruled a war crime. But that is why state parties to the court are busy undermining it by dismissing its right to jurisdiction – ignoring the right Palestinians won through becoming a Non-member Observer State of the United Nations. So, foreign ministers from some of the same countries that have seen court victories for Palestine justice advocates have issued statements rejecting the ICC's involvement.
For Washington to take such a stance is at least consistent with the now wearisomely familiar attitude of American exceptionalism, and to that extent, logical. The US initially signed on to the Rome Statute, establishing the court, only to then pull out. But Australia and the UK have put themselves in a position convoluted even by the standards of international diplomacy – as notional supporters of the ICC, and the UN (including its rules that clearly set out the Palestinians' entitlements) who nonetheless now seek to take issue with its decision in this case.
The extent of distortion and suborning of political process by the Israel lobby is thus laid bare. Light was shone into some corners that remain generally dark by the publication (and serialisation in the Daily Mail newspaper) of memoirs by Sir Alan Duncan, a former UK Foreign Office minister. Those with longer memories will recall Shai Masot, a political officer at the Israeli embassy in London, vowing to "take down" Sir Alan over his inconvenient emphasis on international humanitarian law when assessing the settlements. Masot became an unwitting TV personality after he was secretly filmed by Al Jazeera.
In his book, In The Thick Of It, Duncan accuses a pressure group within his party, Conservative Friends of Israel, of being the vehicle for "disgusting interference" in UK policy towards the Middle East. "It's a sort of buried scandal that has to stop", he told an interviewer, the veteran political correspondent, Michael Crick. "They will interfere at a high level in British politics in the interests of Israel on the back of donor power in the UK".
There has been no equivalent series on the lobby in Australia, though its workings were dragged out of the shadows with the publication of My Israel Question, a book by the international journalist, Antony Loewenstein. (Melissa Parke's 'offence', which occasioned Colin Rubenstein's attack on her, was merely to refer in a speech to the Israeli influence in Australian politics).
It is now seven years since my own victory in Australia's Federal Court over Shurat Ha'Din, an Israeli legal group that was later unmasked, in the Wikileaks diplomatic cables, as an arms-length attack dog of the Israeli security state. I had refused to endorse a fellowship application by a professor from the Hebrew University of Jerusalem, in furtherance of my support for the academic boycott. Prefiguring the more recent case against the US Campaign for Palestinian Rights, I was accused of bizarre "guilt by association". The refusal of the recording artist, Elvis Costello, to tour Israel, was attributed to my influence – and a fan of the singer thus named as a co-complainant. As these connections shrivelled in the face of evidence, and the need to demonstrate, in an independent tribunal, relations of cause and effect, the case was eventually dismissed for 'lack of standing' – not before Shurat Ha'Din had been required to make a substantial payment towards my costs.
Findings by the globally respected Israeli monitoring group, B't Selem – and, more recently, Human Rights Watch – that the treatment of Palestinians amounts to a form of apartheid, should boost efforts by advocates to drain the occupation of legitimacy, and the case for BDS. (The campaign received a significant boost in Australia after the Shurat Ha'Din case). The onus is more clearly than ever on citizens, professional associations, trade unions, local authorities and others to take matters into their own hands. Court rulings are a welcome adjunct to and, in some instances, enabler of such action – but no substitute for it.
________________________________________________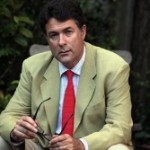 Jake Lynch is based at the Department of Peace and Conflict Studies of the University of Sydney, after completing a Leverhulme Visiting Professorship at Coventry University, in the UK, in 2020. His debut novel, Blood on the Stone: An Oxford Detective Story of the 17th Century, is published by Unbound Books. Jake has spent 20 years developing and researching Peace Journalism, in theory and practice. He is the author of seven books and over 50 refereed articles and book chapters. His work in this field was recognised with the award of the 2017 Luxembourg Peace Prize, by the Schengen Peace Foundation. He served for two years as Secretary General of the International Peace Research Association, having organised its biennial global conference in Sydney, in 2010. Before taking up an academic post, Jake enjoyed a 17-year career in journalism, with spells as a Political Correspondent in Westminster, for Sky News, and the Sydney Correspondent for the Independent newspaper, culminating in a role as an on-screen presenter for BBC World Television News. Lynch is a member of the TRANSCEND Network for Peace Development Environment and advisor for TRANSCEND Media Service. He is the co-author, with Annabel McGoldrick, of Peace Journalism (Hawthorn Press, 2005), and Debates in Peace Journalism, Sydney University Press and TRANSCEND University Press. He also co-authored with Johan Galtung and Annabel McGoldrick, Reporting Conflict: An Introduction to Peace Journalism, which TMS editor Antonio C. S. Rosa translated to Portuguese. His most recent book of scholarly research is A Global Standard for Reporting Conflict (Taylor & Francis, 2014).
Tags:
Checkpoints
,
Conflict
,
Fatah
,
Gaza
,
Geopolitics
,
Hamas
,
Human Rights
,
ICC
,
Israeli Apartheid
,
Israeli Army
,
Israeli occupation
,
Nakba
,
Oslo Accords
,
Palestine Israel Apartheid Wall
,
Palestine/Israel
,
Palestinian Rights
,
Politics
,
Power
,
Settlers
,
Social justice
,
State Terrorism
,
UN
,
USA
,
Violence
,
West Bank
,
Zionism
This article originally appeared on Transcend Media Service (TMS) on 10 May 2021.
Anticopyright: Editorials and articles originated on TMS may be freely reprinted, disseminated, translated and used as background material, provided an acknowledgement and link to the source, TMS: The Global Fightback against Israeli Lawfare Attacks on Advocacy for Palestinian Rights, is included. Thank you.
If you enjoyed this article, please donate to TMS to join the growing list of TMS Supporters.


This work is licensed under a CC BY-NC 4.0 License.
3 Responses to "The Global Fightback against Israeli Lawfare Attacks on Advocacy for Palestinian Rights"