(Castellano) El Once de Septiembre en Chile
ORIGINAL LANGUAGES, 20 Sep 2021
Howard Richards – TRANSCEND Media Service
13 Septiembre 2021 – El día once de septiembre, este año como todos los años, fuimos junto con mi pareja Carolina y con nuestra hija Shelley, al cementerio de Limache, el pequeño pueblo de la quinta región donde vivimos.  Nos sumamos a nuestros vecinos limachinos quienes también no dejen de conmemorar la muerte de seres amados, y la muerte de la democracia, el once de septiembre de 1973.
Ha escrito Frederic Jameson que las grandes esperanzas típicos de los años sesenta del siglo veinte terminaron en Santiago de Chile el once de septiembre de 1973.
Llegado al cementerio fuimos primero a comprar flores.  Frente al cementerio hay muchos vendedores de flores.  Los chilenos como los mexicanos siguen queriendo a sus antepasados muertos, y los visitan a sus tumbas con frecuencia.  Por eso vender flores frente al cementerio es buen negocio.
Entrando al cementerio, la primera quien nos recibió fue Ana María Loo.  Ella había asumido el oficio de dar direcciones a las tumbas, por si acaso llegara alguien quien no sabía la ubicación de los restos de quienes murieron el 11 de septiembre.  Aquel día las fuerzas armadas impusieron al pueblo una dictadura que duró 17 años.  Ana María sabía muy bien donde estaban las tumbas porque una de ellas fue la tumba de su hermano.
Llegando a las tumbas ya colmadas con las flores ya puestas por otros, y ya enarboladas por las banderas de los partidos políticos y del comité pro defensa de los derechos humanos, nos sumaron a la romería.  Quien presidio las ceremonias y los discursos fue el compañero Juan Moya, visiblemente emocionado por eventos que sucedieron hace casi medio siglo.  El día 11 de septiembre, el joven Juan Moya fue detenido.  Fue llevado a la base de la aviación naval en Belloto cerca de Limache.  Fue torturado y casi matado.  Juan Moya sobrevivió.  Muchos otros no sobrevivieron.
Algunos fueron tirados al mar desde helicópteros.  Otros terminaron enterrados en fosas comunes en el desierto del norte de Chile.  En las veredas de Limache hoy se encuentran placas frente a las casas de personas que desaparecieron.  Nadie sabe donde murieron ni donde estén sus restos.
Los oradores en el cementerio el 11 de septiembre de 2021 se dedicaron principalmente a temas de hoy.  Recién ahora el pueblo chileno se dedica a redactar una nueva Constitución, para reemplazar la Constitución impuesta por la dictadura militar.
________________________________________________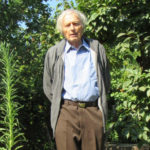 Howard Richards, Ph.D. es miembro de la Red TRANSCEND para la Paz, el Desarrollo y el Medio Ambiente. Él nació en Pasadena, California, pero desde 1966 ha vivido en Chile cuando no enseña en otros lugares. Profesor de la Paz y Estudios Globales Emérito, Earlham College, una escuela en Richmond Indiana afiliada a la Sociedad de los Amigos (Cuáqueros) conocido por sus compromisos de paz y justicia social. Stanford Law School, maestría y doctorado en Filosofía por la Universidad de California en Santa Bárbara, Certificado Avanzado en Educación-Oxford, PhD en Planeamiento de la Educación de la Universidad de Toronto. Libros: Dilemmas of Social Democracies con Joanna Swanger, Gandhi and the Future of Economics con Joanna Swanger, The Nurturing of Time Future, Understanding the Global Economy (disponible como e-books), The Evaluation of Cultural Action (no es un libro electrónico). Hacia Otras Economías con Raúl González, descarga gratuita disponible en www.repensar.el. Solidaridad, Participación, Transparencia: Conversaciones Sobre el socialismo en Rosario, Argentina. Disponible gratis en el lahoradelaetica blogspot.
Tags:
9/11
,
Anglo America
,
CIA
,
Chile
,
Coup
,
Henry Kissinger
,
Salvador Allende
,
USA
This article originally appeared on Transcend Media Service (TMS) on 20 Sep 2021.
Anticopyright: Editorials and articles originated on TMS may be freely reprinted, disseminated, translated and used as background material, provided an acknowledgement and link to the source, TMS: (Castellano) El Once de Septiembre en Chile, is included. Thank you.
If you enjoyed this article, please donate to TMS to join the growing list of TMS Supporters.


This work is licensed under a CC BY-NC 4.0 License.