The "Operational Psychology Professional Practice Guidelines" Are Deeply Flawed — the American Psychological Association Needs Your Comments
TRANSCEND MEMBERS, 31 Jan 2022
Roy Eidelson – TRANSCEND Media Service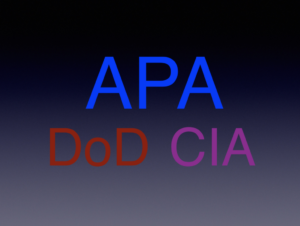 24 Jan 2022 – Through February 15th, the American Psychological Association (APA) is soliciting online comments from psychologists, the public, and interested organizations in response to a new draft proposal for Professional Practice Guidelines for Operational Psychology. Here I would like to briefly share some thoughts about why this is important and deserving of readers' attention.
The drafters of the Guidelines define operational psychology as the "application of psychological science to the operational activities conducted in support of national security, national defense, and public safety." To be sure, this is a challenging arena of professional work, so developing practice guidelines would certainly seem to be a worthwhile endeavor. But after closer inspection, I believe that the APA's approval of these particular Guidelines would risk lending unwarranted legitimacy to highly problematic areas within the larger domain of operational psychology — areas that still require extensive discussion and evaluation by a range of stakeholders much broader than the task force members who have produced these Guidelines.
Context for the new Guidelines is crucial. For years there has been incontrovertible evidence linking psychologists working for the U.S. military and intelligence agencies to "war on terror" abuses at CIA black sites, Guantanamo Bay, and elsewhere. Tragically, psychologists were directly involved in designing and implementing cruel, inhuman, degrading, and torturous detention and interrogation practices. Among the abuses suffered by prisoners were prolonged solitary confinement, disorienting sleep and sensory deprivation, painful stress positions, physical beatings, cultural and sexual humiliation, waterboarding, and indefinite detention.
The psychologists who played key roles in this regime of unconscionable mistreatment of other human beings were obviously not working as healthcare professionals. Rather, they were engaged in a realm of operational psychology that my colleagues and I have described as adversarial and unethical — activities where the intent is to cause harm, where informed consent is absent, and where professional ethical oversight is often obstructed by the classified nature of the work. The proposed Guidelines make no mention of this ugly stain on the profession of psychology. By all appearances, the drafters have no interest in acknowledging or drawing attention to this disturbing history. Nor do they provide clear guidance regarding the necessity that psychologists avoid engaging in adversarial activities characterized by deception, manipulation, coercion, and assault.
What is perhaps most striking about this omission is that the APA itself took an important step in 2015 to proscribe a significant form of adversarial operational psychology. By a near-unanimous vote, the association's governing body adopted a resolution that specifically prohibits psychologists from any involvement in national security interrogations. The same resolution also prohibits psychologists from being present at Guantanamo or any other U.S. foreign detention site that the United Nations deems to be in violation of international law unless they are working directly on behalf of the prisoners, or for an independent third party working to protect human rights, or providing treatment to military personnel. Yet these Guidelines ignore these prohibitions entirely. It is difficult to imagine that this is merely an oversight. More likely, the drafters do not believe operational psychologists should actually be constrained in this way, and they therefore have opted not to reference this resolution in the Guidelines that they nevertheless want the APA's leadership to endorse.
To be clear, many operational psychologists are not involved in adversarial activities of the sort described above. The broader field includes many areas of work that are better described as collaborative operational psychology. Personnel assessment and selection, training, and evaluation are examples. Of course, many psychologists who do not see themselves as "operational psychologists" at all — and who have no connection to the military-intelligence establishment — also include these and other collaborative activities in their practices.
These collaborative activities are not immune from ethical pitfalls. But unlike adversarial operational psychology, they are not intrinsically in conflict with fundamental dimensions of psychologists' code of conduct. This is a key reason why it is so important that the small community of military-intelligence psychologists who engage in or defend adversarial activities not gain unwarranted acceptance and influence by claiming common cause with the many psychologists — "operational" and otherwise — who do not. Furthermore, operational psychology in the military-intelligence context differs from the realms of domestic law enforcement and public safety, where community oversight, citizen activism, and independent media all serve important roles in promoting transparency and accountability.
In this regard, it is noteworthy that the Guidelines task force is primarily comprised of operational psychologists with military-intelligence backgrounds. Some of these individuals currently run their own consulting firms, with the Department of Defense and related agencies as their clients. The task force chair, a past president of the APA's military psychology division, fits this profile. And in a 2018 article, he seemingly dismissed the very idea that psychologists should be expected to adhere to their own separate professional code of conduct, writing that "either an activity is ethical, or it isn't. If ethical, then psychologists should be allowed to provide their expertise to whatever problem or issue is presented."
I hope my criticisms here are not misinterpreted or misleadingly portrayed as reflecting a lack of appreciation for the valuable and ethical work of the many psychologists — military or otherwise — who devote their careers to the care and protection of our soldiers, veterans, and the public at large. But when evaluating these draft Guidelines, the concerns I have described should serve as a warning to the APA, to the profession, and to the public. Some leaders within the operational psychology community have shown only a limited interest in adopting practice guidelines that involve clear restrictions in the context of military or intelligence operations. A careful review also reveals that these Guidelines are replete with vague and vacillating language. Too often, such language — regardless of intent — protects the perpetrators of unethical actions rather than their vulnerable victims.
There is certainly a need for the APA and all stakeholders to seriously consider the development of guidelines for operational psychology. But that project will require the kind of extensive discussion and debate among diverse interested parties–including the human rights community outside the APA — that have not yet taken place. It would be ill-advised — and perhaps dangerous — for the APA's leadership to approve these Guidelines without such careful and thorough deliberations. Indeed, for the APA to honor its avowed vision to serve "as an effective champion of the application of psychology to promote human rights," it cannot afford to blur the meaning or undercut the prioritization of the profession's do-no-harm ethics.
As a final note, the APA's formal review process for all professional practice guidelines requires the Guidelines developers "to respond to all comments and incorporate changes where appropriate." This, then, is an opportunity for interested individuals and groups to review the Guidelines and make their voices heard. The form for submitting comments online — by the February 15th deadline — can be accessed here: https://apps.apa.org/CommentCentral2/default.aspx?site=85.
_______________________________________________

Roy Eidelson is a member of the TRANSCEND Network and was a member of the American Psychological Association for over 25 years, prior to his resignation. He is a clinical psychologist and the president of Eidelson Consulting, where he studies, writes about, and consults on the role of psychological issues in political, organizational, and group conflict settings. He is a past president of Psychologists for Social Responsibility, former executive director of the University of Pennsylvania's Solomon Asch Center for Study of Ethnopolitical Conflict, and a member of the Coalition for an Ethical Psychology. Roy is the author of Political Mind Games: How the 1% Manipulate Our Understanding of What's Happening, What's Right, and What's Possible and can be reached at reidelson@eidelsonconsulting.com.
Tags:
American Psychological Association APA
,
CIA
,
Enhanced Interrogation
,
Pentagon
,
Torture
,
USA
This article originally appeared on Transcend Media Service (TMS) on 31 Jan 2022.
Anticopyright: Editorials and articles originated on TMS may be freely reprinted, disseminated, translated and used as background material, provided an acknowledgement and link to the source, TMS: The "Operational Psychology Professional Practice Guidelines" Are Deeply Flawed — the American Psychological Association Needs Your Comments, is included. Thank you.
If you enjoyed this article, please donate to TMS to join the growing list of TMS Supporters.


This work is licensed under a CC BY-NC 4.0 License.