This Ukraine Crisis Was a George W. Bush Mistake
TRANSCEND MEMBERS, 14 Feb 2022
Robin Edward Poulton, Ph.D. – TRANSCEND Media Service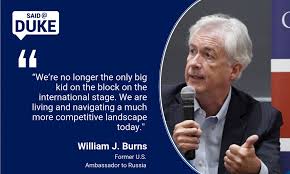 George W. Bush and his neo-con administration made an awful lot of foreign policy blunders. This Ukrainian crisis is just the latest of many mistakes.
Robert Wright, in his Non-Zero Newsletter (which I recommend) tells us that William Burns, then director of the CIA, warned the USA nearly 15 years ago that bringing Ukraine into NATO would NEVER be accepted by Russia.
He writes:
"Back in 2008, when George W. Bush fatefully strong-armed European members of NATO into promising future membership for Ukraine and Georgia, Burns was warning that the consequences would be dire—but not because of Putin's distinctive psychology."
In a memo to then-Secretary of State Condoleezza Rice, Burns wrote, "Ukrainian entry into NATO is the brightest of all red lines for the Russian elite (not just Putin). In more than two and a half years of conversations with key Russian players, from knuckle-draggers in the dark recesses of the Kremlin to Putin's sharpest liberal critics, I have yet to find anyone who views Ukraine in NATO as anything other than a direct challenge to Russian interests."
"Burns added that it was "hard to overstate the strategic consequences" of offering Ukraine NATO membership, which, he predicted, would "create fertile soil for Russian meddling in Crimea and eastern Ukraine."
Paths to Peace
The ratcheting up of American war rhetoric over Ukraine is renlentless. Joe Biden, Anthony Blinken and their team of neocon Cold War holdovers, are creating havoc … and why?  Is it because American leaders MUST have an enemy? Are they psychotic?
Is PEACE anathema to America?
I am appalled by the not-stop, one-sided anti-Putin propaganda that the American and British media are throwing at us. These are the same people who pushed us to massacre tens of thousands of innocent people in Afghanistan, Yemen, Iraq and Syria. They created civil war in Libya and have destabilized the countries of the Sahara.
They are American and British war criminals.
PEACEFUL SOLUTIONS are available, by refusing NATO expansion.
The Monroe Doctrine
U.S. President James Monroe's 1823 annual message to Congress contained the Monroe Doctrine, which warned European powers not to interfere in the affairs of the Western Hemisphere. The United States considers its close neighbors as a part of a U.S. "sphere of influence" and "security zone" protecting U.S. frontiers.
Understandably.
Other nations have similar security concerns. U.S. leaders are obtuse not to accept this. Russia sees a threat in the idea that Ukraine might join NATO.
Understandably.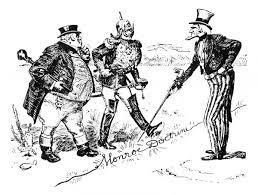 The NATO record of aggression in Afghanistan, Iraq and Syria, and western aggression in Libya and Iran show that NATO is far from "peaceful."
NATO leaders and the president of the U.S.A. should declare that Ukraine will never join NATO.
Ukraine is a BUFFER STATE separating Russian frontiers from German and European frontiers. That is a good thing. Living in a Buffer State is not ideal, but it is geographical reality. Ukraine, Finland, Syria, Afghanistan, Mongolia …. There are many Buffer States and they are valuable for peace.
Buffer States Are Good For Peace. And Peace Is Good.
__________________________________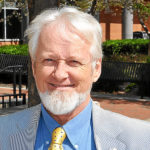 Robin Poulton, Chevalier de l'Ordre Royal du Sahametrei (Cambodia), Chevalier de l'Ordre National (Mali), is a member of the TRANSCEND Network who has been working in West African peace and development since 1980. An International Peace Consultant and founder of EPES Mandala Consulting Ltd., former Weapons-for-Development advisor to EU-ASAC, researcher with UNIDIR Geneva (United Nations Institute for Disarmament Research), School of World Studies at Virginia Commonwealth University, West Africa Research Association and elsewhere, he is author most recently of Peace Is Possible about peace building and disarmament in Cambodia with the Khmer Rouge. Website: https://robinpoulton.com/. Email: poultonrobin@gmail.com
Tags:
Biden
,
Eastern Europe
,
European Union
,
False flag
,
Proxy War
,
Putin
,
Russia
,
USA
,
Ukraine
,
Violent conflict
This article originally appeared on Transcend Media Service (TMS) on 14 Feb 2022.
Anticopyright: Editorials and articles originated on TMS may be freely reprinted, disseminated, translated and used as background material, provided an acknowledgement and link to the source, TMS: This Ukraine Crisis Was a George W. Bush Mistake, is included. Thank you.
If you enjoyed this article, please donate to TMS to join the growing list of TMS Supporters.


This work is licensed under a CC BY-NC 4.0 License.