People — Able Bodied and with Disabilities
TRANSCEND MEMBERS, 25 Jul 2022
Dr. Ravi P. Bhatia (Retired from Delhi University) – TRANSCEND Media Service
Most people are able bodied when they are born and even later in life. In other words, they are able to stand and run with their legs. Their eyesight is also good although later in life they may need glasses to improve their eyesight. They are able to smell properly, they are able to do many skills with their arms and hands. Swimming is a skill or sport which they learn later and sometimes, one hears that they can swim a few miles at a stretch and if participating in some water events they may excel and get some prizes.
I should also refer to the farming community all over the world including India that has fed the world with their unstinting efforts.
There are some people who are spiritually inclined, who can sit still and meditate for hours on end. Lord Buddha was one such illustrious person who  mediated for long sitting under a tree in a region between Nepal and India and gained spiritual wisdom which he transmitted to his followers. Other luminaries were Guru Nanak  who propagated the concept of simple living and helping the needy people. Of course we have leaders who worked hard and spread the essence of their faiths — Christianity, Jewish faith, Islam and smaller ones like   Dev Samaj,   Baha'i Faith, etc.
I need not talk about several politicians all over the world who were active to work for their people and strove to improve their physical, educational, material conditions. Some names that come to mind are Winston Churchill of UK, V. Lenin and Vladimir Putin of Russia, George Washington , Barack Obama, Dwight Eisenhower of US,  Mao se Tung, Xi Jinping of China and several others. Of course Mahatma Gandhi is a well known figure who has contributed immensely in India's freedom struggle in India, along with stalwarts like Jawaharlal Nehru and Valabbhai Patel.
Many able bodied scientists all over the world have worked in different areas and contributed to scientific temper and improved the conditions of ordinary people by inventing, electric bulbs, telephones and various types of machinery. We applaud the intense researches of Albert Einstein, Enrico Fermi, Madame Curie, the Indian scientist C V Raman and countless others.
Then a unique self taught mathematics genius S Ramanujam (1887 — 1920) had added laurels to his field and to South India where he was born.
An Italian physician and educator   Maria Montessori (1870– 1952)  is well known for her philosophy of education. Her approach was to emphasise the role of children in learning — that children have an innate desire to learn and  teachers should use this desire to help them to teach.
I have referred to contributions in various fields, made by many people world wide who were fit and  in good physical condition to cater to the social norms. Now I write about a few disabled people who have contributed remarkably to humanity and in science and technology.
I talk mainly of Helen Keller and Stephen Hawking.
A  person who is well known today — Helen Keller (1880 —1968) was born in Alabama, USA and due to some fever she became blind and deaf as a child. She learned to speak American Sign Language despite her blindness. She taught other blind people to read a language known as Braille. In 1915 she started an organisation —  Helen Keller International,  devoted to teaching other blind or deaf persons to live well, to read and write Braille and to communicate with other people with disabilities.
She could identify some objects by touching them. Gradually she was able to distinguish objects by her touch. As the first blind and deaf person she even earned  a graduate degree in 1904 from  Radcliffe College and was able to visit many countries promoting help for blind and deaf people. A truly inspiring person.
She was looked after throughout her life by a devoted woman named Anne Sullivan  who helped her to communicate with others .
Inspired by Helen Keller and her devotion, some Organisations and Universities are working for the welfare and education of blind people. One is the     Central Institute of Education    in University of Delhi which admits several blind students for different courses. They also teach Braille to these students.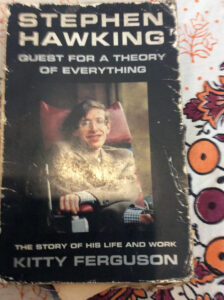 A well known world renowned scientist is Stephan Hawking (1942– 2018) who worked in Cambridge University England and is considered by scientists that his stature is that of another Cambridge scientist Isaac Newton (1643 — 1727). Stephen Hawking has written a book called 'A Brief History of Time' that talks of many aspects of physics including black holes. According to him, space is not empty, black holes are not black. They attract and absorb light passing nearby, but don't allow it to escape.
Stephen was born normal bodied. But at the age of 21, he was diagnosed with a neuronal disease that resulted in him being confined to a wheelchair for his remaining life. However, this did not affect his genius in working on different aspects of physics — he was known as another Albert Einstein for his brilliance.
In a rare interview he talked about his physical condition —  'I am happier now than earlier before I developed this condition. My disability allows me to work in theoretical physics — it is not a serious handicap for me.' A British author Kitty Ferguson has written a famous book on his Life and Work — Stephen Hawking — Quest for a Theory of Everything, which was first published in 1992 and has sold millions of copies worldwide.
There are some Indian people with disabilities:  Jyoti Amge    who suffered from dwarfism.
Another Indian was born only with one arm. Another young woman who lost one of her arms through an accident but survived to do well in society.
Similarly some people who suffered from polio have been successful in life.
A few organisations   in India    are advancing the cause of people with disabilities.   Baba Saheb Apte Centre   in Delhi is supporting children of disabled persons in various ways — providing nutritious food to children, educating them, providing school bags , stationery etc. The Centre trains and helps disabled people with the belief that they can contribute to the welfare of society.
Ultimately, they strongly believe in the training of such people. They also foster a healthy attitude among society to not to look down upon people with disabilities but to contribute towards their welfare and advancement in various manners as normal people. We need to imbibe this attitude.
______________________________________________

Dr Ravi P Bhatia is a member of the TRANSCEND Network for Peace Development Environment, an educationist, Gandhian scholar and peace researcher. Retired professor, Delhi University. His new book, A Garland of Ideas—Gandhian, Religious, Educational, Environmental was published recently in Delhi. ravipbhatia@gmail.com
Tags:
Karma
This article originally appeared on Transcend Media Service (TMS) on 25 Jul 2022.
Anticopyright: Editorials and articles originated on TMS may be freely reprinted, disseminated, translated and used as background material, provided an acknowledgement and link to the source, TMS: People — Able Bodied and with Disabilities, is included. Thank you.
If you enjoyed this article, please donate to TMS to join the growing list of TMS Supporters.


This work is licensed under a CC BY-NC 4.0 License.
Join the discussion!
We welcome debate and dissent, but personal — ad hominem — attacks (on authors, other users or any individual), abuse and defamatory language will not be tolerated. Nor will we tolerate attempts to deliberately disrupt discussions. We aim to maintain an inviting space to focus on intelligent interactions and debates.