(Castellano) Comunicación y Paz–Homenaje a Johan Galtung: Call for Papers CIC 28
TRANSCEND News, 20 Feb 2023
Joan Pedro-Carañana y Ángel Carrasco-Campos | Universidad Complutense de Madrid – TRANSCEND Media Service
Johan Galtung (Oslo, 1930) es uno de los académicos más influyentes y relevantes para comprender e investigar nuestras sociedades y sus conflictos. Pionero y fundador de los peace studies) (estudios de la paz o irenología), sus aportes teóricos y metodológicos resultan clave para comprender los fundamentos de los conflictos y, también, para transcenderlos mediante la promoción de acuerdos favorables a todas las partes, la justicia social y la dignidad humana.
Su trabajo tiene una influencia que va más allá de lo estrictamente académico: aparte de ser fundador del International Peace Research Intitute (1959; primer instituto de investigación sobre la paz y el conflicto, del que fue su director durante una década) y del Journal of Peace Research (1964), de su trayectoria comprometida destaca su papel como mediador en más de 150 conflictos. Su apuesta por promover la acción, la comunicación y la educación para transformar los conflictos de manera no violenta, con empatía y creatividad ha cristalizado la fundación de TRANSCEND International (1993), una red para la paz, el desarrollo humano y el cuidado medioambiental. Por su labor ha recibido galardones internacionales como el Premio Nobel Alternativo (1987), el Premio Gandhi (1993), entre otros y más recientemente el Leif Eiriksson Peace Award 2022 por parte del Peace 2000 Institute y la Mirpuri Foundation.
El trabajo de Galtung nos ofrece un marco indispensable para comprender y aportar propuestas y soluciones a fenómenos como la guerra, la desigualdad social, el racismo, la xenofobia, el cambio climático o la pobreza. Su definición del triángulo de la violencia nos ha permitido comprender que las raíces de la violencia directa (física o verbal) se encuentran en otras formas menos visibles como la violencia estructural y la violencia cultural y comunicativa, a la vez que su concepción de la "paz positiva", más allá de su definición negativa como ausencia de un conflicto violento, ha hecho poner el foco en la necesidad de generar procesos, espacios e instituciones que fomenten la colaboración, el diálogo y la igualdad social.
Como subraya el maestro, cuando brotan la violencia y la guerra, siempre hay que preguntarse por cuál es el conflicto subyacente y cómo transcenderlo de manera cooperativa en lugar de empeorarlo mediante la violencia. Cooperación-conversación y violencia se entienden, así, como polos antitéticos para afrontar los desacuerdos inherentes a la vida social.
Estas y otras aportaciones han permitido que los peace studies y la peace research se hayan consolidado y extendido, especialmente en Latinoamérica, y aplicado en la resolución de numerosos conflictos. Desde sus orígenes en los años sesenta, no han dejado de surgir otras escuelas o centros como el Instituto Internacional de Estudios para la Paz de Estocolmo (1966), la Universidad para la Paz en Costa Rica por iniciativa de Naciones Unidas (1980), la Escuela de Cultura de Paz en Barcelona, dentro de la Cátedra UNESCO sobre Paz y Derechos Humanos (1999) y el Instituto Interuniversitario de Desarrollo Social y Paz (Universidad de Alicante y Universitat Jaume I de Castellón) (2010).
En homenaje a la trayectoria y aportaciones de Johan Galtung, la revista Cuadernos de Información y Comunicación (CIC) hace una llamada a contribuciones para su número 28, que incluirá un monográfico sobre "Comunicación y paz", enfocado a difundir investigaciones y aportaciones teóricas centradas en el papel de la producción social de comunicación, tanto en la reproducción de los conflictos sociales como en la promoción de los procesos de paz. Esta iniciativa se desarrolla en el marco del VIII Congreso de ULEPICC-España (Madrid, 9 y 10 de marzo de 2023), de modo que ambos proyectos se plantean como un espacio para el debate y la reflexión académica, política y social sobre los retos y controversias en torno a las estructuras, sistemas, procesos, prácticas y contenidos comunicativos y mediáticos en relación a la promoción de la guerra y la construcción de paz.
En este marco, se propone profundizar en los 'diagnósticos' a partir del modelo del triángulo de la violencia de Galtung, así como en las posibles 'terapias' o soluciones que pueden pensarse desde este modelo y del marco general de los estudios para la paz. Esto implica debatir sobre cómo transcender los conflictos subyacentes y construir estructuras sociales y sistémicas más justas; reducir y eventualmente eliminar la violencia directa; y construir formas de comunicar, narrar y hacer periodismo basadas en la cooperación y la no violencia que puedan contribuir a la resolución pacífica de los conflictos.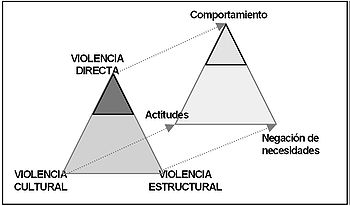 Con este número de Cuadernos de Información y Comunicación se busca profundizar en las conexiones entre las diferentes formas de violencia definidas por Galtung (directa, estructural y cultural) y la comunicación social. Por su propia temática, comunicación y paz, el monográfico tiene como objetivo analizar las diferentes formas de violencia cultural en la comunicación y sistemas de medios contemporáneos, teniendo en cuenta el contexto con el que interactúa y sus interrelaciones con las violencias directa y estructural, así como de visibilizar casos de justicia comunicativa que contribuyan a la justicia social. Algunos posibles temas de interés para este monográfico son:
Periodismo de paz y tratamiento informativo de los conflictos y las guerras
Comunicación social no violenta en instituciones, públicas y privadas
Comunicación y resolución de conflictos
Violencia y discursos de odio en los medios de comunicación
Paz y violencia en el ciberespacio
Estructuras de la comunicación, sistemas de medios y violencia
Justicia comunicativa y justicia social
Comunicación y cambio social
Enlace: https://revistas.ucm.es/index.php/CIYC/announcement/view/491
Plazo límite para los envíos: 30 de abril de 2023 (publicación en octubre)
Normas de envío: https://revistas.ucm.es/index.php/CIYC/about/submissions
Registro: https://revistas.ucm.es/index.php/CIYC/user/register
_______________________________________________

Johan Galtung, profesor de estudios de paz, dr hc mult, es el fundador de la Red TRANSCEND para la Paz, el Desarrollo y el Medio Ambiente y el Rector de la TRANSCEND Peace University-TPU. Fue galardonado, entre otros, con el Premio Right Livelihood de 1987, conocido como el Premio Nobel de la Paz Alternativo. Galtung ha mediado en más de 150 conflictos en más de 150 países y ha escrito más de 170 libros sobre paz y temas relacionados, 96 como autor único. Se han traducido más de 40 a otros idiomas, incluido 50 Years-100 Peace and Conflict Perspectives publicado por TRANSCEND University Press-TUP. Su libro, Trascender y Transformar, fue traducido a 25 idiomas. Ha publicado más de 1700 artículos y capítulos de libros y más de 500 editoriales para TRANSCEND Media Service. Puede encontrar más información sobre el Prof. Galtung y todas sus publicaciones en transcend.org/galtung.
 Joan Pedro-Carañana es profesor en el Departamento de Periodismo y Nuevos Medios de la Universidad Complutense de Madrid. Doctor en Comunicación, Cambio Social y Desarrollo (UCM). Investiga el papel de la comunicación, la educación y la cultura en los procesos de cambio social. Es co-editor del libro El modelo de propaganda y el control de los medios. Su trabajo está disponible aquí.

 Ángel Carrasco-Campos es Doctor en la especialidad de Sociología de la comunicación y Máster en Investigación Aplicada a la Comunicación. Profesor del Departamento de Sociología y Trabajo Social de la Universidad de Valladolid (España) y coordinador del Máster en Comunicación con Fines Sociales en esta misma universidad. Miembro del Grupo de Investigación Reconocido en Ciencias Sociales Aplicadas y del Grupo de Estudios Avanzados en Comunicación (GEAC). Desde febrero de 2021 es presidente de la sección España de la Unión Latina de Economía Política de la Información, la comunicación y la Cultura (ULEPICC-España), de la que es miembro de su junta directiva desde 2016. Sus principales líneas de investigación se centran en la teoría crítica de la comunicación y la cultura, la epistemología y sociología de las ciencias sociales y la meta-investigación en comunicación. Su trabajo puede ser encontrado aquí.
Tags:
Communication
,
Cultural violence
,
Johan Galtung
,
Peace
,
Structural violence
This article originally appeared on Transcend Media Service (TMS) on 20 Feb 2023.
Anticopyright: Editorials and articles originated on TMS may be freely reprinted, disseminated, translated and used as background material, provided an acknowledgement and link to the source, TMS: (Castellano) Comunicación y Paz–Homenaje a Johan Galtung: Call for Papers CIC 28, is included. Thank you.
If you enjoyed this article, please donate to TMS to join the growing list of TMS Supporters.


This work is licensed under a CC BY-NC 4.0 License.