Food Industry Exposes Five Billion People to Toxic Chemicals That Kill
TRANSCEND MEMBERS, 13 Feb 2023
Baher Kamal | Human Wrongs Watch - TRANSCEND Media Service
10 Feb 2023 – The food industry continues to intensively use toxic chemicals in their products, some of them provoking heart diseases and death. Trans fat is just one of them, adding to contaminating fertilisers, pesticides, microplastics and a long etcetera.
"Trans fat is a toxic chemical that kills, and should have no place in food," warns Tedros Adhanom Ghebreyesus, Director-General of the World Health Organization (WHO), informing that trans fat has no known benefits, and substantial health risks that incur enormous costs for health systems. "Put simply, trans fat is a toxic chemical that kills, and should have no place in food."
What is trans fat?
Trans fat, or trans-unsaturated fatty acids, is a type of unsaturated fat that occurs in food. Of all the fats, trans fat is the worst for health. Used intensively it increases the risks of heart disease and death.
"Put simply, trans fat is a toxic chemical that kills and should have no place in food."
— Tedros Adhanom Ghebreyesus, Director-General of the World Health Organization (WHO)
Trans fat can be found in commercial baked goods, such as cakes, cookies, fried foods, margarine, packaged foods, cooking oils and spreads among many other products.
Industrially produced trans fat is responsible for up to 500,000 premature deaths from coronary heart disease each year, WHO said.
Currently, nine of the 16 countries with the highest estimated proportion of coronary heart disease deaths caused by trans fat intake do not have a best-practice policy.
They are Australia, Azerbaijan, Bhutan, Ecuador, Egypt, Iran, Nepal, Pakistan and the Republic of Korea.
The annual status report has been published by WHO in collaboration with Resolve to Save Lives, a not-for-profit organisation that supports action towards eliminating industrially produced trans fat from national food supplies.
Food industry doubles its profits in just one year
Alongside oil and gas corporations, food companies more than doubled their profits in 2022 at a time when more than 800 million people were going hungry and 1.7 billion workers live in countries where inflation is outpacing wages, reports Oxfam International.
Industrial food systems destroy
On this, Navdanya International warns that in a few decades, industrial food systems have destroyed the Earth's systems, human health and livelihoods as it has directly violated ecological laws and laws of justice.
Now we are seeing a global agenda to erase land-based cultures, to destroy real farms, real farmers, real food to create a dystopia of "farming without farmers" and "food without farms" as false totalitarian solutions to climate change, it adds in its Call to Action "Our Bread, Our Freedom" 2022.
"It is time to abandon our resource-intensive and profit-based economic systems that have created havoc in the world, disrupting the planet's ecosystems and undermining society's systems of health, justice, and democracy."
Navdanya and the Navdanya movement was created by Dr. Vandana Shiva 30 years ago in India to defend Seed and Food sovereignty and small farmers around the world.
For its part, the UN Food and Agriculture Organization (FAO) reports that more than 600 million people fall ill and 420.000 die every year as a result of eating food contaminated with bacteria, viruses, parasites, toxins and chemicals.
More damage, more profits
These huge damages caused by the food business add to many others. One of them is the infant formula corporations' exploitative marketing tactics, which the world-leading health organisation on 8 February 2023 called for "a swift crackdown" on such business tactics.
In a previous report Scope and impact of digital marketing strategies for promoting breast-milk substitutes on what it called 'insidious' online marketing of baby formula, the world's top health organisation warned that the 55 billion US dollars baby formula industry must end exploitative online marketing targeting parents, particularly mothers
WHO's report found that companies are paying social media platforms and influencers to "gain direct access to pregnant women and mothers at some of the most vulnerable moments in their lives," through personalised content that is "often not recognisable as advertising."
Big Business pays to social media influencers
"Through tools like apps, virtual support groups or 'baby-clubs', paid social media influencers, promotions and competitions and advice forums or services, formula milk companies can buy or collect personal information and send personalised promotions to new pregnant women and mothers."
The report summarises findings of a new research that sampled and analysed 4 million social media posts about infant feeding, published between January and June 2021 using a commercial social listening platform.
These posts reached 2.47 billion people and generated more than 12 million likes, shares or comments.
"This new research highlights the vast economic and political power of the big formula milk companies, as well as serious public policy failures that prevent millions of women from breastfeeding their children," said Nigel Rollins, one of the authors of a series on the $55 billion-a-year industry and their marketing "playbooks", published in the peer-reviewed medical journal The Lancet.
"Actions are needed across different areas of society to better support mothers to breastfeed for as long as they want, alongside efforts to tackle exploitative formula milk marketing once and for all," he added.
650 million women lack 'maternity protection'
Currently, around 650 million women lack adequate maternity protections, the research noted.
Elaborated by a group of doctors and scientists, it examines how formula marketing tactics undermine breastfeeding and target parents, health professionals and politicians, and how feeding practices, women's rights and health outcomes, are determined by power imbalances and political and economic structures.
Dairy lobbyists' misleading claims
WHO recommends exclusively breastfeeding infants for at least six months. The practice provides immense benefits to babies and young children, from reducing infection risks to lowering rates of obesity and chronic diseases later in life.
However, globally, only around half of newborns are put to the breast within the first hour of life, warns WHO.
_____________________________________________
Read Also: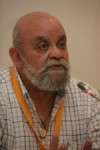 Baher Kamal, a member of the TRANSCEND Network for Peace Development Environment, is an Egyptian-born, Spanish national, secular journalist, with over 45 years of professional experience — from reporter to special envoy to chief editor of national dailies and an international news agency. Baher is former Senior Advisor to the Director General of the international news agency IPS (Inter Press Service) and he also contributed to prestigious magazines such as TRANSCEND Media Service, GEO, Muy Interesante, and Natura, Spain. He is also publisher and editor of Human Wrongs Watch.
Go to Original – human-wrongs-watch.net
Tags:
Agri-food
,
Big Food
,
Corruption
,
Fertilizers
,
GMO
,
Genetic engineering
,
Genetic manipulation
,
Health
,
Junk Food
,
Nanoparticles
,
Organic Agriculture
,
Organic food
,
Pesticides
,
Public Health
,
Synthetic food
DISCLAIMER: The statements, views and opinions expressed in pieces republished here are solely those of the authors and do not necessarily represent those of TMS. In accordance with title 17 U.S.C. section 107, this material is distributed without profit to those who have expressed a prior interest in receiving the included information for research and educational purposes. TMS has no affiliation whatsoever with the originator of this article nor is TMS endorsed or sponsored by the originator. "GO TO ORIGINAL" links are provided as a convenience to our readers and allow for verification of authenticity. However, as originating pages are often updated by their originating host sites, the versions posted may not match the versions our readers view when clicking the "GO TO ORIGINAL" links. This site contains copyrighted material the use of which has not always been specifically authorized by the copyright owner. We are making such material available in our efforts to advance understanding of environmental, political, human rights, economic, democracy, scientific, and social justice issues, etc. We believe this constitutes a 'fair use' of any such copyrighted material as provided for in section 107 of the US Copyright Law. In accordance with Title 17 U.S.C. Section 107, the material on this site is distributed without profit to those who have expressed a prior interest in receiving the included information for research and educational purposes. For more information go to: http://www.law.cornell.edu/uscode/17/107.shtml. If you wish to use copyrighted material from this site for purposes of your own that go beyond 'fair use', you must obtain permission from the copyright owner.