'Ticking Time Bombs' for the Most Defenceless: The Children (I)
TRANSCEND MEMBERS, 27 Feb 2023
Baher Kamal | Human Wrongs Watch - TRANSCEND Media Service
22 Feb 2023 – Today, there are more children in need of desperate humanitarian assistance than at any other time since World War II.
"Across the globe, children and their families are facing a deadly mix of crises, from conflict and displacement to disease, outbreaks and soaring rates of malnutrition. Meanwhile, climate change is making these crises worse and unleashing new ones."
Tragically enough, UNICEF – the world's body which was created in the aftermath of the Second World War to save the lives of millions of children who fell prey to the devastating weapons used by their own continent: Europe – could not depict more accurately the current situation of the most innocent humans.
The UN Children Fund in fact reports on the pressing need to provide life-saving help to millions of children trapped in continuing atrocities committed by adults.
In its report: 11 emergencies that need more attention and support in 2023, UNICEF focuses on the following countries where, additionally, resources have fallen short:
South Sudan
Unprecedented flooding in South Sudan has taken a devastating toll on families. Crops have been destroyed, grazing spaces for cattle and other livestock have been submerged and families have been forced to flee their homes.
With hunger and malnutrition on the rise across the flooded regions, some communities are likely to face starvation without sustained humanitarian assistance.
UNICEF is working to screen and treat children with severe acute malnutrition, also known as severe wasting – the most lethal form of undernutrition, and one of the top threats to child survival. Read the latest appeal for South Sudan
Yemen
After eight years of conflict, the systems that Yemen's families depend on remain on the edge of total collapse. More than 23.4 million people, including 12.9 million children, have, so far, fallen victim to such a brutal war.
In addition, more than 11,000 children have been killed or maimed since 2015, while conflict, massive displacement and recurring climate shocks have left more than 2 million children "acutely malnourished and struggling to survive." Read the latest appeal for Yemen
Haiti
Political turmoil, civil unrest and gang violence, crippling poverty and natural disasters, a deadly combination of threats are already posing a massive challenge for families in Haiti. A surge in cholera in 2022 is posing yet another risk for children's health – and their lives.
"There is an urgent need to step up efforts to protect families against cholera by delivering cholera kits and water purifying tablets and trucking in clean water."
To contain malnutrition, UNICEF is also screening children for wasting to ensure that those who need help can be treated in mobile clinics and other facilities. Read the latest appeal for Haiti
DR Congo
An escalation in armed conflict and recurrent outbreaks of deadly diseases are taking a heavy toll on millions of children in the Democratic Republic of the Congo.
The country hosts the "second-highest number of internally displaced people in the world."
The cramped conditions in the camps that families are living in are fraught with danger for children, who face an increased risk of violence and disease. Read the latest appeal for Democratic Republic of the Congo.
Pakistan
The rains that brought historic flooding to much of Pakistan in 2022 may have ended, but the crisis for children has not.
Months after floods ravaged the country, vast swathes of cropland and villages remain under water, while millions of girls and boys are still in need of immediate lifesaving support.
Around 8 million people are still exposed to flood waters or living close to flooded areas. "Many of these families are still living in makeshift tents alongside the road or near the rubble of their home – often in the open, right next to contaminated and stagnant water."
UNICEF on January 2022 reported that up to 4 million children in Pakistan are still living next to stagnant and contaminated floodwater Read the latest appeal for Pakistan
Burkina Faso
Political fragility, the impacts of climate change and economic and health crises have contributed to the internal displacement of around 1.7 million people in Burkina Faso – 60% of them are children.
"The anxiety, depression and other stress-related problems associated with displacement can take a lifelong toll on children's emotional and physical health." Read the latest appeal for Burkina Faso
Myanmar
Deepening conflict in Myanmar continues to impact children and their families, with some 5.6 million children in need of humanitarian assistance.
Attacks on schools and hospitals have continued at alarming levels, while grave violations of child rights in armed conflict have been reported.
The conflict has undermined the delivery of child health services, including routine immunisation, threatening to take a long-lasting toll on children's health and well-being. Read the latest appeal for Myanmar
Palestine
"Children in the State of Palestine continue to face a protracted protection crisis and an ongoing occupation." Around 2.1 million people – more than half of them children – now require humanitarian assistance.
Since 2009, UNICEF has been supporting family centres across the Gaza Strip to provide psychosocial care for children.
Children in need of more specialised services – such as those facing violence at home, school or work – are provided with a case manager who works directly with them and their families. Read the latest appeal for the State of Palestine
Bangladesh
As the Rohingya refugee crisis enters its fifth year, Bangladesh still hosts hundreds of thousands of Rohingya refugees who settled in the Cox's Bazar District after fleeing "extreme violence" in Myanmar.
While basic services have been provided in the camps, "children still face disease outbreaks, malnutrition, inadequate educational opportunities and other risks like exploitation and violence." Read the latest appeal for Bangladesh
Syria
The situation was already dire far earlier to the recent earthquakes. In fact, "more than a decade of humanitarian crises and hostilities has left children in Syria facing one of the most complex emergencies in the world."
"Two thirds of the population require assistance" due to the worsening economic crisis, continued localised hostilities, mass displacement and devastated public infrastructure.
The conflict has seen one of the largest education crises in recent history, with "a whole generation of Syrian children paying a devastating price." Read the latest appeal for Syria
Kenya
Four failed rainy seasons in a row have left Kenya experiencing its worst drought in 40 years. Without water, crops cannot grow, and animals and livestock die.
The resulting loss of nutritious food, combined with poor sanitation, has left "hundreds of thousands of children requiring treatment for wasting."
Children with wasting are too thin and their immune systems are weak, leaving them vulnerable to developmental delays, disease and death. Read the latest appeal for Kenya
Millions more
In addition to these 11 nations so far identified by UNICEF as needing urgent life-saving humanitarian assistance, with millions of children being the most vulnerable, there are several other countries where they live in dire situations, on which IPS reports in Part II of this two-part series.
_____________________________________________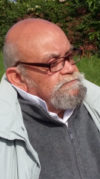 Baher Kamal, a member of the TRANSCEND Network for Peace Development Environment, is an Egyptian-born, Spanish national, secular journalist, with over 45 years of professional experience — from reporter to special envoy to chief editor of national dailies and an international news agency. Baher is former Senior Advisor to the Director General of the international news agency IPS (Inter Press Service) and he also contributed to prestigious magazines such as TRANSCEND Media Service, GEO, Muy Interesante, and Natura, Spain. He is also publisher and editor of Human Wrongs Watch.
Go to Original – human-wrongs-watch.net
Tags:
Child labor
,
Child protection
,
Children
,
UNICEF
DISCLAIMER: The statements, views and opinions expressed in pieces republished here are solely those of the authors and do not necessarily represent those of TMS. In accordance with title 17 U.S.C. section 107, this material is distributed without profit to those who have expressed a prior interest in receiving the included information for research and educational purposes. TMS has no affiliation whatsoever with the originator of this article nor is TMS endorsed or sponsored by the originator. "GO TO ORIGINAL" links are provided as a convenience to our readers and allow for verification of authenticity. However, as originating pages are often updated by their originating host sites, the versions posted may not match the versions our readers view when clicking the "GO TO ORIGINAL" links. This site contains copyrighted material the use of which has not always been specifically authorized by the copyright owner. We are making such material available in our efforts to advance understanding of environmental, political, human rights, economic, democracy, scientific, and social justice issues, etc. We believe this constitutes a 'fair use' of any such copyrighted material as provided for in section 107 of the US Copyright Law. In accordance with Title 17 U.S.C. Section 107, the material on this site is distributed without profit to those who have expressed a prior interest in receiving the included information for research and educational purposes. For more information go to: http://www.law.cornell.edu/uscode/17/107.shtml. If you wish to use copyrighted material from this site for purposes of your own that go beyond 'fair use', you must obtain permission from the copyright owner.