Send Julian Home: A More Constructive Message
TRANSCEND MEMBERS, 7 Aug 2023
Diane Perlman, Ph.D. | Substack - TRANSCEND Media Service
[Before reading this, please listen to Allan Sherman's funny, popular satirical song Hello Muddah, Hello Fadduh from 1963. Baby Boomers and older will remember it fondly.]
6 Aug 2023 – On August 2, Code Pink gathered before the State Department to demand they "Free Assange."  Thinking that a superior resolution to Julian's nightmare would be sending him back to his native country Australia, the chorus to "Hello Muddah, Hello Faddah" kept popping in my head. I kept singing "Send him home" in my mind.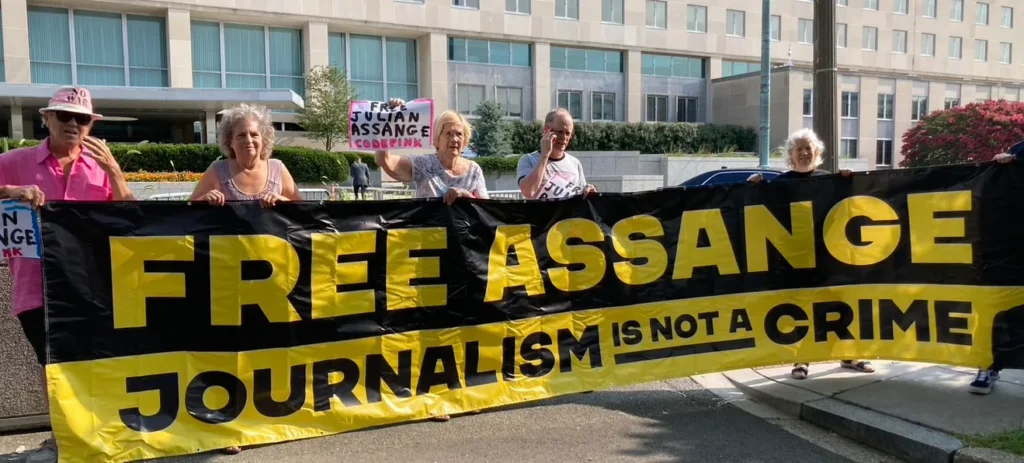 I was curious about the urge to extradite him to the US, where he is not a citizen, for more harsh punishment. Anticipating extradition, activists are discussing plans for massive protests.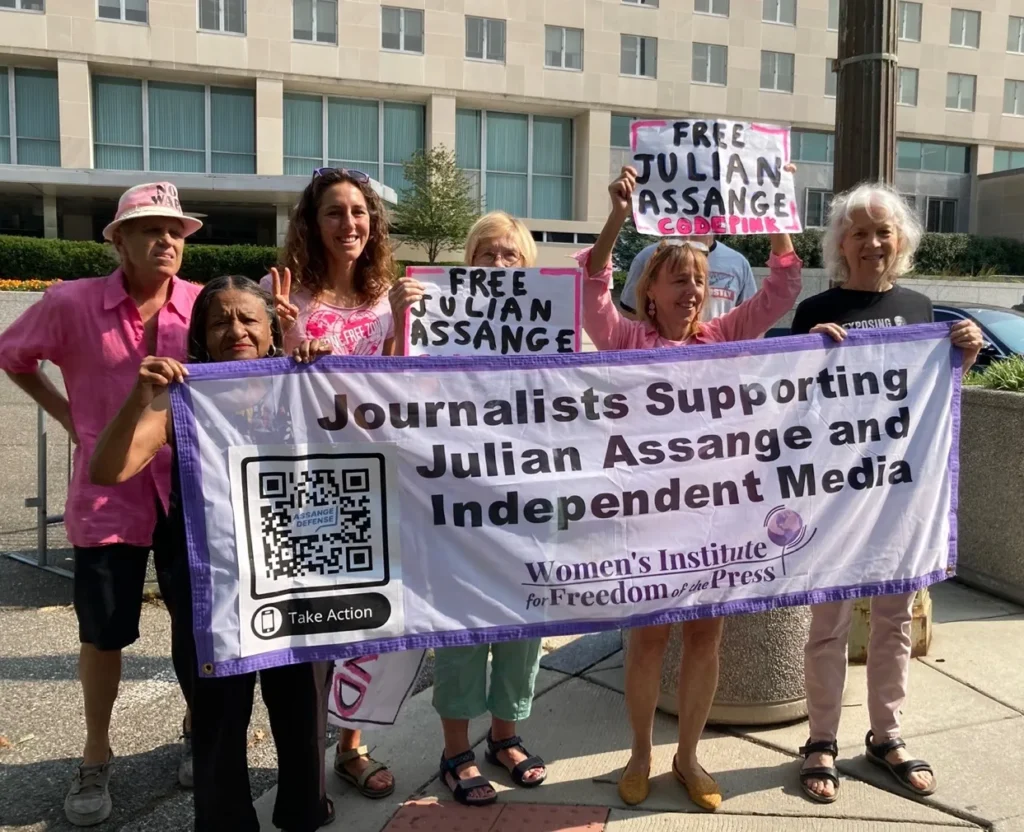 It occurred to me that "Send Julian Home" is a stronger message than "Free Assange." It is less provocative, more specific, and is constructive. It doesn't require one to like or agree with him.
The song below came to me. Below it are some facts about Julian.
Its words embody the principles of creative problem solving and conflict transformation. I believe that sending Julian home is the best-case scenario:
It offers a resolution to an ongoing conflict, an end to his suffering and prevents escalation of more conflict.
It allows a graceful way out of this painful episode and doesn't back anyone into a corner
It doesn't offend people who disagree with what he did.
It warns of consequences of extradition, desired by some, which may not be worth the aggravation.
It is as close to a win-win as I can imagine – but I welcome your ideas in the comments.
SEND HIM HOME is to the tune of Allan Sherman's "Hello Muddah, Hello Fadda" whose melody comes from the ballet Dance of the Hours from the opera La Gioconda by Amilcare Ponchielli.
Hello Nuland, hello Blinken,
Let us tell you what we're thinkin'
For everybody it would be better
If you consider our proposal in this letter
Send Assange home, best case scenario
But if you choose to be contrario
If you insist on extraditing,
Know that endless protests you will be igniting.
We don't need him in our nation
You don't need that aggravation
He's been punished, he has suffered
There is no need to go on and make this rougher
To better angels of your nature
We beseech you to find favor
Diplomacy is your true mission
We need you for that, not for extradition
Send him home, oh Nuland Blinkin
Send him home, do deeper thinkin'
Please don't bring him to here where
It may become a real nightmare
Send him home we promise we will not make noise
If you choose this better choice.
This will help to mend
Please note, Australia is our friend.
Even those who think he's wrong
May be happy to send him along
We can resolve this, we need not bother
Send him home and let his children have a father
Let's engage in transformation
Create a win-win situation
For everyone it will be better
State Department please don't disregard this letter.
Some Facts
Australian citizen Julian Assange is suffering in the UK's Belmarsh Prison and fighting attempts to extradite him to the US.
Australian Labor MP Julian Hill, a member of the Bring Julian Assange Home Parliamentary Group, asked the United States "at the very least, take Julian Assange's health issues seriously and go into court in the United Kingdom and get him the hell out of a maximum security prison where he's at risk of dying without medical care if he has another stroke."
Caroline Kennedy, the US Ambassador to Australia, met with members of the Bring Julian Assange Home Parliamentary Group. Australian parliamentarians request an end to the pursuit of US extradition of Assange.
Liberal Australian MP Bridget Archer claimed that Assange had been "incarcerated overseas for a protracted period of time." "He continues to suffer mentally and physically, as does his family, and the government should redouble their efforts to secure his release and return to Australia."
Penny Wong, Australian foreign affairs minister, stated that the Australian government had "made clear our view that Mr. Assange's case has dragged for too long, and our desire that it be brought to a conclusion."
Some Assange supporters see him accepting a plea deal as an achievable way to bring him back to Australia, where he could serve out a suspended sentence. Other supporters believe that he should not plead guilty and must fight the extradition.
Biden's DOJ is Pressuring Journalists to Help Build its Case Against Assange. A coercive campaign to get journalists to testify against Assange is a threat to free media and First Amendment protections.
The prosecution of Julian Assange is a threat to the freedom of the media. Law enforcement coercing journalists into aiding Assange's prosecution is far worse
In 2010, former Defense Secretary, Bob Gates, believed that the Wikileaks disclosures, while embarrassing to some, did not cause serious harm to US National Security. He said, "The fact is, governments deal with the United States because it's in their interest. Not because they like us, not because they trust us and not because they believe we can keep secrets," Gates said. "Is this embarrassing? Yes. Is it awkward? Yes. Consequences for U.S. foreign policy? I think fairly modest."
_____________________________________________

Diane Perlman, PhD   is a clinical and political psychologist, devoted to applying knowledge from psychology, conflict studies and social sciences to designing strategies and policies to reverse nuclear proliferation, to drastically reduce terrorism, reduce enmity, and to raise consciousness about nonviolent strategies for tension reduction and conflict transformation. She is a visiting scholar at the School for Conflict Analysis and Resolution at George Mason University, is active in Psychologists for Social Responsibility, the TRANSCEND Network for Peace Development Environment, and on the Global Council of Abolition 2000. Some of her writings can be found on her websites, www.consciouspolitics.org  and  www.SanityandSurvival.com. Email: dianeperlman@gmail.com
Go to Original – coronawise.substack.com
Tags:
Activism
,
Assange
,
Belmarsh Prison
,
Big Brother
,
Human Rights
,
Journalism
,
Justice
,
Media
,
Surveillance
,
Torture
,
USA
,
Violence
,
Whistleblowing
,
WikiLeaks
DISCLAIMER: The statements, views and opinions expressed in pieces republished here are solely those of the authors and do not necessarily represent those of TMS. In accordance with title 17 U.S.C. section 107, this material is distributed without profit to those who have expressed a prior interest in receiving the included information for research and educational purposes. TMS has no affiliation whatsoever with the originator of this article nor is TMS endorsed or sponsored by the originator. "GO TO ORIGINAL" links are provided as a convenience to our readers and allow for verification of authenticity. However, as originating pages are often updated by their originating host sites, the versions posted may not match the versions our readers view when clicking the "GO TO ORIGINAL" links. This site contains copyrighted material the use of which has not always been specifically authorized by the copyright owner. We are making such material available in our efforts to advance understanding of environmental, political, human rights, economic, democracy, scientific, and social justice issues, etc. We believe this constitutes a 'fair use' of any such copyrighted material as provided for in section 107 of the US Copyright Law. In accordance with Title 17 U.S.C. Section 107, the material on this site is distributed without profit to those who have expressed a prior interest in receiving the included information for research and educational purposes. For more information go to: http://www.law.cornell.edu/uscode/17/107.shtml. If you wish to use copyrighted material from this site for purposes of your own that go beyond 'fair use', you must obtain permission from the copyright owner.
Join the discussion!
We welcome debate and dissent, but personal — ad hominem — attacks (on authors, other users or any individual), abuse and defamatory language will not be tolerated. Nor will we tolerate attempts to deliberately disrupt discussions. We aim to maintain an inviting space to focus on intelligent interactions and debates.