Meanwhile, Around the World
EDITORIAL, 2 Apr 2018
#528 | Johan Galtung – TRANSCEND Media Service
As usual, many truths emerge, very much worth knowing.
Thus, Paul Street "Notes on Terminology" (CounterPunch 13 Mar 2018) demands frank, not sanitized use of words: climate crisis, not "change" (like opioid crisis, not change); corporate-capitalist-state media, not "mainstream media", reminiscent of us calling Pravda and Izvestia Soviet-state media. A key difference: they acknowledged official censors; US media pretend to be free (meaning self-censored?).
School "massacres" not "shootings". Oil "Spill" understates, how about Oil Spew–? "US War in Vietnam" was "US war in Southeast Asia", not only in one country. 1776 against London was not an "American Revolution" but a "Counter-Revolution" against slave liberation and indigenous power in their own lands. After that, they fared even worse. And the "Plantations" served as substitutes for forced labor camps.
There is a good argument for calling a spade a spade. And also for calling it a "digging device". Maybe both?
"The Truth behind My Lai" comes up (NYT 20 Mar 2018), at the 50th anniversary. Captain Medina told his troops–among them Lt Calley's First Platoon, which had lost about a half of their men–that "this was their chance to avenge their fallen comrades". "All Vietnamese became synonymous with Vietcong guerrillas for Lieutenant Calley, and soon the rest of the company adopted his harsh attitudes". The soldiers "were of the opinion that everyone in the village was to be killed". "Calley ordered his men to shoot them". So they did.
"Several officers were brought to trial in 1971–only Lt Calley was convicted". Singled out? He was released from prison in 1974.
This story can be read as the use of evil as cover for Evil. The greater Evil was the US war in Southeast Asia; the still greater EVIL, U.S. belligerence in general. And then even greater evil, the US empire itself? The focus on William Calley reduces all these major evils to one person.
That was fifty years ago. "Fifteen years ago, America destroyed my country"–"Let us stop calling the invasion of Iraq a "blunder" and call it what it is: a crime", by Sinan Antoon (NYT 21 Mar 2018). He estimates the number of Iraqis killed as a result of the invasion "at more than one million". Americans tend to count the costs in US$: above one trillion. A destroyed country; very many hating the USA.
Sixty years ago: "The dirty secret of American nuclear arms in Korea" by Walter Pincus (NYT 22 Mar 2018): "Americans–broke with the Korean armistice by introducing nuclear weapons into South Korea in 1958", as dual capacity weapons, justified as "military necessity".
"Can North Korea trust America?" is a good question asked by Ross Douthat (NYT 13 Mar 2018). With South African denuclearization, perhaps Yes; with Libya, definitely No. But any real deal has to be symmetric, including US denuclearization–not really broached by the article.
A key point emerges: the US leadership is very badly informed. Joseph Zongerie, a Vietnam veteran, in "What I saw during the Tet Offensive" (NYT), points to basic lack of information even in the US Embassy in Saigon, and of General Westmoreland. They did not see the Ho Chi Minh intent as "nationalism", unifying his tortured nation, but constructed it as "communism". Their image of Vietnamese military capacity was also basically flawed. Result: they lost, as elsewhere.
" When the Leader of the Free World Is an Ugly American " by S. Wertheim and T. Meaney (NYT 9 Mar 2018) pins that epithet on Trump as "radical imperialist". This may be so, he falls in line, and may even overqualify by being as or more ignorant than most. Maybe better read "ugly" as ignorant?
"A pledge by Trump to do what others didn't–Meeting with leader of North Korea hinges on force of his personality". Certainly. Trump ignorance and weakness for flattery should open gates for Kim Jong-Un, with a juche, self-reliant economy much less vulnerable to sanctions. And China's Xi, as pointed out by Kevin Rudd, is also marxist-leninist.
US imperialism also imposes bad health: "Junk food is a wedge for U.S. in trade talks. Washington wants to limit NAFTA nations' ability to warn of health hazards" with, for instance, labels, like in China. The key effect is obesity, with all its consequences.
The impact in a much americanized country like Norway is clear: money spent on medicine increased 7 percent in only one year, 2017–most of it (19.7 of 27.1 billion kroner) paid by the welfare state. How much of the 27.1 billion is spent on psycho-pharmaceuticals?
A propos welfare state: Norway is actually no. 22 in social expenditure relative to GNP–the list is topped by France-Belgium-Italy, only then come Finland and Denmark.
A propos Americanization: a top Norwegian military, Eldar Bergli, sees Norway–investing in F-35 hunter-bombers–as "totally dependent on allied land forces coming very quickly." (Klassekampen 2 Mar 2018) And they may have other priorities, like their own countries, not a country easily defended non-provocatively by strong coastal artillery and home defense, Heimevernet in all 249 districts, not only 1-one.
China is militarizing with offensive weapons. A new "strongman". But inside China there is growth in consumption per capita 2000-2014: China No. 1 at 176%, India no. 2 at 107%, "high income countries" 17%. An aside: Swedish journalist Elisabeth Asbrink, in "The fascist sympathizer who founded IKEA" (NYT 2 Feb 2018), points out that Ingvar Kamprad (who passed away 27 Jan 2018) was a Swedish Nazi. Boycotting IKEA? No. Guarding Ikea, that marvelous gift, against neo-Nazism.
Conclusion? Pope Francis, hailed very appropriately by Paul Elle, "Pope Francis, the anti-strongman" (NYT). A world trying to substitute economic for military power should try to use better cultural power, also as spiritual power. "He offers a different model of power", with very very concrete proposals. May he reach the corridors of power; they are fortunate enough to co-exist in time with this giant.
_____________________________________________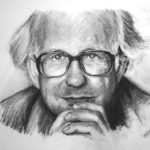 Johan Galtung, a professor of peace studies, dr hc mult, is founder of TRANSCEND International and rector of TRANSCEND Peace University. Prof. Galtung has published more than 1500 articles and book chapters, over 500 Editorials for TRANSCEND Media Service, and more than 170 books on peace and related issues, of which more than 40 have been translated to other languages, including 50 Years-100 Peace and Conflict Perspectives published by TRANSCEND University Press. More information about Prof. Galtung and all of his publications can be found at transcend.org/galtung.
Tags:
Health
,
MATW
,
Norway
,
Pope
,
USA
This article originally appeared on Transcend Media Service (TMS) on 2 Apr 2018.
Anticopyright: Editorials and articles originated on TMS may be freely reprinted, disseminated, translated and used as background material, provided an acknowledgement and link to the source, TMS: Meanwhile, Around the World, is included. Thank you.
If you enjoyed this article, please donate to TMS to join the growing list of TMS Supporters.


This work is licensed under a CC BY-NC 4.0 License.
One Response to "Meanwhile, Around the World"