Satyagraha for a Sacred Economy
TRANSCEND MEMBERS, 7 Oct 2019
Prof. Vandana Shiva | Navdanya – TRANSCEND Media Service
2 October, Gandhi's 150th Birth Anniversary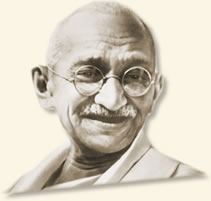 Satyagraha for Life–Sowing the Seeds of Life and Freedom through the Power of Truth, Creativity and Nonviolence
On 2nd October 2019, Gandhi's 150th birth anniversary, a new Satyagraha for a Sacred economy is beginning in Bangalore.
As the Gram Seva Sangh of Bangalore has summarized, a sacred economy which is a "system of production that creates the most number of jobs with the least investment in capital as also with least damage to nature". I will be joining the Satyagraha as a Satyagraha for life .
Satyagraha -the force of truth- is Gandhi's word for non cooperation  with and non participation in systems , structures, laws , paradigms , policies that  destroy the earth and rob us of our humanity and our freedoms , that crush our potential for compassion and sharing , that atrophy our hearts , our minds ,our  hands.
Satyagraha, the force and power of truth in creative ,nonviolent form is central to our  freedom  during the  rule through "post truth " during which illusions and constructions displace reality , colonise the earth and our minds , and manipulate our minds to think our enslavement and our disposability is "progress"  and liberation .
Satyagraha is the deepest practice of democracy, a "No" from the highest consciousness -the moral duty to not cooperate with unjust and brute law and exploitative and undemocratic processes because there are higher laws we must obey.
The brute laws of today's dominant economic paradigm of corporate globalisation based on limitless greed and the illusion of limitless growth  is  driving extinction . It is feeling ecocide and genocide.
Given the planetary emergency , and the social and economic emergency of unemployment ,farmers debt and suicides ,we now need a Satyagraha for life, to protect the Earth , to defend the rights and livelihoods of our small peasants , our tribals , our artisans ,to create meaningful creative dignified self organised work in living economies to regenerate the earth and people's livelihoods , people's hope in the future .
The shift from fossil fuel driven corporate globalisation to localisation of our economies has become an ecological and social imperative. Economic localisation implies that whatever can be produced locally with local resources should be protected to build a vibrant local economy so that both livelihoods and the environment are protected. This was Gandhi's concept of Swadeshi.
Gandhi defined Swadeshi as the 'spirit in us which restricts us to the use and services of our immediate surroundings to the exclusion of the more remote'. Localisation is an ethical and ecological imperative. It reduces our ecological footprint while enhancing our hand print, opening opportunities for creative, meaningful work, producing quality, and enhancing well-being. It fixes the broken circle between production and consumption. It fixes the broken carbon cycle driving climate chaos.
The industrial food and agriculture system based on fossil fuels and poisons is at the heart of the planetary emergency, the collapse of agrarian economies ,farmers suicides , the health and hunger crisis. Further industrialisation is based on farming without farmers and fake food, which will aggravate the ecological, agricultural and health crisis.
Ecological food and agriculture systems that are fossil fuel free ,and poison free have the potential to address the multiple crisis by working with nature, not against her laws , by working with our hands, heads and hearts to create sacred  economies based on  care and compassion  , not greed and disposability of people ,specially farmers and artisans ..
The creation of local ecological economies based on "bread labour" and co creativity with nature is the only way to sustain the earth and human societies through rejuvenation of real work. We are creative intelligent beings given creative heads, hearts and hands. Every human being has a right to be creative to live to their full potential and evolve their intelligence in diverse ways .Creativity cannot be reduced to designing the next algorithm for living in virtual reality. Creativity is above all our co-creativity to join our intelligence with the intelligence of the earth and all beings. Through our common creativity we can say an effective "No" to the assumption of fossil fuel based throwaway economies which creates throwaway people .This is the Satyagraha for a Sacred Economy .It is a Satyagraha for life. It is a Satyagraha against disposability and extinction.
The earth is sacred .Life in its rich diversity is sacred. Seed is sacred. Food is sacred. Land and Soil are Sacred. Water is Sacred. Our rivers and forests are sacred .Our bodies are sacred .Creative sovereign work in service and care for the earth and community is sacred.
Every human being is sacred because all life is Sacred. It is our duty and freedom to align our creative potential with the higher planetary laws and higher laws of humanity which make life and well being possible for all.
The force of truth is the highest power for change, for freedom from unjust rule, the power to seed our interconnected freedom, and through our freedom, seed the future by seeding a sacred economy.
For me personally, the Satyagraha for a Sacred Economy is for our sacred mother earth, it is a Satyagraha to defend the higher laws of Gaia and Mother Earth from the rule of corporate greed which is pushing the biodiversity of the planet to extinction and driving climate catastrophe .It is also a Satyagraha for the higher laws of our common humanity to ensure no child dies of hunger, no farmer commits suicide due to debt, and no youth faces unemployment.
As Gandhi reminded us,
"The Earth has enough for everyone's needs, but not for a few people's greed."
_______________________________________________

TRANSCEND Member Prof. Vandana Shiva is a physicist, ecofeminist, philosopher, activist, and author of more than 20 books and 500 papers. She is the founder of the Research Foundation for Science, Technology and Ecology, and has campaigned for biodiversity, conservation and farmers' rights, winning the Right Livelihood Award [Alternative Nobel Prize] in 1993. She is executive director of the Navdanya Trust.
Tags:
Activism
,
Agri-food
,
Agriculture
,
BRICS
,
Bayer
,
Biodiversity
,
Capitalism
,
Conflict
,
Development
,
Ecofeminism
,
Ecology
,
Economics
,
Ecosystem
,
Environment
,
Farming
,
Fraud
,
GMO
,
Gandhi
,
Genetic engineering
,
Genetic manipulation
,
Human Rights
,
India
,
Indigenous Rights
,
Justice
,
Media
,
Monsanto
,
Nature's Rights
,
Nonviolence
,
Organic food
,
Peace
,
Politics
,
Power
,
Public Health
,
Roundup
,
Satyagraha
,
Seeds
,
Social justice
,
Solutions
,
USA
,
Vandana Shiva
,
West
,
Whistleblowing
,
World
DISCLAIMER: The statements, views and opinions expressed in pieces republished here are solely those of the authors and do not necessarily represent those of TMS. In accordance with title 17 U.S.C. section 107, this material is distributed without profit to those who have expressed a prior interest in receiving the included information for research and educational purposes. TMS has no affiliation whatsoever with the originator of this article nor is TMS endorsed or sponsored by the originator. "GO TO ORIGINAL" links are provided as a convenience to our readers and allow for verification of authenticity. However, as originating pages are often updated by their originating host sites, the versions posted may not match the versions our readers view when clicking the "GO TO ORIGINAL" links. This site contains copyrighted material the use of which has not always been specifically authorized by the copyright owner. We are making such material available in our efforts to advance understanding of environmental, political, human rights, economic, democracy, scientific, and social justice issues, etc. We believe this constitutes a 'fair use' of any such copyrighted material as provided for in section 107 of the US Copyright Law. In accordance with Title 17 U.S.C. Section 107, the material on this site is distributed without profit to those who have expressed a prior interest in receiving the included information for research and educational purposes. For more information go to: http://www.law.cornell.edu/uscode/17/107.shtml. If you wish to use copyrighted material from this site for purposes of your own that go beyond 'fair use', you must obtain permission from the copyright owner.
One Response to "Satyagraha for a Sacred Economy"