Grace under Fire: Getting Arrested with Jane Fonda
TRANSCEND MEMBERS, 20 Jan 2020
Diane Perlman | Medium – TRANSCEND Media Service
Fire Drill, Friday Birthday Party & Photo Essay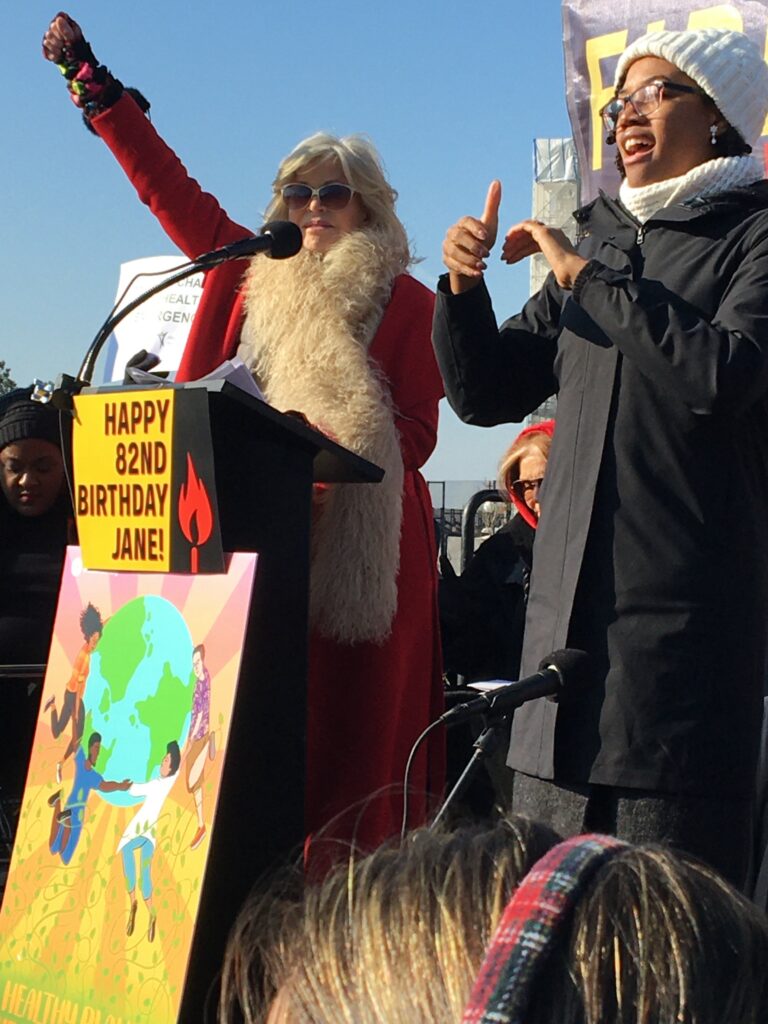 A Captivating Audience
8 Jan 2020 – Following Jane Fonda's 11th weekly Fire Drill Friday rally on the Capitol, we marched over the Hart Senate Office Building where 138 of us risked arrest and spent the rest of December 20 celebrating Jane Fonda's 82nd birthday in a very cold warehouse, hosted by friendly DC police officers.
It was like a wonderful party, except without food or drink. When we had to go to the bathroom, a police officer would cut off our tightened plastic handcuffs and escort us to the cold porta potty out back. Not every group of detainees worry about wasting plastic every time we have to pee and wonder whether they recycle our plastic handcuffs.
A majority of us were older white women, free to risk arrest without fear of consequences faced by people of color. There were a few good men and a few courageous people of color.
I also had the honor of being arrested with feminist pioneer, Gloria Steinem, playwright, Eve Ensler, CEO and author, Pat Mitchell, actors Catherine Keener and Rosanna Arquette, sustainability proponent, Annie Leonard, Code Pink Cofounder, Jodie Evans, portrait photographer Annie Leibovitz, Poor People' Campaign leader, Reverend William Barber, supported by John Cavanagh, Director of the Institute for Policies Studies.
The Seydels (3 in the photo below) enjoyed an alternative family vacation. Instead of gifts, the 13 year old grandtwins requested to have a meaningful experience. They got one. Ellie Sedel, a 22 year old UCLA film student got arrested with her mother, environmentalist, speaker Laura Turner Seydel who is Ted Turner's daughter and Jane Fonda's step daughter, and with two grandmothers, Jane and Pat Mitchell Seydel. Her twin cousins and another sibling did not get arrested.
Why Fire Drill Fridays? Because Our House Is On Fire!
Jane Fonda took a bold leap, inspired by Naomi Klein's book, On Fire: The (Burning) Case for a Green New Deal, Greta Thunberg, Swedish climate activist who turned 17 on January 3, Reverend William Barber's Moral Mondays and Randall Robinson's anti-apartheid protests.
Fire Drill Fridays is stimulating transformative experiences and productive personal connections. It is gaining traction and will proliferate to other cities.
What Greta is doing for students around the world with School Strike for the Climate/Fridays for Future, Jane is doing for us. I have the impression that Jane is becoming our Greta, our galvanizer, our spark to ignite and unite our energies.
Thank You Greta! Photo Essay of School Strike and Extinction Rebellion
Jane left her comfort zone, infant grandson and beloved dog in California to live in DC for 4 months to do the most good. She organized weekly rallies on the southeast lawn of the Capitol every Friday at 11 AM from October 11, 2019 to January 10, 2020.
Each Friday focused on a different theme preceded by live streamed teach-ins on Thursday nights with experts and activists on the front lines. Jane's friends and co-stars have come to get arrested with her, many for the first time, including Lily Tomlin, Sam Waterston, Ted Danson, Sally Field.
The largest crowd so far came on December 20 to honor Jane on her birthday. The theme that week was "Health Can't Wait." (see the entire event on the link below, and read excerpts from speakers at the end of this article)
January 10 is Jane's last Fire Drill Friday in DC before she has to go back to LA to film the last season of Grace and Frankie. Martin Sheen, Joaquin Phoenix, Maggie Gyllenhaal, June Diane Raphael, environmental leaders Bill McKibben, Naomi Klein, and Annie Leonard and others will come and may risk arrest. Please join us for another party like no other.
Why Get Arrested? It's What's Left to Us
Before the 11 AM rallies, those considering arrest attend a breakfast training session. Jane explained that after we have tried everything our democracy allows — phone calls, letters, demonstrations, and lobbying — when these are not enough to make a difference — what is left to us to do?
Jane explained,
"We used every leverage that democracy has to offer us and it wasn't enough. That is why we have very deliberately, decided to do what has historically made big changes in the world and that is engage in civil disobedience. And what we have seen is that people have paid a lot of attention to the fact that every week we engage civil disobedience and risk getting arrested. It is a very honorable thing to do.

"We know what Martin Luther King achieved through civil disobedience the young students in the sit-ins at the lunch counters in Mississippi, what Rosa Parks achieved with her civil disobedience sitting in the front of a bus and Mahatma Gandhi of course. Nonviolent civil disobedience is a an honorable way to really put your body on the line.

"And what has moved me is the majority of people who have come over these months to Fire Drill Fridays who have never done it before. It's exactly what we hoped would happen. We moved people into taking the next step column where they are prepared to put their bodies on the line."
"The Medium Is the Message"
"The medium is the message" was coined by visionary Canadian media philosopher, Marshall McLuhan, who also coined the term global village.
Why do people come through the experience of Jane's rallies feeling better? Attendees are touched, enlightened, educated, inspired, connected to others, and moved to action. There is something uniquely uplifting, endearing, compelling, joyous and loving about these actions emanating from Jane. FDF is not your run-of-the-mill protest.
Jane's substantive comments are powerful, well-informed and compelling. Her speaker introductions are remarkable and exude admiration, interesting personal details and deep recognition of each speaker's unique gifts. She cheers each speaker in a way I rarely see.
Actor Catherine Keener, introducing Sweet Honey in the Rock, said,
"I'm usually so pissed off about this, but I'm not today. I feel like this is such a joyful occasion so I am not feeling that and I learned so much from all of you."
While we are angry and have every reason to be angry — unlike many rallies, Jane sets a feeling tone that does not come from anger. It overrides the anger and comes from a position of urgency, learning, commitment, gratitude and palpable love — love for each other, for the Earth and for our descendants.
In Jane's introduction she said,
"We need to be together as this year draws to a close and we need to be together for fortification, for sustenance and for love. And I'm so very grateful so let's stay together and love each other and let's make the circle wider and the tent bigger."
Speaker Roshi Joan Halifax (quoted more extensively in the photo essay) said,
"We have to do this from a place of courage, love, compassion and also wisdom."
Jane and her team have created a work of psychological art and social engineering that epitomizes and synthesizes courage, love, compassion and wisdom.
As Jane was getting arrested we naturally chanted,
"Thank you. We love you. Thank you. We love you."
*****
Endnote: This was my second arrest. I plan to get arrested again with FDF on January 19. The first time was with Bill McKibben's 2 week action against the Keystone Pipeline in which 1262 people got arrested. Here is a video of a song that came to me while getting arrested, performed by my son's friend, Jimmy Costello.
Circle Time: The Best Part
TO CONTINUE READING Go to Original – medium.com
_____________________________________________

Diane Perlman, PhD   is a clinical and political psychologist, devoted to applying knowledge from psychology, conflict studies and social sciences to designing strategies and policies to reverse nuclear proliferation, to drastically reduce terrorism, reduce enmity, and to raise consciousness about nonviolent strategies for tension reduction and conflict transformation. She is a visiting scholar at the School for Conflict Analysis and Resolution at George Mason University, is active in Psychologists for Social Responsibility, the TRANSCEND Network for Peace Development Environment, and on the Global Council of Abolition 2000. Some of her writings can be found on her websites, www.consciouspolitics.org  and  www.SanityandSurvival.com. Email: dianeperlman@gmail.com.
Tags:
Activism
,
Climate Change
,
Conflict
,
Global warming
,
Human Rights
,
Media
,
Nature's Rights
,
Nonviolence
,
Nonviolent Action
,
Politics
,
Power
,
Social justice
,
Solutions
,
Violence
DISCLAIMER: The statements, views and opinions expressed in pieces republished here are solely those of the authors and do not necessarily represent those of TMS. In accordance with title 17 U.S.C. section 107, this material is distributed without profit to those who have expressed a prior interest in receiving the included information for research and educational purposes. TMS has no affiliation whatsoever with the originator of this article nor is TMS endorsed or sponsored by the originator. "GO TO ORIGINAL" links are provided as a convenience to our readers and allow for verification of authenticity. However, as originating pages are often updated by their originating host sites, the versions posted may not match the versions our readers view when clicking the "GO TO ORIGINAL" links. This site contains copyrighted material the use of which has not always been specifically authorized by the copyright owner. We are making such material available in our efforts to advance understanding of environmental, political, human rights, economic, democracy, scientific, and social justice issues, etc. We believe this constitutes a 'fair use' of any such copyrighted material as provided for in section 107 of the US Copyright Law. In accordance with Title 17 U.S.C. Section 107, the material on this site is distributed without profit to those who have expressed a prior interest in receiving the included information for research and educational purposes. For more information go to: http://www.law.cornell.edu/uscode/17/107.shtml. If you wish to use copyrighted material from this site for purposes of your own that go beyond 'fair use', you must obtain permission from the copyright owner.
2 Responses to "Grace under Fire: Getting Arrested with Jane Fonda"