World Bee Day: Poisons Mean Extinction for Bees and Humanity
TRANSCEND MEMBERS, 25 May 2020
Prof. Vandana Shiva | Navdanya International– TRANSCEND Media Service
To raise awareness of the importance of pollinators, the threats they face and their contribution to sustainable development, the UN designated 20 May as World Bee Day.
"Protecting bees is an ecological duty, pushing them to extinction is an ecological crime.
The threat to bees is a threat to humanity."

******

"If the bee disappeared off the face of the earth, man would only have four years left to live."  ― Maurice Maeterlinck, The Life of the Bee[1]
20 May 2020 – In the last 50 years agrotoxins have spread and are pushing bees to extinction.
The choices before humanity are clear, a Poison Free Future to save Bees, Farmers, our Food and Humanity. Or continue to use poisons, threatening our common future by walking blindly to extinction through the arrogance that we can substitute bees with artificial intelligence and robots.
"Robotic bees could pollinate plants in case of insect apocalypse", ran a recent Guardian headline reporting how Dutch scientists, "believe they will be able to create swarms of bee-like drones to pollinate plants when the real-life insects have died away".[2] [3]
"We see a crisis in 15 years where we don't have enough insects in the world to actually do pollination and most of our vitamins and fruits are gone," said Eylam Ran, CEO of Edete Precision Technologies for Agriculture. His company says its artificial pollinator can augment the labours of – and eventually replace – bees. Its system mirrors the work of the honey bee, beginning with a mechanical harvest of pollen from flowers and ending with a targeted distribution using LIDAR sensors, the same technology used in some self-driving cars".[4]
There is no substitute for the amazing biodiversity and gifts of bees.
Every culture, every faith has seen the bees as teachers – of giving, of creating abundance, of creating the future of plants through pollination, and contributing to our food security and welfare.The next generation of seed is transformed into the next generation of seed only through the gift of the pollinator.
Navdanya's research has shown that more than 30% of the food we eat is produced by bees and pollinators.
Nature's economy is the gift economy. In every tradition the bee has been exemplified as a teacher in giving.
Buddhist texts note that from a multitude of living things, bees and other pollinating animals take what they need to survive without harming the beauty and vitality of their source of sustenance. For humans, to act in the manner of bees is an enactment of compassionate and conscious living.
St. John Chrysostom of the Catholic Church wrote, "The bee is more honored than other animals, not because she labors, but because she labors for others." (12th Homily)
In the Islamic tradition, the Quran's 16th chapter is titled 'The Bee'.  This chapter is known to be the revelation of God.
In the Hindu tradition, there is a wonderful quote in the scripture Srimad Mahabhagavatam which reads, "Like a honey bee gathering honey from all type of flowers the wise men search everywhere for truth and see only good in all religions."
Let us together as diverse species and diverse cultures and through poison free organic food and farming, rejuvenate the biodiversity of our pollinators and restore their sacredness. We have the creative power to stop the sixth mass extinction and climate catastrophe without the need for these false technocratic solutions.
Notes:
[1] Maurice Maeterlinck is a Nobel Prize winner from Belgium https://www.nobelprize.org/prizes/literature/1911/maeterlinck/biographical/
[2] https://gmwatch.org/en/news/latest-news/18543
[3] https://seedfreedom.info/wp-content/uploads/2018/11/The-Future-of-Our-Daily-Bread-_-LowRes-_-19-11-2018-REVISED.pdf
[4] With bees on decline, mechanical pollination may be solution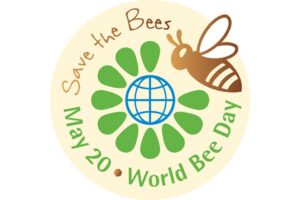 Short Fact Sheet on Bees and Pollinators:
There are over 20,000 species of bee of which the domestic honey bee is just one. They are all pollinators and are responsible for the majority of crop pollination. [1]
Most pollinators are wild but a few species of bees can be managed, such as honeybees (Apis mellifera, Apis cerana), some bumblebees and a few solitary bees. [1]
Flies, wasps, moths, beetles and bats, to name a few are also vital pollinators, as they each pollinate different types of crops.
 The bee and other pollinators are symbols of nature's giving, cooperation, diversity and the symbiotic relationships necessary for life to continue.
Pollinators produce one third of the food we eat.
Honeybees  pollinate 71 of the 100 most common crops that account for 90% of the world's food supply. [1]
According to the FAO, 75% of the leading types of global food crops are reliant on pollinators.[1]
 Globally, the contribution of bees to crop production has been estimated at $200 billion.[1]
They give us food, we give them food. This is mutuality, the law of return, the real circular economy. Without pollinators, most plants would not reproduce, and without plant reproduction, our food supply would be threatened.[1]
The Problem:
Changing land use due to agricultural intensification and urban expansion is one of a number of key drivers of pollinator loss, especially when natural areas, that provide foraging and nesting resources, are degraded or disappear.[1]
Pesticides, as defined by the FAO are, 'any substance, or mixture of substances, of chemical or biological ingredients intended for repelling, destroying or controlling any pest, or regulating plant growth'. The term is generically used to address all the substances that interfere with, obstacle or destroy living organisms, be they microorganisms, virus, moulds, fungi, insects, "weeds" and especially pollinators.[2]
These chemicals bioaccumulate, leading to long term poisoning of bee and human bodies.[2]
Industrial food systems have destroyed the biodiversity of the planet both through the spread of monocultures, and through the use of toxics and poisons  such as pesticide, herbicide and chemical fertilizers which are killing bees, butterflies, insects and birds, leading to the sixth mass extinction. [2],[3]
Pollinators have been killed because of high dose super toxins in Bt crops, such as Bt cotton.[3]
The abundance, diversity and health of pollinators is also threatened by a number of other drivers including a changing climate, invasive species and emerging diseases and pathogens.[1]
The global collapse of insect numbers is a threat to almost every other species on the planet as insects act as primary food sources for thousands of animal species.
Corporations are now pushing notions of robotic pollination where  robotic, drone-like bees are engineered to pollinate plants or the idea of creating genetically modified bees that are supposedly resistant to pesticides. Far from solving the root problem of a broken industrial agricultural model, these false solutions have unacceptable ecological costs, is economically and morally unviable, generating massive pollution and disposal costs. [1],[7]
Solutions and Actions:
Biodiverse farms act as sanctuaries for all types of pollinators, as different pollinators are needed for different crops.
Biodiversity of plants helps regulate pests through pest-predator relationships between insects. [3]
The Law of Return, of giving back, has ensured that societies create and maintain the web of life, including bees and can be supported by biodiversity over thousands of years. Food security depends on protecting the bees. [1]
Healthy populations of wild pollinators increase yields significantly. This is only maintained by cultivating biodiverse cropping.[1]
Improving habitat diversity within the landscape, and the inclusion of non- agricultural habitats have been shown to mitigate pollinator loss, boost pollinator numbers and improve ecosystem services. [1]
In November 2019, a wide alliance of NGOs, agricultural initiatives, grassroots movements, beekeeping associations and scientists from all over Europe, supported by a network of Civil Society organisations joined forces in the European's Citizens Initiative (ECI) "Save bees and Farmers". Their aim is to obtain a paradigm shift in European agriculture which enables bees and farmers to thrive in a healthy environment. [4]
Landscape elements such as trees, wildflower strips and hedges serve as habitats where insects, birds, lizards and many other animals forage, breed and find shelter, among them beneficial ones that pollinate crops or fight pests.Landscape elements such as trees, wildflower strips and hedges serve as habitats where insects, birds, lizards and many other animals forage, breed and find shelter, among them beneficial ones that pollinate crops or fight pests. [5]
Promote the planting of bee-attractive leguminous varieties, such as lentils, chickpeas, beans and so on, to benefit biodiversity, soils and farmers. In pesticide-free agriculture, bee-attractive leguminous plants play a vital role: they provide feed for beneficial insects while at the same time enriching soils in nitrogen, thus naturally fertilizing soils and promoting living soils. [5]
Grasslands are important habitats for bees and pollinators. Intensely used and overused grasslands constrain feed for bees as well as other insects, and reduce ecosystem diversity. Extensive management of grassland, without pesticides and chemical fertilizers is a measure that can quickly enhance biodiversity.[5]
Together as diverse species and diverse cultures and through poison free organic food and farming, which offer climate solutions and rejuvenate biodiversity, we have the creative power to stop the sixth mass extinction and ecological catastrophe. [6]
Notes:
1. The Future of our Daily Bread: Regeneration or Collapse
3. The Future of Food – Farming with Nature, Cultivating the Future
4. Save bees and farmers – European citizens' Initiative
5. Annex to the European Citizens' Initiative "Save bees and farmers! Towards a Bee-friendly agriculture for a healthy environment
6. Poison-free Food and Farming 2030
7. Robotic bees for crop pollination: Why drones cannot replace biodiversity
_______________________________________________

TRANSCEND Member Prof. Vandana Shiva is a physicist, ecofeminist, philosopher, activist, and author of more than 20 books and 500 papers. She is the founder of the Research Foundation for Science, Technology and Ecology, and has campaigned for biodiversity, conservation and farmers' rights, winning the Right Livelihood Award [Alternative Nobel Prize] in 1993. She is executive director of the Navdanya Trust.

Navdanya and the Navdanya movement were created by Dr. Vandana Shiva 30 years ago in India to defend Seed and Food sovereignty and small farmers around the world. Navdanya pioneered the movement of seed saving and seed freedom, which began in response to the crisis of erosion of agricultural biodiversity and introduction of GMOs and patents on seeds through intellectual property rights (IPRs) and so-called 'free trade' agreements. It has long fought against biopiracy, the patenting of indigenous knowledge by self-interested multinational corporations and won cases related to Neem, basmati rice and wheat in India. Navdanya promotes a new agricultural and economic paradigm, a culture of food for health, where ecological responsibility and economic justice replace the present greed, consumerism and competition which have become dominant in society. It aims at regaining the common good as a foundation for a renewed sense of community, solidarity and culture of peace. We strive to achieve these goals through the conservation, renewal and rejuvenation of the gifts of biodiversity we have received from nature and our ancestors, and to defend these gifts as commons. More…
Go to Original – navdanyainternational.org
Tags:
Activism
,
Agri-food
,
Agriculture
,
Bees
,
Biodiversity
,
Capitalism
,
Conflict
,
Ecology
,
Economics
,
Ecosystem
,
Environment
,
Farming
,
GMO
,
Genetic engineering
,
Genetic manipulation
,
India
,
Monsanto
,
Nature's Rights
,
Navdanya International
,
Organic food
,
Seeds
,
Social justice
,
Solutions
,
Vandana Shiva
DISCLAIMER: The statements, views and opinions expressed in pieces republished here are solely those of the authors and do not necessarily represent those of TMS. In accordance with title 17 U.S.C. section 107, this material is distributed without profit to those who have expressed a prior interest in receiving the included information for research and educational purposes. TMS has no affiliation whatsoever with the originator of this article nor is TMS endorsed or sponsored by the originator. "GO TO ORIGINAL" links are provided as a convenience to our readers and allow for verification of authenticity. However, as originating pages are often updated by their originating host sites, the versions posted may not match the versions our readers view when clicking the "GO TO ORIGINAL" links. This site contains copyrighted material the use of which has not always been specifically authorized by the copyright owner. We are making such material available in our efforts to advance understanding of environmental, political, human rights, economic, democracy, scientific, and social justice issues, etc. We believe this constitutes a 'fair use' of any such copyrighted material as provided for in section 107 of the US Copyright Law. In accordance with Title 17 U.S.C. Section 107, the material on this site is distributed without profit to those who have expressed a prior interest in receiving the included information for research and educational purposes. For more information go to: http://www.law.cornell.edu/uscode/17/107.shtml. If you wish to use copyrighted material from this site for purposes of your own that go beyond 'fair use', you must obtain permission from the copyright owner.