Mafia vs. the People: Who Wins?
TRANSCEND MEMBERS, 13 Jul 2020
Prof. Mazin Qumsiyeh – TRANSCEND Media Service
10 Jul 2020 – The main points are made in this first paragraph but if you have more time you can go to the supporting documents below: little reported news documenting the most powerful and most destructive mafia in the world. It is a non-state organization that hijacked the US government since 1967 and created a home base on the ruins of the natives of this country, my country Palestine since the 1920s.
This meant now 7.5 million native Palestinian are refugees and displaced people and the rest of us in ghettos/concentration camp areas (plus 100,000 killed, 800,000 injured, about a million kidnapped/imprisoned). But while the movement had many successes, it had set-backs via people resistance and it is destined to end-up in the dustbin of history because it is against basic human rights, international law, and against the vast majority of people of the world.
Last week only, the mafia's lobby failed to get pro-zionist Canadian government a seat at the UN Security Council and the Canadian government had to contend with appointing as UN Ambassador racist Bob Rae to try and push Zionist agendas.
The Zionists succeeded in Israelizing the government of the US and its police forces to be racist and anti people of color. But training US police forces and militarizing them gained Israel the enmity of the US public (especially people of color but also young Jews). The masses turn against racism and Zionists have to contend with old white conservative people (Trump & Biden) – a generation that is soon to be gone.
The political power of Zionism is based on groups like the ADL, Conference of Presidents, AIPAC, Mossad etc. But their extortions and racketeering eventually backfire. The arrest of Jeffrey Epstein's co-conspirator (both were Zionist agents using sex to extort politicians like Trump and Clinton) is a step in the right direction. We are heartened by the growth of the BDS movement despite amazing array of dirty tactics and money used against it. And if the Zionists think going after the economies of Iran, Syria, Lebanon, Yemen, and Gaza will help the mafia maintain hegemony, they are as sadly mistaken.
The world is changing (coronavirus will accelerate the change) from the neoliberal capitalist world that they easily manipulated to a more caring world based on caring for each other and for the environment. In that world there is place for everyone regardless of their religion but there is no space for Zionists (racists). My Jewish and other friends who work against Zionism continue to grow and the number of Zionists continue to shrink. Time to end the charade: free Palestine, free the USA, free the world.
____________________________________________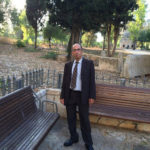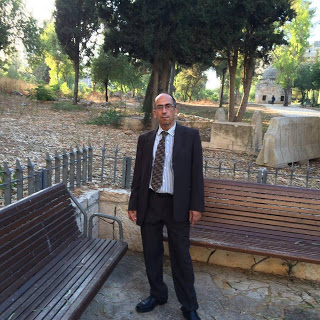 Mazin Qumsiyeh, associate professor of genetics and director of cytogenetic services at Yale University School of Medicine, is founder and president of the Holy Land Conservation Foundation and ex-president of the Middle East Genetics Association. He won the Raymond Jallow Activism Award from the national Arab American Anti-Discrimination Committee in 1998. He is co-founder and national treasurer of Al-Awda, the Palestine Right to Return Coalition, and has written extensively about the Middle East. Qumsiyeh is a member of the TRANSCEND Network for Peace Development Environment, author of Sharing the Land of Canaan and Popular Resistance in Palestine, a professor at Bethlehem University and director of the Palestine Museum of Natural History in Bethlehem. http://palestinenature.org
Join the BDS-BOYCOTT, DIVESTMENT, SANCTIONS campaign to protest the Israeli barbaric siege of Gaza, illegal occupation of the Palestine nation's territory, the apartheid wall, its inhuman and degrading treatment of the Palestinian people, and the more than 7,000 Palestinian men, women, elderly and children arbitrarily locked up in Israeli prisons.
DON'T BUY PRODUCTS WHOSE BARCODE STARTS WITH 729, which indicates that it is produced in Israel.    DO YOUR PART! MAKE A DIFFERENCE!
7 2 9: BOYCOTT FOR JUSTICE!
Tags:
Conflict
,
Coronavirus
,
Fatah
,
Gaza
,
Geopolitics
,
Hamas
,
Human Rights
,
ICC
,
Israel
,
Nakba
,
Oslo Accords
,
Palestine
,
Palestine/Israel
,
Politics
,
Power
,
Settlers
,
Social justice
,
State Terrorism
,
UN
,
USA
,
Violence
,
West Bank
,
Zionism
This article originally appeared on Transcend Media Service (TMS) on 13 Jul 2020.
Anticopyright: Editorials and articles originated on TMS may be freely reprinted, disseminated, translated and used as background material, provided an acknowledgement and link to the source, TMS: Mafia vs. the People: Who Wins?, is included. Thank you.
If you enjoyed this article, please donate to TMS to join the growing list of TMS Supporters.


This work is licensed under a CC BY-NC 4.0 License.
One Response to "Mafia vs. the People: Who Wins?"