Democratic Republic of Congo: Need for Reconciliation, Bridge-Builders
TRANSCEND MEMBERS, 1 Mar 2021
René Wadlow - TRANSCEND Media Service
On bridges are stated the limits in tons
of the loads they can bear.
But I've never yet found one that can bear more
than we do. Although we are not made of roman freestone,
nor of steel, nor of concrete.
— From "Bridges" – Ondra Lysohorsky. Translated from the Lachian by Davis Gill
24 Feb 2021 – The killing of the Italian Ambassador to the Congo on 22 Feb 2021 near Goma in Eastern Congo has highlighted the continuing insecurity of the area and the need for renewed efforts at peacebuilding. The Ambassador of Italy, Luca Attanasco, was part of a two-car convoy of the U.N. World Food Program to visit a school meal program run by the Program which has recently been awarded the Nobel Peace Prize. The convoy was fired upon by a group of six individuals. The Ambassador and one of the drivers were killed.
At this stage, it is not known which of some 45 armed groups in the area carried out the attack and if the convoy was attacked because it was of the United Nations or if any two-car convoy would have been attacked in the hope of looting the contents.  While the U.N. Secretary-General has called for an  investigation, an investigation is unlikely to be able to say more than that the whole area is unstable and that more than U.N. or Congolese government troops are necessary to bring stability.
Despite a new president of the Democratic Republic of Congo who promised to tackle poverty at its roots, armed violence continues.  Felix Tshisekedi, son of the late, long-time opposition leader Etienne Tshisekedi, put an end to the 18-year rule of Joseph Kabila.  However, in a number of provinces of the country, especially the east, armed violence continues between the army and different tribal-based militias.  In some area, war lords battle among themselves.
The United Nations has some 20,000 peacemakers in Congo (MONUC), the UN's most numerous peacekeeping mission, but their capacity is stretched to the limit.  While MONUC has proven effective at securing peace in the Ituri district in north-eastern Congo, it has been much less successful in the two Kivu provinces.
The eastern area of Congo is the scene of fighting at least since 1998 — in part as a result of the genocide in neighboring Rwanda in 1994.  In mid-1994, more than one million Rwandan Hutu refugees poured into the Kivu provinces, fleeing the advance of the Tutsi-led Rwandan Patriotic Front, now become the government of Rwanda.  Many of these Hutu were still armed, among them, the "genocidaire" who a couple of months before had led the killings of some 800,000 Tutsi and moderate Hutu in Rwanda.  They continued to kill Tutsi living in the Congo, many of whom had migrated there in the 18th century.
The people in eastern Congo have lived together for many centuries and had developed techniques of conflict resolution, especially between the two chief agricultural lifestyles: that of agriculture and cattle herding.  However, the influx of a large number of Hutu, local political considerations, a desire to control the wealth of the area — rich in gold, tin and tropical timber — all these factors have overburdened the local techniques of conflict resolution and have opened the door to new, negative forces interested only in making money and gaining political power.
UN peace-keeping troops are effective when there is peace to keep.  What is required today in eastern Congo and in certain other parts of the country is not so much more soldiers under UN command, than reconciliation bridge-builders, persons who are able to restore relations among the ethnic groups of the area.  The United Nations, national governments, and non-governmental organizations need to develop bridge-building teams who can help to strengthen local efforts at conflict resolution and re-establishing community relations.  In the Kivu provinces, many of the problems arise from land tenure issues.  With the large number of people displaced and villages destroyed, it may be necessary to review completely land tenure and land use issues.
The Association of World Citizens has stressed the need in States deeply divided on geographic and ethnic lines such as the Democratic Republic of Congo to manage diversity as a strength rather than as a weakness..  There is often a tendency for leaders of States divided on ethnic lines to "over-centralize" the Administration in the hope of creating "national unity".  In practice, such efforts at centralized government lead to some areas and some groups to feel marginalized or excluded.  In such cases armed violence seems to be the fastest way to receive attention and to get "a share of the economic pie."  Thus, the Association of World Citizens has stressed the importance of decentralization and con-federal forms of government as an alternative to the creation of new independent states which is often the first demand of marginalized areas.
World citizens were among those in the early 1950s who stressed the need to create UN peace-keeping forces with soldiers especially trained for such a task.  Today, a new type of world civil servant is needed — those who in areas of tension and conflict can undertake the slow but important task of restoring confidence among peoples in conflict, establishing contacts and looking for ways to build upon common interests.
______________________________________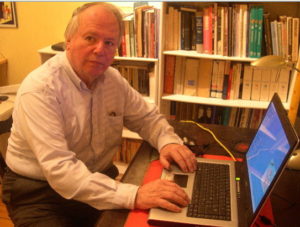 René Wadlow is a member of the TRANSCEND Network for Peace Development Environment. He is President of the Association of World Citizens, an international peace organization with consultative status with ECOSOC, the United Nations organ facilitating international cooperation and problem-solving in economic and social issues, and editor of Transnational Perspectives.
Tags:
Africa
,
Conflict Transformation
,
D.R. Congo
,
DRC
,
Genocide
,
Hutus
,
Mediation
,
Rwanda
,
Solutions
,
Tutsis
,
Violent conflict
,
Wisdom
This article originally appeared on Transcend Media Service (TMS) on 1 Mar 2021.
Anticopyright: Editorials and articles originated on TMS may be freely reprinted, disseminated, translated and used as background material, provided an acknowledgement and link to the source, TMS: Democratic Republic of Congo: Need for Reconciliation, Bridge-Builders, is included. Thank you.
If you enjoyed this article, please donate to TMS to join the growing list of TMS Supporters.


This work is licensed under a CC BY-NC 4.0 License.
Join the discussion!
We welcome debate and dissent, but personal — ad hominem — attacks (on authors, other users or any individual), abuse and defamatory language will not be tolerated. Nor will we tolerate attempts to deliberately disrupt discussions. We aim to maintain an inviting space to focus on intelligent interactions and debates.