The Global Killing Fields of Journalists: International Assassinations–Journocides (Part 3)
TRANSCEND MEMBERS, 30 May 2022
Prof Hoosen Vawda – TRANSCEND Media Service
"Never to grow weary in your mission to be the eyes, the ears, and the mouth of the people."   –Charles Scicluna, Archbishop of Malta [1]
 "Unfortunately, no content could be found."[2]
28 May 2022 – In Parts 1[3] and 2[4] of this series of publications, the author discussed the targeted assassinations  of journalists in Palestine since 1992, by the Israeli Defence Force, with impunity and without accountability, since the Zionist state has full support of Western powers, principally the United States, as confirmed by the Defense Minister of Israel, Benny Gantz and United States Defence Secretary, Lloyd Austin, when they  met at the Pentagon on 09th December 2021[5]. There was another Austin-Gantz meeting in the Pentagon[6] on  19th May 2022.  At this meeting, Minister Gantz thanked Secretary Austin for the ongoing cooperation between the respective defence establishments and for the Secretary's personal commitment to the security of the Israel. This includes his support for the recent passing of the $4.8 billion security package. Within this context, he emphasised the importance of continuing support for Israel's qualitative military edge (QME).[7]
Latest information revealed according to the Attorney General of Palestine, Akram Al-Khatib, who said on 26th May 2022, that the Palestinian Authority investigation into the killing of journalist Shireen Abu Akleh has found that she was fatally shot by Israeli forces using an armor-piercing bullet, Al-Khatib said the Al Jazeera journalist was running away from the direction of the gunfire when the 5.56 mm bullet struck her in the head, causing a laceration of the brain tissue and killing her, instantly,[8] as reported by CNN. The bullet contained an iron fragment used in special armor-penetrating ammunition, Al-Khatib said. The autopsy was performed at the Forensic Medicine Institute of Al Najah University, in Nablus.[9]  A CNN investigation published Tuesday also suggested that Abu Akleh was targeted by Israel Defense Forces, based on eyewitness testimony, an audio forensic analyst and an explosive weapons expert.[10]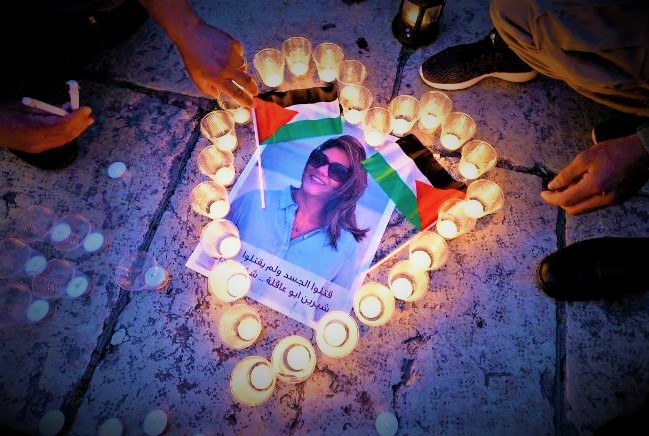 Candles lit during a vigil in memory of journalist Shireen Abu Akleh. Both the Palestinian Authority and Al Jazeera Network have accused the Israeli military of intentionally killing Abu Akleh while she was covering an Israeli military raid in Jenin on 11th May 2022.
This paper examines the killings of journalists, internationally for political silencing, as a major peace disruption, in various parts of the world, where nefarious activities of governments and crime syndicates needs to be concealed if a particular journalist poses a threat to the exposure of these "dark and corrupt activities" of both these groups, from public and international scrutiny.
Let us begin by mentioning the name of Daphne Caruana Galizia[11]. Most humanoids have not heard of this name ever, to some it would sound Italian or Greek, while to the body of global journalists, the name rings a sad note in the history of the small island of Malta, where Ms Daphne Caruana Galizia, was a journalist colleague, who was assassinated.
On 16th October 2017, Caruana Galizia was driving close to her home in Bidnija, when a car bomb placed in her leased, Peugeot 108 exploded, killing her instantly.[12] The blast occurred on Bidnija Road, and the bomb was of such a magnitude  and ferocity that it left the vehicle scattered in several pieces across the road and nearby fields.  Caruana Galizia was in the driver's seat at the time and her assassination was so definitive and gruesome an end, that her body parts were found by her son, Matthew, scattered 80 metres away from the blast site.[13] It was reminiscent of the body parts of the Sepoys executed by the British Raj in India, by tying them in front of canons and firing.  The widows and family had to collect the bodily remains, of the executed soldiers, strewn on the countryside, during the Indian Mutiny in 1857[14].  Matthew wrote on his Facebook account, "I looked down and there were my mother's body parts all around me".[15] This definitive assassination of a fearless journalist marked the sixth car-bombing in Malta since the beginning of 2016, and the fourth fatality.[16] Caruana Galizia's home had not been under police guard since 2010, except during elections.[17] According to police sources, her protection was further weakened after the Labour Party was returned to power in Malta in 2013.[18]
The power to set up a public inquiry, into whether the assassination of Daphne Caruana Galizia could have been prevented, rested with then Maltese Prime Minister, Joseph Muscat. Muscat, however, did not immediately set up a public inquiry, and a formal request by Caruana Galizia's heirs was presented by letter to Malta's Prime Minister Muscat on 09th  August 2018, based on the legal opinion of Doughty Street Chambers and Bhatt Murphy Solicitors.[19]  Caruana Galizia's remains were released for burial on 27 October 2017,[20] and a public funeral was held on 3 November 2017 at the Rotunda of Mosta.[21] Thousands of mourners attended the funeral.[22] The day was observed as a national day of mourning in Malta.[23] The funeral mass was conducted by Charles Scicluna, Archbishop of Malta, who in his homily told journalists "never to grow weary in your mission to be the eyes, the ears, and the mouth of the people."[24] President Marie-Louise Coleiro Preca and Prime Minister Joseph Muscat did not attend the funeral, saying that Caruana Galizia's family made it clear that they (Preca and Muscat) were not welcome.[25] The Leader of the Opposition, Adrian Delia, was "conspicuous by his absence".[26]
Further to extensive investigations aided, by Europol and arrests of several high-level figures in Malta, on 23rd February 2021, Vince Muscat, known as il-Koħħu, was sentenced to 15 years in prison after pleading guilty to the murder of Daphne Caruana Galizia.[27] In his testimony, Muscat claimed that Alfred Degiorgio, who is also charged of executing the car bomb, received information from former Minister Chris Cardona on Caruana Galizia's whereabouts prior to her assassination, and subsequent tip-offs prior to the December 2017 arrests.[28] Cardona dismissed these allegations as 'pure evil fiction'.[29]
An inquiry by former judges "accused the Maltese state of creating a pervasive 'atmosphere of impunity' that allowed her killers to believe they'd face minimal consequences."[30] However, as a small measure of recompense for a great lost to the fraternity of journalists, globally, Ms Daphne Caruana Galizia, received numerous awards posthumously.[31]
It is interesting to note that while the police investigations were ongoing in the corrupt State of Malta, WikiLeaks founder Julian Assange announced that he would pay a €20,000 reward "for information leading to the conviction of Caruana Galizia's killers."[32] A crowdfunding campaign was initiated with the aim of raising €1 million to be given as a reward for information that leads "to the successful prosecution of the assassin and the person or persons who ordered the assassination."[33] This was followed by a further state-sanctioned reward of €1 million.[34] This was the level of public concern and support for the assassinated journalist who only "sin" was to expose high level corruption and exposing the truth.  Alas this ethos is not subscribed to when it comes to journalists brazenly assassinated in Palestine by the Western world and governments who continue to support the Zionist state of Israel even while the killings are ongoing, as reported that a 16-year-old Palestinian youth, Amjad Walid Hussein Fayed, 16, was shot and killed by Israeli forces in the occupied West Bank city of Jenin on Saturday, 21st May 2022, by IDF.[35] Israeli forces use lethal force against Palestinian children in circumstances that may amount to extrajudicial killings.[36] Neither is any objection generated by the Vatican, nor the Christian churches, or religious bodies in South Africa, who the author has already approached about issuing a statement of condemnation of the IDF for the targeted killing of Palestinian journalist Shireen Abu Akleh and other unarmed civilians, including children, with no accountability and total impunity.[37]
Regarding the global statistics on the demise of journalists, the Committee for the Protection of Journalists (CPJ) analysed the data to conclude that a total of 71 journalists[38] were killed in Somalia, while confirmed to be on duty.[39]  Of these 48 were murdered, in the first degree, between 1992 and 2022, with the motives in these cases definitely confirmed, as murder.[40]  While these statistics may not reflect the actual number of deaths because of government censorships and non-reporting of murders due to the living relatives' of the deceased and public fear of repercussions, the information gives some idea of the state of the annihilation of the journalists, who are just doing their jobs in this African country of abject poverty, where nothing good comes out, except for the civil wars, presence of Al-Shabaab terrorists, the Jihadist Fundamentalist Group [41], an associate of Al Qaeda Group[42],  which was formed in 1979, recruiting and training militants to combat the Soviet invasion of Afghanistan, trained supported and funded by the United States to combat of Soviet aggression, high seas piracy[43], kidnappings and rampant corruption, with anarchy.
CNN Business, reported that three journalists have been killed in Mexico over the past week of 10th May 2022, according to government officials.  Two journalists were killed Monday in the Mexican state of Veracruz, according to the state's prosecutor's office, which said it had launched an investigation into the killings. Veracruz's prosecutor's office said on Twitter that El Veraz news website director Yessenia Mollinedo Falconi and reporter Sheila Johana García Olivera were killed in the municipality of Cosoleacaque on Monday, adding that they were pursuing all lines of investigation, including the victims' journalistic activities, to determine the motive for the killings. "We will find the perpetrators of this crime, there will be justice and there will be no impunity as we have said and done in other cases," tweeted Veracruz governor Cuitláhuac García, who labeled the killings a "homicide."
The Committee to Protect Journalists said the two "were shot on the parking lot of a convenience store in Cosoleacaque" and called for an immediate investigation. This comes after another journalist was killed Thursday in the state of Sinaloa, according to the state's prosecutor's office. "Unfortunately, it's confirmed that the body found on a road on El Ranchito highway is the journalist Luis Enrique Ramírez Ramos," Sinaloa's prosecutor Sara Quiñonez tweeted.  "Our sincere condolences to his family and our commitment to work on clarifying this fact," the tweet reads. Ramirez was a columnist and founder of the news portal, Fuentes Fidedignas. The news outlet reported he was killed on Thursday afternoon and said his body was located after being kidnapped in an area near his home.  It's unknown whether Ramirez's killing was linked to his professional activities.  The latest deaths bring the number of journalists killed in Mexico in 2022 to at least 9, according to a CNN tally. The victims are José Luis Gamboa Arenas, Margarito Martínez Esquivel, Lourdes Maldonado, Heber López Vásquez, Armando Linares and Juan Carlos Muñiz join Falconi, Olivera and Ramos in the tally.[44]
In Europe since 2017, seven journalists,  many of them investigating corruption, like Daphne Caruana Galizia, have been killed. Bulgarian reporter Viktoria Marinova became the latest to be murdered in October 2018. Slovakia-based investigative journalist Jan Kuciak was 27 years old and reported on corruption and tax evasion. He and his girlfriend were shot dead at his home in Velka Maca, near Bratislava, on February 25, 2018 and the subsequent national outcry helped topple the government.[45]  The murder of Kim Wall, 30 years old, was far from a Mafia-related case. The Swedish journalist died while working, but not for political reasons.
She disappeared on August 10, 2017, while making a report on a prototype civil submarine created by the Danish native Peter Madsen, who is a huge man. Her body was found in the sea, mutilated, almost 12 days later. Madsen has been formally charged with Wall's murder.[46]
Dmitri Popkov was 42 years old when he was killed. He published articles about corruption and abuse of power in Russia in his newspaper Ton-M. He also criticised officials in the ruling United Russia party. On May 24, 2017, he was shot five times and his body was found in his garden in Minusinsk, Siberia. Authorities have opened an investigation into his death that has, as yet, proved fruitless.[47]
Saeed Karimian, a 45-year-old Iranian television executive, was killed on April 19, 2017, in Istanbul by several hooded men who shot him with his partner, a native of Kuwait.His GEM TV network was dedicated to translating Western television programmes into Farsi.[48] Karimian was condemned in absentia in Tehran for "spreading propaganda against Iran". The Turkish police are conducting an ongoing investigation into the pair's death.
Nicolai Andrushchenko died on April 19, 2017 in Russia, at the age of 73, six weeks after he was brutally beaten unconscious by a group of strangers. St Petersburg police investigated his death but his attackers were never identified. Andrushchenko was one of the founders of the newspaper Novy Petersburg and specialised in local news, crime and human rights.[49]
Prosecutors said 30-year-old journalist Viktoria Marinova had been raped, beaten and then suffocated before being found in Bulgaria. Authorities said there was no evidence linking the murder to her work. But, on her last aired TV show as an anchor, on September 30, Marinova introduced two journalists who were investigating alleged corruption involving EU funds.[50]
The most brutal manner on which a high-profile journalist killed was Jamal Ahmad Khashoggi[51] born 13th October 1958 and assassinated on 02nd October 2018. He was a Saudi Arabian journalist, dissident, author, columnist for Middle East Eye and The Washington Post, and a general manager and editor-in-chief of Al-Arab News Channel,  He was assassinated at the Saudi consulate in Istanbul on 02nd October 2018 by agents of the Saudi government, allegedly at the behest of Crown Prince Mohammed bin Salman.[52]  To date, his murder is shrouded in mystery and both President Trump and Biden have not tackled the murder with the Saudis in spite of compelling evidence to implicate the Saudi Crown Prince.  His body, nor the body have yet been confirmed to be discovered, at least officially, although reports have emerged that his head was found in the garden of the Saudi Embassy in Istanbul[53]
Asia is not without its share of journocides. Twenty-one journalists were killed since Duterte took office. Orlando Dinoy, a reporter for Newsline Philippines and anchor for Energy FM, was shot six times by a gunman who barged into his home on Mindanao island. The Philippines is one of the most dangerous places in the world for journalists, and most of their killers go unpunished.[54]
In countries like Myanmar journalism is dying, while the whole country is on the verge of civil war.[55] In Hong Kong, freedom of press is dead[56] and in Iran it is nonexistent.[57] Any opinions expressed contrary to the teachings of Islam could result in a death sentence being imposed.[58] Thankfully, post 1994, in South Africa, freedom of press is flourishing and free press is the order of the day, without fear or favour, although whistleblowers are often killed.[59]
 While most journocides are political and crime syndicate motivated, some are killed, while being broadcast, for personal motives, on live television, to create a maximum impact on the general public. On the morning of August 26, 2015, news reporter Alison Parker and photojournalist Adam Ward, both employees of CBS affiliate WDBJ in Roanoke, Virginia, United States, were fatally shot while conducting a live television interview near Smith Mountain Lake in Moneta. They were interviewing Vicki Gardner, executive director of the local chamber of commerce, when all three were attacked by a gunman. Parker, age 24, and Ward, age 27, died at the scene, while Gardner survived.[60]  The gunman was 41-year-old Vester Lee Flanagan II, a former reporter at WDBJ who had been fired in 2013 for disruptive conduct.[61] After a five-hour manhunt, Flanagan shot himself during a car chase with police officers and died later at a hospital.[62]
The Bottom Line is that globally, journalists are killed by a diverse range of individuals who are perpetrating specific "journocides"[63].  These individuals range from mafia style crime syndicates, corrupt government officials at all levels, politicians, business enterprises, Crown Princes, disgruntled employees, to even law enforcement officers. The voice of the citizenry is silenced and democracy is compromised.  Attempts have been made to bring to account the perpetrators of this cowardly act, to little effect and often to no avail, while governments continue killing innocent, unarmed journalists, but armed with cameras, which leads to their targeted death..   There certainly needs to be a concerted effort by the public who must be held accountable , collectively for these killings committed by their respective governments, if they do not confront their leaders.  This is happening in India where journalists have all joined forces, with and openly support the discriminative agenda of the Prime Minister Narendra Damodar Das Modi's[64] government to generate a Hindu nationalistic fervour in the country, where there was a peaceful coexistence, between Hindus, Sikhs and Muslims, until 1948, when independence was achieved, with disastrous bloodshed of millions during The Partition.[65]
The ongoing killings of journalists must cease henceforth and the murderers must be held accountable for their heinous deeds. This needs the willingness of governments, religious leaders and activists as well as the Human Rights Watch to make concerted efforts in their campaigns, globally. They must not be influenced by political affiliations and  motivations in ensuring justice is dispensed for the murdered journalists,
References:
[1] "Last farewell for Daphne Caruana Galizia". TVM News. 3 November 2017
[2] https://www.statista.com/search/?q=How+many+palestinian+journalist+were+killed+on+Duty&infos=1&sortMethod=publicationDate
[3] https://www.transcend.org/tms/2022/05/the-global-killing-fields-of-journalists-the-death-of-shireen-abu-akleh-part-1/
[4] https://www.transcend.org/tms/2022/05/the-global-killing-fields-of-journalists-the-silence-of-the-world-part-2/
[5] https://www.bing.com/search?q=Austin-Gantz+meeting+in+the+Pentagon+what+was+te+date&form=ANNTH1&refig=d3c6f75331cd4f8d8312e8c7df0cc999#:~:text=December%209%2C%202021-,Defense%20Minister%20Benny%20Gantz%20(L)%20and%20US%20Defense%20Secretary%20Lloyd%20Austin%20meet%20at%20the%20Pentagon%20on%20December%209%2C%202021.,-Gantz%20to%20visit
[6] https://www.israelnationalnews.com/news/327850
[7] https://www.israelnationalnews.com/news/327850#:~:text=Within%20this%20context%2C%20he%20emphasized%20the%20importance%20of%20continuing%20support%20for%20Israel%E2%80%99s%20qualitative%20military%20edge%20(QME).
[8] https://edition.cnn.com/2022/05/26/middleeast/abu-akleh-palestinian-authority-investigation-intl/index.html
[9] https://edition.cnn.com/2022/05/26/middleeast/abu-akleh-palestinian-authority-investigation-intl/index.html#:~:text=The%20autopsy%20was%20performed%20at%20the%20Forensic%20Medicine%20Institute%20of%20Al%20Najah%20University%2C%20in%20Nablus.
[10] https://edition.cnn.com/2022/05/26/middleeast/abu-akleh-palestinian-authority-investigation-intl/index.html#:~:text=A%20CNN%20investigation%20published%20Tuesday%20also%20suggested%20that%20Abu%20Akleh%20was%20targeted%20by%20Israel%20Defense%20Forces%2C%20based%20on%20eyewitness%20testimony%2C%20an%20audio%20forensic%20analyst%20and%20an%20explosive%20weapons%20expert.
[11] https://www.bing.com/search?q=killing+of+journalist+in+malta&form=ANNTH1&refig=d3f8ed07b2e846a288ead157eceaaf42&sp=1&qs=NWU&pq=killing+of+journalist+in+malta&sk=PRES1&sc=8-30&cvid=d3f8ed07b2e846a288ead157eceaaf42#:~:text=My%20assignments-,Daphne%20Caruana%20Galizia,-According%20to%207
[12] https://www.theguardian.com/media/2017/nov/21/daphne-caruana-galizia-obituary
[13] https://www.economist.com/news/europe/21730390-daphne-caruana-galizia-wrote-fearlessly-about-corruption-death-crusading-journalist-rocks
[14] https://www.bing.com/ck/a?!&&p=3c3f476049840ba9fa5c5237fa596ef79d040944a445fa7156006880b4a1ce4cJmltdHM9MTY1MzIzNzYyMyZpZ3VpZD01NDU4MDQ4ZC0xM2VmLTQzZDktYjIzYy1iYTdiZDI2ZmFhODgmaW5zaWQ9NTY4OQ&ptn=3&fclid=e0216919-d9ed-11ec-8d3a-66c2ecc2fdfc&u=a1L3NlYXJjaD9xPWluZGlhbityZWJlbGxpb24rb2YrMTg1NyZmaWx0ZXJzPWR0Yms6Ik1DRnZkbVZ5ZG1sbGR5RnZkbVZ5ZG1sbGR5RXpaR1kxTjJNME9TMHlZV1UyTFdObU9XRXRaV1kwWVMxbU1USTVNall5TldJeU9UVSUzZCIrc2lkOiIzZGY1N2M0OS0yYWU2LWNmOWEtZWY0YS1mMTI5MjYyNWIyOTUiK3RwaGludDoiZiImRk9STT1ERVBOQVY&ntb=1
[15] "The death of a crusading journalist rocks Malta". The Economist. 18 October 2017.
[16] https://en.wikipedia.org/wiki/Daphne_Caruana_Galizia#:~:text=Bonnici%2C%20Julian%20(22%20October%202017).%20%22Daphne%20Caruana%20Galizia%20assassination%3A%20A%20week%20and%20a%20crime%20like%20no%20other%22.%20The%20Malta%20Independent.
[17]https://www.economist.com/news/europe/21730390-daphne-caruana-galizia-wrote-fearlessly-about-corruption-death-crusading-journalist-rocks
[18] Camilleri, Ivan (21 October 2017). "Caruana Galizia's police protection 'relaxed' after 2013 election". The Times. Malta.
[19] https://bhattmurphy.co.uk/files/documents/Opinion.pdf
[20] Demicoli, Keith (27 October 2017). "Daphne Caruana Galizia's remains released for burial". TVM News.
[21] https://www.tvm.com.mt/en/news/watch-last-farewell-watch-last-farewell-for-daphne-caruana-galizia-last-farewell-for-daphne-caruana-galizia-daphne-caruana-galizia/
[22] http://www.euronews.com/2017/11/03/thousands-attend-funeral-of-murdered-maltese-journalist
[23] https://www.timesofmalta.com/articles/view/20171101/local/national-day-of-mourning-on-friday-to-mark-caruana-galizia-funeral.661964
[24] "Daphne's funeral: We need unshackled journalists – Archbishop Scicluna". The Malta Independent. 3 November 2017.
[25]https://www.timesofmalta.com/articles/view/20171102/local/parking-restrictions-in-mosta-for-daphnes-funeral.662033
[26] https://www.timesofmalta.com/articles/view/20171103/local/hundreds-flock-to-mosta-to-bid-daphne-caruana-galizia-farewell.662120
[27] https://timesofmalta.com/articles/view/live-blog-daphne-murder-suspects-in-court-as-vince-muscat-seeks-fast.853598
[28] https://lovinmalta.com/news/chris-cardona-tipped-off-daphne-murder-suspects-about-raid-vince-muscat-says/
[29] https://timesofmalta.com/articles/view/cardona-schembri-gatt-rubbish-il-kohhu-allegations.857707
[30] https://en.wikipedia.org/wiki/Daphne_Caruana_Galizia#:~:text=Boland%2DRudder%2C%20Hamish%20(30%20July%202021).%20%22Malta%20responsible%20for%20assassination%20of%20journalist%20Daphne%20Caruana%20Galizia%2C%20inquiry%20finds%22
[31] https://en.wikipedia.org/wiki/Daphne_Caruana_Galizia#:~:text=Party.%5B96%5D-,Posthumous%20awards%20and%20honours,-%5Bedit%5D
[32] http://www.maltatoday.com.mt/news/national/81361/julian_assange_offers_20k_reward_for_information_on_caruana_galizia_murder
[33] https://www.timesofmalta.com/articles/view/20171018/local/crowd-funded-caruana-galizia-murder-information-fund-being-set-up.660720
[34] https://www.reuters.com/article/us-malta-carbomb-reward/malta-offers-1-million-euro-reward-to-find-journalists-killers-idUSKBN1CQ0RE?il=0
[35] https://www.bing.com/search?q=boy+killed+by+Israel+on+21st+May+2022&qs=n&form=QBRE&msbsrank=0_1__0&sp=-1&pq=boy+killed+by+israel+on+21st+may+2022&sc=1-37&sk=&cvid=89F38690854547BBA01274293011EB55#:~:text=Walid%20Hussein%20Fayed-,Amjad%20Walid%20Hussein%20Fayed%2C%2016%2C%20was%20shot%20and%20killed%20by%20Israeli%20forces%20in%20the%20occupied%20West%20Bank%20city%20of%20Jenin%20on%20May%2021%2C%202022,-.%20(Photo%20courtesy%20of
[36] https://www.dci-palestine.org/israeli_forces_in_jenin_shoot_kill_16_year_old_palestinian_boy
[37] https://www.bing.com/ck/a?!&&p=b15f6a66794ccfe68a55d24d12637dd30a06c50b39b5f3cfef9ef0d8015cb3faJmltdHM9MTY1MzI0MzE2NSZpZ3VpZD1hMzBhMzczYy05Y2EzLTRhZDItYTQzYy1iNzBiMTlkZGNmOWMmaW5zaWQ9NTM2OQ&ptn=3&fclid=c76f7039-d9fa-11ec-ba4e-8c3d15c72776&u=a1aHR0cHM6Ly93d3cuYmVsbGluZ2NhdC5jb20vbmV3cy9tZW5hLzIwMjIvMDUvMTQvdW5yYXZlbGxpbmctdGhlLWtpbGxpbmctb2Ytc2hpcmVlbi1hYnUtYWtsZWgvIzp-OnRleHQ9UGFsZXN0aW5lJTIwU2hpcmVlbiUyMEFidSUyMEFrbGVoJTJDJTIwYSUyMHByb21pbmVudCUyMFBhbGVzdGluaWFuLUFtZXJpY2FuJTIwam91cm5hbGlzdCxiZWluZyUyMGNvbmR1Y3RlZCUyMGJ5JTIwdGhlJTIwSXNyYWVsaSUyMERlZmVuY2UlMjBGb3JjZXMlMjAlMjhJREYlMjku&ntb=1
[38] https://cpj.org/data/killed/africa/Somalia/?status=Killed&motiveConfirmed%5B%5D=Confirmed&type%5B%5D=Journalist&cc_fips%5B%5D=SO&start_year=1992&end_year=2022&group_by=location#:~:text=71%20Journalists%20Killed%20in%20Somalia
[39] https://cpj.org/data/killed/africa/Somalia/murdered/?status=Killed&motiveConfirmed%5B%5D=Confirmed&type%5B%5D=Journalist&typeOfDeath%5B%5D=Murder&cc_fips%5B%5D=SO&start_year=1992&end_year=2022&group_by=location
[40] https://cpj.org/data/killed/africa/Somalia/murdered/?status=Killed&motiveConfirmed%5B%5D=Confirmed&type%5B%5D=Journalist&typeOfDeath%5B%5D=Murder&cc_fips%5B%5D=SO&start_year=1992&end_year=2022&group_by=location#:~:text=between%201992%20and%202022%20/%20Motive%20Confirmed%20/%20Murdered
[41] https://www.bing.com/search?q=Al+Shabab+terrorists&form=ANNTH1&refig=63f546a956be4efab1fd11745c839f18#:~:text=5-,Al%2DShabaab,Jihadist%20Fundamentalist%20Group,-Harakat%20al%2DShabaab
[42] https://www.bing.com/ck/a?!&&p=c0e12e4ea7f9fe6ee7fce74660c4d407d18f4464118f6a56f6f896e7bc87a604JmltdHM9MTY1MzI5MDE4MCZpZ3VpZD0wMjY1OTliZC0wYWRmLTRhYjktODRkYi1lMmYxNjIxNDBhODYmaW5zaWQ9NTE4Nw&ptn=3&fclid=3e3f867a-da68-11ec-b347-5bfd91a09426&u=a1aHR0cHM6Ly9lbi53aWtpcGVkaWEub3JnL3dpa2kvQWwtUWFlZGE&ntb=1
[43] https://www.bing.com/ck/a?!&&p=f1c13170edf1702089f9394d862a750e79618dfb77ee0308cbb334008545566bJmltdHM9MTY1MzI5MDY5OSZpZ3VpZD03MjdjM2RhZi00YjMyLTQxYmEtOTczYS1mODk3YTk1YzNjZGUmaW5zaWQ9NTM5MQ&ptn=3&fclid=73a1c445-da69-11ec-95fe-58b2afdfe3c3&u=a1aHR0cHM6Ly9lbi53aWtpcGVkaWEub3JnL3dpa2kvUGlyYWN5X29mZl90aGVfY29hc3Rfb2ZfU29tYWxpYSM6fjp0ZXh0PVBpcmFjeSUyMG9mZiUyMHRoZSUyMGNvYXN0JTIwb2YlMjBTb21hbGlhJTIwb2NjdXJzJTIwaW4scGhhc2UlMjBvZiUyMHRoZSUyMFNvbWFsaSUyMENpdmlsJTIwV2FyJTIwYXJvdW5kJTIwMjAwMC4&ntb=1
[44] https://www.bing.com/ck/a?!&&p=bfd6735ff16f7ba21b0cbeae253abb92f81dbab8f83e4d747c3187cf088f864cJmltdHM9MTY1MzcyMDgxNSZpZ3VpZD0xM2Q2ZTYxZC04MDA3LTQ0NzAtOWQ3MS1jOTg4YTRmNTQwZGImaW5zaWQ9NTM0Mg&ptn=3&fclid=e4c2d9d0-de52-11ec-a512-4339424e9a3e&u=a1aHR0cHM6Ly93d3cuY25uLmNvbS8yMDIyLzA1LzEwL21lZGlhL21leGljYW4tam91cm5hbGlzdHMta2lsbGVkL2luZGV4Lmh0bWwjOn46dGV4dD1NZXhpY28lMjBDaXR5JTIwQ05OJTIwQnVzaW5lc3MlMjAlRTIlODAlOTQlMjBUaHJlZSUyMGpvdXJuYWxpc3RzJTIwaGF2ZSxpdCUyMGhhZCUyMGxhdW5jaGVkJTIwYW4lMjBpbnZlc3RpZ2F0aW9uJTIwaW50byUyMHRoZSUyMGtpbGxpbmdzLg&ntb=1
[45] https://www.euronews.com/2018/10/08/six-journalists-killed-in-europe-since-the-start-of-2017#:~:text=J%C3%A1n%20Kuciak%20was%2027%20years%20old%20and%20reported%20on%20corruption%20and%20tax%20evasion.%20He%20and%20his%20girlfriend%20were%20shot%20dead%20at%20his%20home%20in%20Velka%20Maca%2C%20near%20Bratislava%2C%20on%20February%2025%2C%202018.
[46] https://www.euronews.com/2018/10/08/six-journalists-killed-in-europe-since-the-start-of-2017#:~:text=The%20murder%20of,sentenced%20in%20April.
[47] https://www.euronews.com/2018/10/08/six-journalists-killed-in-europe-since-the-start-of-2017#:~:text=Dmitri%20Popkov%20was,Saeed%20Karimian
[48] https://www.euronews.com/2018/10/08/six-journalists-killed-in-europe-since-the-start-of-2017#:~:text=Saeed%20Karimian%2C%20a,the%20pair%27s%20death.
[49] https://www.euronews.com/2018/10/08/six-journalists-killed-in-europe-since-the-start-of-2017#:~:text=Nicolai%20Andrushchenko%20died,and%20human%20rights.
[50] https://www.euronews.com/2018/10/08/six-journalists-killed-in-europe-since-the-start-of-2017#:~:text=Prosecutors%20said%2030,involving%20EU%20funds.
[51] https://www.bing.com/ck/a?!&&p=e7232fbf6ae60af52b3c4961648a4d5f967079602d19b46c18d527148cfc3f03JmltdHM9MTY1MzcyNDUxMCZpZ3VpZD00OGM2NGU1Mi02NjQ5LTQ1NjktOWE4MS00ODg5YjBiZTlhNGEmaW5zaWQ9NTU2OA&ptn=3&fclid=7f136007-de5b-11ec-835a-bb620b32bb79&u=a1aHR0cHM6Ly9qYW1hbGtoYXNob2dnaS5jb20v&ntb=1
[52] https://en.wikipedia.org/wiki/Jamal_Khashoggi#:~:text=Kirkpatrick%2C%20David%20D.%3B%20Schmitt%2C%20Eric%3B%20Barnes%2C%20Julian%20E.%20(12%20November%202018).%20%22%27Tell%20your%20boss%27%3A%20Recording%20is%20seen%20to%20link%20Saudi%20crown%20prince%20more%20strongly%20to%20Khashoggi%20killing%22.%20The%20New%20York%20Times.
[53] https://www.bing.com/ck/a?!&&p=bd2e933fad7e14d8c34bfef39889da89b6b7c203d0cb63feefc12d7143ca8d86JmltdHM9MTY1MzcyNDUxMCZpZ3VpZD00OGM2NGU1Mi02NjQ5LTQ1NjktOWE4MS00ODg5YjBiZTlhNGEmaW5zaWQ9NTE3NA&ptn=3&fclid=7f111f3a-de5b-11ec-8728-ebb3e114c714&u=a1aHR0cHM6Ly93d3cubWlycm9yLmNvLnVrL25ld3Mvd29ybGQtbmV3cy9qYW1hbC1raGFzaG9nZ2lzLWRpc2ZpZ3VyZWQtZmFjZS1mb3VuZC0xMzQ3MDEwMw&ntb=1
[54] https://www.scmp.com/news/asia/southeast-asia/article/3154345/journalist-shot-dead-philippines-21st-killed-duterte-took#:~:text=A%20Philippine%20news,Glenn%20Ipong%20said.
[55] https://thediplomat.com/2021/04/the-death-of-journalism-in-myanmar/
[56] https://www.bing.com/ck/a?!&&p=a28efd26945ef26a20657d6d7a7c3df55a937f2818c13465066f251accb589b6JmltdHM9MTY1MzcyNjg3NCZpZ3VpZD05YWRhNDE5My02ZTc1LTRiOWItYThkYS01ZDdlM2Y4MTQ2MDUmaW5zaWQ9NTM5Ng&ptn=3&fclid=0033abc8-de61-11ec-93fa-dc383fc5468d&u=a1aHR0cHM6Ly93d3cuY25uLmNvbS8yMDE4LzExLzE1L2FzaWEvaG9uZy1rb25nLXByZXNzLWZyZWVkb20taW50bC9pbmRleC5odG1sIzp-OnRleHQ9VW5kZXIlMjBIb25nJTIwS29uZyVFMiU4MCU5OXMlMjBkZSUyMGZhY3RvJTIwY29uc3RpdHV0aW9uJTJDJTIwdGhlJTIwQmFzaWMsYXJlJTIwbm90JTIwZ3JhbnRlZCUyQyUyMG9yJTIwcHJvdGVjdGVkJTIwaW4lMjBtYWlubGFuZCUyMENoaW5hLg&ntb=1
[57] https://www.bing.com/ck/a?!&&p=72f9fe84c01072898de3024feb5f029d56f601cca12f23a11f826287d3965a2eJmltdHM9MTY1MzcyNjk2MyZpZ3VpZD03MzAyMDdmNS1hNzdkLTRhYmYtOTFmNS1jOGRmMWYwOTM4MmEmaW5zaWQ9NTM2OA&ptn=3&fclid=35830967-de61-11ec-8bf9-3dd3edb8509f&u=a1aHR0cHM6Ly93d3cuaHJ3Lm9yZy9yZXBvcnRzLzE5OTkvaXJhbi9JcmFuOTlvLTAzLmh0bSM6fjp0ZXh0PUFydGljbGUlMjAyNCUyMG9mJTIwdGhlJTIwQ29uc3RpdHV0aW9uJTIwb2YlMjB0aGUlMjBJc2xhbWljLG9mJTIwSXNsYW0lMjBvciUyMHRoZSUyMHJpZ2h0cyUyMG9mJTIwdGhlJTIwcHVibGljLg&ntb=1
[58] https://www.bing.com/search?q=freedom+of+the+press+in+iran&qs=RI&pq=freedom+of+press+in+iran&sc=3-24&cvid=9ADA41936E754B9BA8DA5D7E3F814605&FORM=QBRE&sp=4#:~:text=on%20its%20exercise%3A-,Publications%20and%20the%20press%20have%20freedom%20of%20expression%20except%20when%20it%20is%20detrimental%20to%20the%20fundamental%20principles%20of%20Islam%20or%20the%20rights%20of%20the%20public,-.
[59] https://www.transcend.org/tms/2021/09/the-perilous-odyssey-of-the-whistleblower/
[60] https://en.wikipedia.org/wiki/Murders_of_Alison_Parker_and_Adam_Ward#:~:text=Web%20Staff%20(August%2026%2C%202015).%20%22Two%20WDBJ7%20employees%20killed%20in%20attack%20at%20Bridgewater%20Plaza%22.%20WDBJ.
[61] Rogers, Katie; Alan Blinder (August 26, 2015). "Virginia TV Reporter and Photographer Shot During Live Broadcast". The New York Times.
[62] https://en.wikipedia.org/wiki/Murders_of_Alison_Parker_and_Adam_Ward#:~:text=Williamson%2C%20Jeff%20(August%2026%2C%202015).%20%22WDBJ%20Shooting%20Suspect%20Shot%20Himself%2C%20Died%20in%20Hospital%22.%20WHSV%203.
[63] Neologism to denote the specific killing of journalists as proposed by the author 27th May 2022.
[64] https://www.bing.com/search?q=full%20name%20of%20prime%20minister%20of%20india&form=MSBVRT&cvid=57552A20F77F4B519CD5AF4D3946E20B&sp=1#:~:text=Date-,Narendra%20Damodar%20Das%20Modi,-According%20to%202
[65] https://en.wikipedia.org/wiki/Partition_of_India#:~:text=Post-partition%20migration%20to%20India%20from%20East%20Pakistan%20,%20%20320%2C000%20%204%20more%20rows%20
______________________________________________

Professor G. Hoosen M. Vawda (Bsc; MBChB; PhD.Wits) is a member of the TRANSCEND Network for Peace Development Environment.
Director: Glastonbury Medical Research Centre; Community Health and Indigent Programme Services; Body Donor Foundation SA.
Principal Investigator: Multinational Clinical Trials
Consultant: Medical and General Research Ethics; Internal Medicine and Clinical Psychiatry:UKZN, Nelson R. Mandela School of Medicine
Executive Member: Inter Religious Council KZN SA
Public Liaison: Medical Misadventures
Activism: Justice for All
Email: vawda@ukzn.ac.za
Tags:
Corruption
,
Journalism
,
Media
This article originally appeared on Transcend Media Service (TMS) on 30 May 2022.
Anticopyright: Editorials and articles originated on TMS may be freely reprinted, disseminated, translated and used as background material, provided an acknowledgement and link to the source, TMS: The Global Killing Fields of Journalists: International Assassinations–Journocides (Part 3), is included. Thank you.
If you enjoyed this article, please donate to TMS to join the growing list of TMS Supporters.


This work is licensed under a CC BY-NC 4.0 License.