Articles by Truthdig
We found 228 results.
---
Imploding the Myth of Israel
Chris Hedges - Truthdig, 11 Nov 2013
Israel has been poisoned by the psychosis of permanent war. It has been morally bankrupted by the sanctification of victimhood, which it uses to justify an occupation that rivals the brutality and racism of apartheid South Africa. Its democracy—which was always exclusively for Jews—has been hijacked by extremists who are pushing the country toward fascism.
→ read full article
---
The Rising Resistance to Obama's Drone Wars
Amy Goodman - Truthdig, 4 Nov 2013
Attacking rescuers is a war crime. Mustafa Qadri from Amnesty International explained: "For example, some laborers in a very impoverished village near the Afghanistan border, they get targeted, eight die instantly in a tent; those who come to rescue or to look for survivors are themselves targeted.
→ read full article
---
Former NYT Editor Fears Glenn Greenwald Is the 'Future of News'
Alexander Reed Kelly - Truthdig, 4 Nov 2013
"And with some noble exceptions, The Times, by design or otherwise, has long served the interests of the same set of elite and powerful factions. Its reporting is no less 'activist,' subjective or opinion-driven than the new media voices it sometimes condescendingly scorns." –Greenwald
→ read full article
---
What Fine? Why JPMorgan Is Laughing All the Way to the Bank
Robert Scheer - Truthdig, 28 Oct 2013
Although the $13 billion fine that includes $4 billion to swindled homeowners, mostly in depressed inner city neighborhoods, is to be applauded, it represents about half of the profit JPMorgan garnered last year. Obama once referred to his buddy Dimon as "one of the smartest bankers we got." JPMorgan has been shameless and at least seven federal agencies, several state regulators and two foreign countries are investigating the bank.
→ read full article
---
Oil, Azerbaijan and the Strange Case of Rick Bourke
Amy Goodman - Truthdig, 21 Oct 2013
As a senior investigator on the Senate Watergate Committee, Armstrong uncovered the existence of President Richard Nixon's secret taping system. He considers Bourke a genuine whistle-blower and summed up the case: "This elaborate set of frauds that Kozeny was involved in were in essence covered up by the United States government, who chose instead to bring the full weight of their investigative enthusiasm against the whistle-blower. And that just shocks the conscience."
→ read full article
---
The Folly of Empire
Chris Hedges – Truthdig, 14 Oct 2013
In dying empires like our own, the people glorify idiotic leaders and blissfully ignore the looming collapse.
→ read full article
---
The Sparks of Rebellion
Chris Hedges - Truthdig, 7 Oct 2013
Emma Goldman, along with Kropotkin, came to be very wary of both the efficacy of violence and the revolutionary potential of the masses. "The mass," Goldman wrote bitterly toward the end of her life in echoing Marx, "clings to its masters, loves the whip, and is the first to cry Crucify!"
→ read full article
---
The Act of Killing
Chris Hedges - Truthdig, 30 Sep 2013
I have spent time with mass killers, warlords and death squad leaders as a reporter in Latin America, the Middle East, Africa and the Balkans. Some are psychopaths who relish acts of sadism, torture and murder. But others, maybe most, see killing as a job, a profession, good for their careers and status. Joshua Oppenheimer's documentary "The Act of Killing," which took eight years to make, is an important exploration of the complex psychology of mass murderers.
→ read full article
---
Climate-Change Protests Heat Up
Amy Goodman - Truthdig, 30 Sep 2013
25 Sep 2013 – Last week in the Arctic Ocean the Greenpeace vessel Arctic Sunrise approached a Gazprom oil-drilling platform and launched a nonviolent protest. The Russian government responded swiftly and with force, arresting 30 and towing the Greenpeace ship. This protest is remarkable for its sheer audacity but by no means the sole protest lately against runaway fossil-fuel extraction and consumption.
→ read full article
---
The Origins of Our Police State
Chris Hedges - Truthdig, 23 Sep 2013
As in most police states, cops serve as judge and jury on city streets—"a long step down the totalitarian path," in the words that U.S. Supreme Court Justice William O. Douglas wrote in 1968 when he decried expanding police powers.
→ read full article
---
Kerry, Kissinger, Allende, and the Other Sept. 11
Amy Goodman - Truthdig, 16 Sep 2013
The Kerry-Kissinger meeting, and the public outcry against the proposed attack on Syria to which both men are publicly committed, should be viewed through the lens of another Sept. 11 … 1973. On that day, 40 years ago, the democratically elected president of Chile, Salvador Allende, was violently overthrown [and killed] in a U.S.-backed coup.
→ read full article
---
Fukushima Workers Discover Deadly Spike in Radiation
Scott Martelle - Truthdig, 2 Sep 2013
Workers at the Fukushima nuclear power disaster site have made an uncomfortable discovery: radiation levels 18 times higher than anticipated at the bottom of a holding tank. The levels are high enough to kill a person within four hours.
→ read full article
---
The Moment the U.S. Ended Iran's Brief Experiment in Democracy
Robert Scheer - Truthdig, 26 Aug 2013
Sixty years ago this week, on Aug. 19, 1953, the United States, in collaboration with Britain, successfully staged a coup in Iran to overthrow democratically elected Prime Minister Mohammad Mossadegh that a newly declassified CIA document reveals was designed to preserve the control of Western companies over Iran's rich oil fields.
→ read full article
---
Let the Light of Mandela Shine on U.S. Injustice
Amy Goodman - Truthdig, 22 Jul 2013
Mandela was arrested in 1962, a year before Martin Luther King Jr. would give his "I Have a Dream" speech in Washington, D.C. After 27 years in prison, Mandela was released in 1990. Four years later, he would become the first democratically elected president of South Africa.
→ read full article
---
Locking Out the Voices of Dissent
Chris Hedges - Truthdig, 22 Jul 2013
The rear-guard effort by a handful of activists to protect our rights to be heard and peaceably assemble is perhaps the most crucial, though unseen, struggle we currently are engaged in with the corporate state. It is a struggle to salvage what is left of our civil society and our right to nonviolent resistance against corporate tyranny.
→ read full article
---
Journalist Faces 105 Years for Private Intelligence Reporting
Alexander Reed Kelly - Truthdig, 15 Jul 2013
Barrett Brown spent his 300th day behind bars this week, accused of using information acquired by the hacker group Anonymous to report on private intelligence firms, threatening an FBI agent, and committing credit card fraud by linking to a document that contained stolen credit card data. His supporters say the writer is being targeted for daring to investigate the secret world of security contracting.
→ read full article
---
The Terror Con
Robert Scheer - Truthdig, 24 Jun 2013
Booz Allen, whose top personnel served in key positions at the NSA and vice versa after the inconvenient collapse of the Cold War, has been attempting to substitute terrorist for communist as the enemy of choice. But just when the good times for war profiteers seemed to be forever in the past, there came 9/11 and the terrorist enemy, the gift that keeps on giving, for acts of terror always will occur in a less than perfect world.
→ read full article
---
The Judicial Lynching of Bradley Manning
Chris Hedges – Truthdig, 17 Jun 2013
With a "Nuremberg defense" and other key avenues blocked by the judge in his trial, the Army private has been left with little option but to beg for mercy from the court. The erosion of judicial protection for those who expose state crimes is a dire development.
→ read full article
---
Hammond, Manning, Assange and Obama's Sledgehammer against Dissent
Amy Goodman - Truthdig, 3 Jun 2013
One cyberactivist's federal case wrapped up this week, and another's is set to begin. While these two young men, Jeremy Hammond and Bradley Manning, are the two who were charged, it is the growing menace of government and corporate secrecy that should be on trial. The job of journalists is to hold those in power accountable. Our job is to be the fourth estate, not "for the state." Let us be.
→ read full article
---
Murder Is Our National Sport
Chris Hedges - Truthdig, 20 May 2013
The deeper our empire sinks under the weight of its own decay and depravity, the more we kill.
→ read full article
---
The Three Heroines of Guatemala: The Judge, the Attorney General and the Nobel Peace Laureate
Amy Goodman - Truthdig, 20 May 2013
Former Guatemalan President Efrain Rios Montt was hauled off to prison last Friday [10 May 2013]. It was a historic moment, the first time in history that a former leader of a country was tried for genocide in a national court. He was given an 80-year prison sentence. The case was inspired and pursued by three brave Guatemalan women: the judge, the attorney general and the Nobel Peace Prize laureate.
→ read full article
---
The Persecution of Lynne Stewart
Chris Hedges – Truthdig, 13 May 2013
Lynne Stewart, in the vindictive and hysterical world of the war on terror, is one of its martyrs. A 73-year-old lawyer who spent her life defending the poor, the marginalized and the despised, including blind cleric Sheik Omar Abdel Rahman, she fell afoul of the state apparatus because she dared to demand justice rather than acquiesce to state sponsored witch hunts.
→ read full article
---
Google's Spymasters Are Now Worried about Your Secrets
Robert Scheer - Truthdig, 6 May 2013
"Despite the expense, everything a regime would need to build an incredibly intimidating digital police state—including software that facilitates data mining and real-time monitoring of citizens—is commercially available right now. … Companies that sell data-mining software, surveillance cameras and other products will flaunt their work with one government to attract new business. It's the digital analog to arms sales. …"
→ read full article
---
WikiLeaks' New Release: The Kissinger Cables and Bradley Manning
Amy Goodman - Truthdig, 15 Apr 2013
One cable includes a transcribed conversation where Kissinger displays remarkable candor: "Before the Freedom of Information Act, I used to say at meetings, 'The illegal we do immediately; the unconstitutional takes a little longer.' [laughter] But since the Freedom of Information Act, I'm afraid to say things like that." While the illegal and the unconstitutional may be a laughing matter for Kissinger, it is deadly serious for Pvt. Bradley Manning.
→ read full article
---
The Day That TV News Died
Chris Hedges - Truthdig, 1 Apr 2013
I am not sure exactly when the death of television news took place. The descent was gradual—a slide into the tawdry, the trivial and the inane, into the charade on cable news channels such as Fox and MSNBC in which hosts hold up corporate political puppets to laud or ridicule, and treat celebrity foibles as legitimate news.
→ read full article
---
The Last Letter
Tomas Young - Truthdig, 25 Mar 2013
A Message to George W. Bush and Dick Cheney from a Dying Veteran: You may evade justice but in our eyes you are each guilty of egregious war crimes, of plunder and, finally, of murder, including the murder of thousands of young Americans—my fellow veterans—whose future you stole.
–Tomas Young
→ read full article
---
The Shame of America's Gulag
Chris Hedges - Truthdig, 25 Mar 2013
If, as Fyodor Dostoevsky wrote, "the degree of civilization in a society can be judged by entering its prisons" then we are a nation of barbarians. Our vast network of federal and state prisons, with some 2.3 million inmates, rivals the gulags of totalitarian states. Once you disappear behind prison walls you become prey.
→ read full article
---
Tomas Young and the End of the Body of War
Amy Goodman - Truthdig, 25 Mar 2013
Tomas Young was in the fifth day of his first deployment to Iraq when he was struck by a sniper's bullet in Baghdad's Sadr City. The single bullet paralyzed him from the chest down, and changed his life forever. Now, nine years later, at the age of 33, Tomas has decided to end his life. He announced recently that he will soon stop his nourishment, which comes in the form of liquid through a feeding tube.
→ read full article
---
Starving for Justice at Guantanamo
Amy Goodman - Truthdig, 18 Mar 2013
Reports are emerging from the U.S. military prison at Guantanamo Bay that a majority of the prisoners are on a hunger strike. One hundred sixty-six remain locked up, although more than half of them have been cleared by the Obama administration for release. Yet there they languish (in some cases now in their second decade) in a hellish legal limbo, uncharged yet imprisoned.
→ read full article
---
Israel, Palestine and the Oscars
Amy Goodman - Truthdig, 25 Feb 2013
"5 Broken Cameras" is in competition at the Oscars with an Israeli documentary, "The Gatekeepers," a film that features interviews with the six surviving former directors of Israel's Shin Bet, the country's secret internal security service, which functions as sort of hybrid of the U.S. FBI and CIA. In the film, all six condemn the current practices of Israeli occupation and settlement expansion.
→ read full article
---
Brennan and Kiriakou, Drones and Torture
Amy Goodman - Truthdig, 11 Feb 2013
John Brennan and John Kiriakou worked together years ago, but their careers have dramatically diverged. Brennan is now on track to head the CIA, while Kiriakou is headed off to prison. Each of their fates is tied to the so-called war on terror.
→ read full article
---
It's Good to Be a Goldman
Robert Scheer - Truthdig, 4 Feb 2013
Here's a get-out-of-jail-free card, and while we're at it, take this obscenely huge bonus for having wrecked the economy.
→ read full article
---
Obama's Dirty Wars Exposed at Sundance
Amy Goodman - Truthdig, 28 Jan 2013
As President Barack Obama prepared to be sworn in as the next US president, two courageous journalists premiered a documentary at the annual Sundance Film Festival. "Dirty Wars: The World Is a Battlefield" reaffirms the critical role played by independent journalists like the film's director, Rick Rowley, and its narrator and central figure, Jeremy Scahill.
→ read full article
---
Aaron Swartz and the Freedom to Connect
Amy Goodman - Truthdig, 21 Jan 2013
Aaron Swartz wanted nothing more than to change the world. He was doing just that until he ended his own life, at the age of 26, on Jan. 11 [2013]. He took a lead role in defeating SOPA, the Stop Online Piracy Act, a federal law that would have granted corporations sweeping online censorship powers. Sir Tim Berners-Lee, the inventor of the World Wide Web, responded to the sad news with a tweet: "Aaron dead. World wanderers, we have lost a wise elder. Hackers for right, we are one down. Parents all, we have lost a child. Let us weep."
→ read full article
---
John Brennan, Sami Al-Hajj and the Blight of Guantanamo
Amy Goodman - Truthdig, 14 Jan 2013
Dec, 2001: Shackled and hooded, he was pushed off the transport plane [at Kandahar airport], when he fell and broke his kneecap. He was forced to march anyway, into a building where people were screaming. He was put in the middle of a circle of U.S. soldiers who held guns to his head. On June 13, 2002, al-Hajj was shackled, hooded and flown to Guantanamo. En route they were denied food, water and toilets, and were beaten if they tried to sleep. At Guantanamo, the interrogations continued.
→ read full article
---
Israel's Apartheid Deepens, Along With Its Global Isolation
Juan Cole – Truthdig, 17 Dec 2012
The real threat to Israel comes not from tiny, impoverished Gaza, but from the policies of the country's increasingly right-wing politicians.
→ read full article
---
The Shameful Exploitation of Bradley Manning
Robert Scheer - Truthdig, 17 Dec 2012
The major news outlets that were thrilled to profit from the information that Bradley Manning uncovered are deeply afraid of being associated with the brave whistle-blower himself. Keep an American soldier locked up naked in a cage and driven half mad while deprived of all basic rights, and you will be instantly condemned as a barbaric terrorist. Unless the jailer is an authorized agent of the U.S. government, in which case even treatment approaching torture will go largely unnoticed.
→ read full article
---
Truthdigger of the Week: @KYAnonymous
Alexander Reed Kelly - Truthdig, 10 Dec 2012
When the law lags behind, it's up to digital do-gooders such as @KYAnonymous to protect the privacy and physical safety of those put at risk by "revenge porn" predators like Hunter Moore. He has created two websites that invite disgruntled users to publish nude photos of ex girl- and boyfriends along with their names, links to social media profiles and, until a short while ago, their physical addresses.
→ read full article
---
Mumia Abu-Jamal: The Unsilenced Voice of a 'Long-Distance Revolutionary'
Chris Hedges - Truthdig, 10 Dec 2012
I am sitting in the visiting area of the SCI Mahanoy prison in Frackville, Pa., on a rainy, cold Friday morning with Mumia Abu-Jamal, America's most famous political prisoner and one of its few authentic revolutionaries. "I didn't see children for 30 years on death row," he says softly. "It is a delight to see them here. They are what is most precious, what the struggle is finally about."
→ read full article
---
A Carbon Tsunami in Doha
Amy Goodman – Truthdig, 10 Dec 2012
The 18th U.N. climate-change summit is taking place in the small but immensely wealthy Gulf emirate of Qatar, the largest per capita emitter of greenhouse gases in the world. Delegates, press, dignitaries and the legions of low-paid, foreign guest workers here at the opulent Qatar National Convention Center all pass under an enormous spider, a 30-foot-high cast-bronze statue chosen by the emir's wife for a reported $10 million.
→ read full article
---
Truthdiggers of the Week: Iceland's Leaders
Truthdig – TRANSCEND Media Service, 3 Dec 2012
One country refused to bail out its derelict banks and slash social spending amid the financial crisis. And guess what? Unlike the eurozone and the United States, it's making a sturdy comeback.
→ read full article
---
The Growing Global Movement against Austerity
Amy Goodman - Truthdig, 19 Nov 2012
The general strike that swept across Europe Nov. 14 [2012] had its genesis in the deepening crisis in Spain, Portugal and Greece. As a result of the global economic collapse in 2008, Spain is in a deep financial crisis. Unemployment has surpassed 25 percent, and among young people is estimated at 50 percent. Large banks have enjoyed bailouts while they enforce mortgages that an increasing number of Spaniards are unable to meet, provoking increasing numbers of foreclosures and attempted evictions [suicides].
→ read full article
---
Being Gay
Mr. Fish - Truthdig, 17 Sep 2012
I was determined to be gay, even if I had to sleep with other guys to do it, because, just as it was with racism and sexism, homophobia was not founded in reason so it could not be destroyed by logic. In fact, to merely talk about why it might be wrong to hate gay people made discrimination against homosexuals little more than a matter of opinion, no more substantive than announcing a dislike for argyle or Mexican food or dogs in sunglasses.
→ read full article
---
The War in the Shadows
Chris Hedges – Truthdig, 27 Aug 2012
… It exposed the cynicism of undercover operatives on all sides, men and women who lie and deceive for a living, who betray relationships, including between each other, who steal and who carry out murder. One knows them immediately. Their ideological allegiances do not matter. They have the faraway eyes of the disconnected, along with nebulous histories and suspicious and vague associations. They can be personable, even charming, but they are also invariably vain, dishonest and sinister. They cannot be trusted. It does not matter what side they are on.
→ read full article
---
The Science of Genocide
Chris Hedges - Truthdig, 13 Aug 2012
It was science, industry and technology that made possible the 20th century's industrial killing. These forces magnified innate human barbarity. They served the immoral. And there are numerous scientists who continue to work in labs across the country on weapons systems that have the capacity to exterminate millions of human beings. Is this a "rational" enterprise? Is it moral? Does it advance the human species? Does it protect life?
→ read full article
---
The Obama Administration Torpedoes the Arms Trade Treaty
Amy Goodman – Truthdig, 6 Aug 2012
In late June [2012], activists gathered in New York's Times Square to make the absurd point, that, unbelievably, "there are more rules governing your ability to trade a banana from one country to the next than governing your ability to trade an AK-47 or a military helicopter." So said Amnesty International USA's Suzanne Nossel at the protest.
→ read full article
---
The Careerists
Chris Hedges - Truthdig, 30 Jul 2012
The greatest crimes of human history are made possible by the most colorless human beings. They are the careerists. The bureaucrats. The cynics. They do the little chores that make vast, complicated systems of exploitation and death a reality. The droughts rage over cropland. The drones deliver death from the sky. The state moves inexorably forward to place us in chains. The sick die. The poor starve. The prisons fill. And the careerist, plodding forward, does his or her job.
→ read full article
---
Goodbye, Old Friend
Robert Scheer - Truthdig, 23 Jul 2012
Uncompromising, provocative, brilliant. There are many things to say about Alexander Cockburn, who died Friday [20 Jul 2012], and his critics and friends will have their day. He could be infuriating in his lust for truth and social justice as well as for the unparalleled sharpness of his polemics. But no serious student of our time can deny Cockburn's importance as one of the most principled and insightful political journalists of the past half-century.
→ read full article
---
Crime of the Century
Robert Scheer - Truthdig, 9 Jul 2012
Forget Bernie Madoff and Enron's Ken Lay—they were mere amateurs in financial crime. The current Libor interest rate scandal, involving hundreds of trillions in international derivatives trade, shows how the really big boys play. And these guys will most likely not do the time because their kind rewrites the law before committing the crime.
→ read full article
---
Northern Light
Chris Hedges - Truthdig, 11 Jun 2012
The streets of Montreal are clogged nightly with as many as 100,000 protesters banging pots and pans and demanding that the old systems of power be replaced. There still is time to act. There still are mass movements to join. If the street protests in Quebec, the most important resistance movement in the industrialized world, spread to all of Canada and reach the United States, there remains the possibility of hope.
→ read full article
---
WikiLeaks, War Crimes and the Pinochet Principle
Amy Goodman – Truthdig, 4 Jun 2012
Judge Garzon and Julian Assange have taken on entrenched power, whether government, military or corporate. Bradley Manning stands accused of the same. In differing degrees, their lives have forever changed, their careers, their freedoms and their reputations threatened or destroyed. This week, Hillary Clinton will be making the first official trip to Sweden in years. Why? What role is the U.S. government playing in Assange's case?
→ read full article
---
The War on Gays
Chris Hedges – Truthdig, 28 May 2012
The sentencing of Dharun Ravi for the hateful abuse that may have driven his gay roommate at Rutgers, Tyler Clementi, to commit suicide, or Barack Obama's public acceptance of gay marriage, prevents many of us from seeing that life for gays, lesbians, bisexuals and transgender people is getting worse—much worse.
→ read full article
---
WikiLeaks vs. Stratfor: Pursue the Truth, Not Its Messenger
Amy Goodman - Truthdig, 5 Mar 2012
The White House is holding a gala dinner this week, honoring Iraq War veterans. Bradley Manning is an Iraq War vet who won't be there. He is being court-martialed, facing life in prison or possibly death, for allegedly releasing thousands of military and diplomatic documents to WikiLeaks revealing the casualties of war. President Barack Obama would better serve the country by also honoring Assange and Manning. We should pursue the truth, not its messengers.
→ read full article
---
Elections Are for Suckers
Robert Scheer - Truthdig, 13 Feb 2012
Let's just dip our fingers in purple ink and pose for photos now that voting has the same significance for us as it had for those Iraqis who got conned into thinking they were participating in some grand democratic experiment. Our own elections, the ones our government has modeled for the world, are a hoax.
→ read full article
---
The Day the Internet Roared
Amy Goodman – Truthdig, 23 Jan 2012
Wednesday, Jan. 18 [2012], marked the largest online protest in the history of the Internet. Websites from large to small "went dark" in protest of proposed legislation before the U.S. House and Senate that could profoundly change the Internet.
→ read full article
---
Bradley Manning and the Fog of War
Amy Goodman – Truthdig, 26 Dec 2011
Accused whistle-blower Pvt. Bradley Manning turned 24 Saturday [17 Dec 2011]. He spent his birthday in a pretrial military hearing that could ultimately lead to a sentence of life … or death. The prosecution offered words Manning allegedly wrote to Assange as evidence of his guilt. In the email, Manning described the leak as "one of the more significant documents of our time, removing the fog of war and revealing the true nature of 21st century asymmetrical warfare." History will no doubt use the same words as irrefutable proof of Manning's courage.
→ read full article
---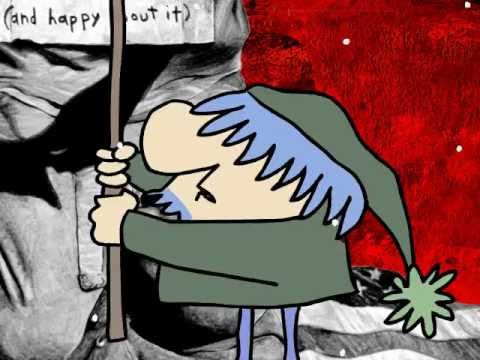 Occupy North Pole (VIDEO OF THE WEEK)
Truthdig – TRANSCEND Media Service, 26 Dec 2011
In this year's holiday animation by Mr. Fish, an elf confronts Santa about his exploitation of free labor.
→ read full article
---
Climate Apartheid
Amy Goodman - Truthdig, 19 Dec 2011
The countries in attendance agreed to a schedule that would lead to an agreement by 2015, which would commit all countries to reduce emissions starting no sooner than 2020, eight years into the future. Despite optimistic pronouncements to the contrary, many believe the Kyoto Protocol died in Durban. The largest polluter in world history, the United States, never ratified the Kyoto Protocol and remains defiant.
→ read full article
---
Listen to the People, Not the Polluters
Amy Goodman – Truthdig, 12 Dec 2011
The Dirty Dozen in Durban include Royal Dutch Shell, ExxonMobil, Koch Industries and BASF, along with industry trade groups such as the U.S. Chamber of Commerce, the WBCSD and the American Petroleum Institute. Greenpeace highlighted these corporations and corporate umbrella groups for their presence in Durban, and for their actions throughout the global-climate-change negotiating process, in undermining meaningful progress.
→ read full article
---
Cry, the Beloved Climate
Amy Goodman – Truthdig, 5 Dec 2011
The United Nations' annual climate summit descended on Durban, South Africa, this week, but not in time to prevent the tragic death of Qodeni Ximba. The 17-year-old was one of 10 people killed in Durban on Sunday, the night before the U.N. conference opened. Torrential rains pummeled the seaside city of 3.5 million.
→ read full article
---
The Brave New World of Occupy Wall Street
Amy Goodman – truthdig, 21 Nov 2011
We got word just after 1 a.m. Tuesday [15 Nov 2011] that New York City police were raiding the Occupy Wall Street encampment. Hundreds of riot police surrounded the area. As they ripped down the tents, city sanitation workers were throwing the protesters' belongings into dump trucks. I spotted a single book on the ground. It was marked "OWSL," for Occupy Wall Street Library, also known as the People's Library. By the latest count, it had accumulated 5,000 donated books. The one I found, amidst the debris of democracy that was being hauled off to the dump, was "Brave New World Revisited," by Aldous Huxley.
→ read full article
---
Away With Objectivity
Ruben Luengas - Truthdig, 14 Nov 2011
It is assumed, as a divine command, that the journalist should be "impartial, objective, balanced and fair". Is it then, that as journalists we were required, for example, to take the point of view of Hitler and the Nazis to be fair to Jews and other victims of Nazism? The essence of journalism is for me the search for truth, which is not usually sitting in a corner waiting for the arrival of reporters to run into it and pick it up as it was found. I wonder, for example if anyone believes that the mainstream media had honest, sincere, professional, objective and balanced coverage on the wars in Iraq and Afghanistan. Journalism that does not make you uncomfortable is not journalism. Journalism that soothes and numbs instead of alerts and awakens is not journalism.
→ read full article
---
Too Big to Jail
Robert Scheer - Truthdig, 7 Nov 2011
Can we all agree that a $1 billion swindle represents a lot of money? So why isn't anybody at Citibank going to prison?
→ read full article
---
A New Bush Era or a Push Era?
Amy Goodman – Truthdig, 17 Oct 2011
Back when Barack Obama was still just a U.S. senator running for president, he told a group of donors in a New Jersey suburb, "Make me do it." He was borrowing from President Franklin D. Roosevelt, who used the same phrase (according to Harry Belafonte, who heard the story directly from Eleanor Roosevelt) when responding to legendary union organizer A. Philip Randolph's demand for civil rights for African-Americans.
→ read full article
---
Policing the Prophets of Wall Street
Amy Goodman - Truthdig, 10 Oct 2011
On Labor Day 2008, the "Democracy Now!" news team and I were covering the first day of the Republican National Convention in St. Paul. Thousands protested outside. The riot police had encircled the area. I ran up to the police, my credentials hanging around my neck. It wasn't seconds before they tore me through the police line, twisted my arms behind my back and handcuffed me, a Secret Service agent came over and ripped the credentials from around our necks. We filed suit. This past week, the St. Paul and Minneapolis police and the Secret Service have settled with us. In addition to paying out $100,000, the St. Paul police department has agreed…
→ read full article
---
99 Percenters Occupy Wall Street
Amy Goodman - Truthdig, 26 Sep 2011
David Graeber teaches at Goldsmiths, University of London, and has authored "Debt: The First 5,000 Years." Graeber points out that, in the midst of the financial crash of 2008, enormous debts between banks were renegotiated. He said: "Debts between the very wealthy or between governments can always be renegotiated and always have been throughout world history. … It's when you have debts owed by the poor to the rich that suddenly debts become a sacred obligation, more important than anything else. The idea of renegotiating them becomes unthinkable."
→ read full article
---
Cheney, Rumsfeld and the Dark Art of Propaganda
Amy Goodman – Truthdig, 5 Sep 2011
"When one lies, one should lie big, and stick to it," wrote Joseph Goebbels, Germany's Reich minister of propaganda, in 1941. Former Vice President Dick Cheney seems to have taken the famous Nazi's advice in his new book, "In My Time."
→ read full article
---
Antidepressant Nation
Truthdig – TRANSCEND Media Service, 18 Jul 2011
Nowadays treatment by medical doctors nearly always means psychoactive drugs, that is, drugs that affect the mental state. In fact, most psychiatrists treat only with drugs, and refer patients to psychologists or social workers if they believe psychotherapy is also warranted. The shift from "talk therapy" to drugs as the dominant mode of treatment coincides with the emergence over the past four decades of the theory that mental illness is caused primarily by chemical imbalances in the brain that can be corrected by specific drugs.
→ read full article
---
WikiLeaks, Wimbledon and War
Amy Goodman – Truthdig, 11 Jul 2011
Last Saturday [2 Jul 2011] was sunny in London, and the crowds were flocking to Wimbledon and to the annual Henley Regatta. Julian Assange, the founder of the whistle-blower website Wikileaks.org, was making his way by train from house arrest in Norfolk, three hours away, to join me and Slovenian philosopher Slavoj Zizek for a public conversation about WikiLeaks, the power of information and the importance of transparency in democracies.
→ read full article
---
'Food Terrorism' Next Door to the Magic Kingdom
Amy Goodman – Truthdig, 4 Jul 2011
In the past few weeks, no fewer than 21 people have been arrested in Orlando, Fla., the home of Disney World, for handing out free food in a park.
→ read full article
---
Japan's Meltdowns Demand New No-Nukes Thinking
Amy Goodman - Truthdig, 27 Jun 2011
Leaders of national nuclear-energy programs are gathering this week in Vienna for the International Atomic Energy Agency's Ministerial Conference on Nuclear Safety. The meeting was called in response to Fukushima. Ironically, the ministers, including U.S. Nuclear Regulatory Commission (NRC) Chairman Gregory Jaczko, held their meeting safely in a country with no nuclear power plants. Austria is at the forefront of Europe's new anti-nuclear alliance.
→ read full article
---
This Hero Didn't Stand a Chance
Chris Hedges - Truthdig, 20 Jun 2011
Tim DeChristopher is scheduled to be sentenced in a Salt Lake City courtroom by U.S. District Judge Dee Benson on July 26. He faces up to 10 years in prison and a $750,000 fine for fraudulently bidding in December 2008 on parcels of land, including areas around eastern Utah's national parks, which were being sold off by the Bush administration to the oil and natural gas industry.
→ read full article
---
Turkey in Position to Lead Region Out of Tumultuous Century
William Pfaff - Truthdig, 20 Jun 2011
Twenty-seven European states, all at one or another time part of warring dynastic, nationalistic or ethnocentric imperial state systems, have now found peace. Turkey has for years struggled without success to become a member of this European community of peace. Possibly the failure was destiny. There is a Muslim community of peace for Turkey to inspire.
→ read full article
---
War on Drugs: Fast, Furious and Fueled by the U.S.
Amy Goodman - Truthdig, 20 Jun 2011
The violent deaths of Brian Terry and Juan Francisco Sicilia, separated by the span of just a few months and by the increasingly bloody U.S.-Mexico border, have sparked separate but overdue examinations of the so-called War on Drugs, and how the U.S. government is ultimately exacerbating the problem.
→ read full article
---
Reflections on Israel: From Idealism to Ethnic Cleansing
Larry Gross - Truthdig, 13 Jun 2011
When I was a youngster learning Jewish history in Jerusalem's schools, the story was clear and even simple. In many ways, it could be encapsulated in a saying one heard occasionally, attributed to early Zionists: "A land without people for a people without land." Well, there are several striking problems with this aphorism, the most obvious being that there were people already living in the Holy Land, the Palestinians.
→ read full article
---
Hope and Resistance in Honduras
Amy Goodman - Truthdig, 6 Jun 2011
As the only U.S. journalist on Zelaya's flight home, I asked him how he felt about his imminent return. "Full of hope and optimism," he said. "Political action is possible instead of armaments. No to violence. No to military coups. Coups never more." When Zelaya landed in Honduras, he kneeled down and kissed the ground. He was greeted by tens of thousands of people cheering and waving the black-and-red flag of the movement born after the coup, the FNRP, or National Front of Popular Resistance, "the resistance" that Zelaya now leads.
→ read full article
---
Tony Kushner and the Angels of Dissent
Amy Goodman - Truthdig, 16 May 2011
During the McCarthy era, the U.S. was a dark and dangerous place as well. Now, amid the uprisings in the Arab and Muslim world, the recent rapprochement between Fatah and Hamas, and the likely recognition of Palestinian statehood by the United Nations General Assembly, there is no more urgent time for vigorous and informed debate. The future of peace in the Middle East depends on dissent. Those, like Tony Kushner, with the courage to speak out are the true angels in America.
→ read full article
---
A Tale of Two Hospitals: Kuwait 1991, Bahrain 2011
Barry Lando – Truthdig, 2 May 2011
No, that hospital is not in Libya but in Bahrain: It is the Salmaniya Medical Complex, the tiny state's main civil hospital. And, of course, the more than 1,000 heavily armed invading troops who are backing the police terrorizing the hospital, "disappearing" doctors and brutally crushing the local uprising are Saudis. The same Saudis who gave the U.S. and NATO the green light to intervene to save the largely Sunni rebels in Libya—in exchange for which America discreetly turned its back as the Saudis invaded Bahrain to prevent a Shiite majority there from toppling a repressive Sunni monarch. God only knows what the experience will do to radicalize tens or perhaps hundreds of thousands of Shiites.
→ read full article
---
All the WikiLeaks Fit to Print
Robert Scheer - Truthdig, 2 May 2011
Why indeed is Manning the one behind bars and not the government officials who kept hidden unpleasant truths about this nation's policies that the public has a right to know? And why do leaders of our constitutionally protected free press now seek to distance themselves from news sources that have performed a great public service? A service documented by the fact, as tallied by The Atlantic magazine, that more than half of the issues of The New York Times this year have carried stories that relied on WikiLeaks' disclosures.
→ read full article
---
Mumia Abu-Jamal's Death Sentence Declared Unconstitutional
Amy Goodman - Truthdig, 2 May 2011
The death penalty case of Mumia Abu-Jamal took a surprising turn this week, as a federal appeals court declared, for the second time, that Abu-Jamal's death sentence was unconstitutional. While the disputes surrounding Abu-Jamal's guilt or innocence were not addressed, the case highlights inherent problems with the death penalty and the criminal justice system, especially the role played by race.
→ read full article
---
Throw Out the Money Changers
Chris Hedges - Truthdig, 25 Apr 2011
The two most destructive forces of human nature—greed and envy—drive the financiers, the bankers, the corporate mandarins and the leaders of our two major political parties, all of whom profit from this system. They place themselves at the center of creation. They view human beings and the natural world as mere commodities to exploit until exhaustion or collapse. Human suffering, wars, climate change, poverty, it is all the price of business. Nothing is sacred. The Lord of Profit is the Lord of Death. The Raskolnikovs of the world place unbridled and total faith in the human intellect. They disdain the attributes of compassion, empathy, beauty, justice and truth.
→ read full article
---
U.S.-Backed Bloodshed Stains Bahrain's Arab Spring
Amy Goodman – Truthdig, 18 Apr 2011
One month into the uprising, Saudi Arabia sent military and police forces over the 16-mile causeway that connects the Saudi mainland to Bahrain, an island. Since then, the protesters, the press and human-rights organizations have suffered increasingly violent repression.
→ read full article
---
Aristide's Return to Haiti: A Long Night's Journey Into Day
Amy Goodman - Truthdig, 28 Mar 2011
The U.S. continued to prevent Aristide from returning for the next seven years. Just last week, President Barack Obama called South African President Jacob Zuma to express "deep concerns" about Aristide's potential return, and to pressure Zuma to block the trip. Zuma, to his credit, ignored the warning. U.S. diplomatic cables released by WikiLeaks reveal a concerted, multiyear drive to hamper the return of Aristide to Haiti, including diplomatically punishing any country that helped Aristide, including threatening to block a U.N. Security Council seat for South Africa.
→ read full article
---
Be Consistent—Invade Saudi Arabia
Robert Scheer - Truthdig, 28 Mar 2011
In the glaring light of the democratic currents sweeping through the Mideast, the contradictions in supporting one set of dictators while toppling others may prove impossible for the U.S. and its allies to effectively manage. The recognition, widely demanded throughout the region, that even ordinary Middle Easterners have inalienable rights is a sobering notion not easily co-opted. Why don't those rights to self-determination extend to Shiites in the richest oil province in Saudi Arabia or for that matter to Palestinians in the West Bank or Gaza?
→ read full article
---
No Laws, No Secrets: The Anarchist Creed of Julian Assange
Christopher Ketcham - Truthdig, 28 Mar 2011
Assange is undermining the system by which we don't cooperate at all, or pretend to cooperate, or force cooperation by bombing, killing, lying, cheating, smiling and smiling while villainous—all in service of "solving regional challenges," which is to say in service of the imperial state… What commentators on Assange don't seem to get is that he is channeling Thomas Paine.
→ read full article
---
People Power vs. Washington
Juan Cole – Truthdig, 21 Mar 2011
The claim that George W. Bush's war of aggression against Iraq somehow opened up the Middle East to reform is an affront to the brave crowds that have risked their lives to change the American-backed order in that part of the world.
→ read full article
---
Huffington's Plunder
Chris Hedges - Truthdig, 28 Feb 2011
The sale of The Huffington Post to AOL for $315 million, and the tidy profit of reportedly at least several million dollars made by principal owner and founder Arianna Huffington, who was already rich, is emblematic of this new paradigm of American journalism.
→ read full article
---
Fear Not the Muslim Brotherhood Boogeyman
Juan Cole – Truthdig, 21 Feb 2011
The hysteria in American media about Egypt's Muslim Brotherhood is not only ignorant and demagogic, it is hypocritical.
→ read full article
---
When Corporations Choose Despots over Democracy
Amy Goodman – Truthdig, 7 Feb 2011
"People holding a sign 'To: America. From: the Egyptian People. Stop supporting Mubarak. It's over!" so tweeted my brave colleague, "Democracy Now!" senior producer Sharif Abdel Kouddous, from the streets of Cairo.
→ read full article
---
Rosa Luxemburg and the Libertarian Left
Scott Tucker - Truthdig, 31 Jan 2011
"Freedom," Rosa Luxemburg wrote, "is always freedom for those who think differently." Those are certainly her most famous words, but they must not be mistaken for a general piety of liberalism. For they are drawn from a comradely piece of criticism she directed at Lenin and his party in the wake of the 1917 revolution in Russia, written while serving a sentence in prison for her opposition to German militarism and World War I.
→ read full article
---
Even Lost Wars Make Corporations Rich
Chris Hedges - Truthdig, 17 Jan 2011
Power does not rest with the electorate. It does not reside with either of the two major political parties. It is not represented by the press. It is not arbitrated by a judiciary that protects us from predators. Power rests with corporations. And corporations gain very lucrative profits from war, even wars we have no chance of winning. All polite appeals to the formal systems of power will not end the wars in Iraq and Afghanistan. We must physically obstruct the war machine or accept a role as its accomplice.
→ read full article
---
2011: A Brave New Dystopia
Chris Hedges - Truthdig, 3 Jan 2011
The two greatest visions of a future dystopia were George Orwell's "1984" and Aldous Huxley's "Brave New World." The debate, between those who watched our descent towards corporate totalitarianism, was who was right. Would we be, as Orwell wrote, dominated by a repressive surveillance and security state that used crude and violent forms of control? Or would we be, as Huxley envisioned, entranced by entertainment and spectacle, captivated by technology and seduced by profligate consumption to embrace our own oppression? It turns out Orwell and Huxley were both right. Huxley saw the first stage of our enslavement. Orwell saw the second.
→ read full article
---
Help Stop Destruction of the Free Internet Now
Elliot D. Cohen - Truthdig, 27 Dec 2010
On New Year's Day, between the hours of 2 and 3 p.m. Eastern Standard Time, we the people should go offline to express one unified voice against the creation of a pay-for-priority Internet system, the abolition of a flat fee for Internet access, and any attempt by Internet service providers to block, censor or otherwise interfere with Internet content.
→ read full article
---
Happy as a Hangman
Chris Hedges - Truthdig, 13 Dec 2010
What is frightening in collapsing societies is not only the killers, sadists, murderers and psychopaths who rise up out of the moral swamp to take power, but the huge numbers of ordinary people who become complicit in state crimes.
→ read full article
---
Mr. Fish's Cartoons
Truthdig – TRANSCEND Media Service, 6 Dec 2010
Wanted
Julian Assange wanted for…
→ read full article
---
WikiLeaks and the End of U.S. 'Diplomacy'
Amy Goodman – Truthdig, 6 Dec 2010
The way the U.S. conducts diplomacy is now getting more exposure than ever—as is the apparent ease with which the U.S. government lives up (or down) to the adage used by pioneering journalist I.F. Stone: "Governments lie." I asked [Noam] Chomsky about the latest cables released by WikiLeaks. "What this reveals," he reflected, "is the profound hatred for democracy on the part of our political leadership."
→ read full article
---
Obama in the Company of Killers
Amy Goodman - Truthdig, 15 Nov 2010
If a volcano kills civilians in Indonesia, it's news. When the government does the killing, sadly, it's just business as usual, especially if an American president tacitly endorses the killing, as President Barack Obama just did with his visit to Indonesia.
→ read full article
---
The Shifting Balance of Power
William Pfaff – Truthdig, 1 Nov 2010
An epoch of Western world political domination is coming to an end. This is not simply an end to imperialism (new or old), but quite possibly the beginning of a probably long decline in the West's primacy in industry, technology and scientific innovation.
→ read full article
---
When Banks Are the Robbers
Amy Goodman - Truthdig, 25 Oct 2010
The big banks that caused the collapse of the global finance market, and received tens of billions of dollars in taxpayer-funded bailouts, have likely been engaging in wholesale fraud against homeowners and the courts. But in a promising development this week, attorneys general from all 50 states announced a bipartisan joint investigation into foreclosure fraud.
→ read full article
---
Wars Will Cease When We Refuse to Fight
Scott Tucker – Truthdig, 25 Oct 2010
Log Cabin Republicans vs. United States—How do socialists make the case for peace? I do not regard gay and lesbian soldiers seeking elementary legal equality as political heroes. It takes much greater courage for soldiers and veterans of all sexual persuasions to renounce war and imperial adventures.
→ read full article
---