"Decline and Fall" of the US Empire – Introduction to the American Edition
EDITORIAL, 19 Mar 2018
#526 | Johan Galtung – TRANSCEND Media Service
The Fall of the US Empire-And Then What? Successors, Regionalization or Globalization? US Fascism or US Blossoming? by Johan Galtung, TRANSCEND University Press (2009) ISBN: 978-82-300-0492-0
"Decline and Fall" of the US Empire.  What is an empire?
Not just power, but power–economic, military, cultural, political–also exercised by the client states for the empire.
Never put so clearly and briefly as on New York license plates: New York: The Empire State. With pride, but here seen as a vicious form of structural violence to be abolished and transformed into relations of cooperation mutual and equal benefit, with empathy.
There is some good news.  With USA itself declining and falling. They may see the empire as cause of the decline, and decide to build good relations all over, WIN-WIN as the Chinese express it.
But that may also decide the opposite, that the loss of empire is the cause, and try to create client states as quickly as possible.
There is that "special relation" to the UK, and judging from what happened in Libya, Denmark and Norway seem to share that relation; their prime ministers even being appointed Secretary General of NATO. Why?
An educated guess: the four countries share Protestantism, evangelism, one way or the other.  Saying that we are not suggesting that the issues are religious, but close to half a millennium in the same religious community builds a large measure of solidarity. The EU members proclaiming they will no longer fight US wars in Bratislava November 2016 were not Northern European Protestant but Catholic rather, with Germany divided, in many regards.
Trump contributes by making USA an impossible leader to follow. As long as he is in command–and nobody knows how long that will last, before he is removed by impeachment, Amendment 25, or the old US tradition of killing inconvenient presidents–rebuilding the US empire is difficult. The same applies to an English-speaking community adding to Anglo-America Canada-Australia-New Zealand. The latter two may prefer to jump onto the Chinese bandwagon, with mandarin or not.
However, there is the present effort to make Saudi Arabia a US client state, fighting US wars in Yemen, etc. But an unstable Center with an unstable client make a more than doubly unstable empire. More Gulf countries could be added, but they are all Muslim and former Western colonies, in for basic change. The ultimate power rests with the numerous imams, and they may share the Saudi Arabian population's view that the Islamic State is a true carrier of Islam as opposed to Saudi Arabia using the Hajj pilgrimage to Mecca-Medina as mass tourism, for profit.
In short, I stand by my prediction that by Year 2020 the US empire is gone. In the UK, Labour will put an end to it. In Denmark-Norway, political-public opinion. The English-speaking countries will certainly celebrate their cultural community, imitating U.S. basic English and basic pop culture.  Maybe also enriching it.
America itself may look at the map and discover that they are located in North America, with two neighbors, big in population and in land, and conclude that MEX-US-CAN, Mexuscan, makes a lot of sense. At least worth contemplating. Making USA not America First as somebody proclaims while producing America Last. But America Normal.
httpv://www.youtube.com/watch?v=QIyKF-IcgTE
________________________________________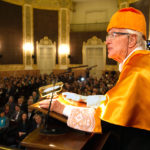 Johan Galtung, a professor of peace studies, dr hc mult, is founder of TRANSCEND International and rector of TRANSCEND Peace University. Prof. Galtung has published more than 1500 articles and book chapters, 500 Editorials for TRANSCEND Media Service, and more than 170 books on peace and related issues, of which more than 40 have been translated to other languages, including 50 Years – 100 Peace and Conflict Perspectives published by TRANSCEND University Press. More information about Prof. Galtung and all of his publications can be found at transcend.org/galtung.
Tags:
Afghanistan
,
Conflict Resolution
,
Empires
,
Islam
,
Johan Galtung
,
Peace
,
Power
,
USA
This article originally appeared on Transcend Media Service (TMS) on 19 Mar 2018.
Anticopyright: Editorials and articles originated on TMS may be freely reprinted, disseminated, translated and used as background material, provided an acknowledgement and link to the source, TMS: "Decline and Fall" of the US Empire – Introduction to the American Edition, is included. Thank you.
If you enjoyed this article, please donate to TMS to join the growing list of TMS Supporters.


This work is licensed under a CC BY-NC 4.0 License.
3 Responses to ""Decline and Fall" of the US Empire – Introduction to the American Edition"