Food Inglorious Food: Children's Health Defense Attack on Food Summit
TRANSCEND MEMBERS, 20 Mar 2023
Diane Perlman, Ph.D.  | Substack - TRANSCEND Media Service
5 Mar 2023 – Yesterday Dr. Meryl Nass–with assistance, comments and summaries by Alexis Baden-Mayer–convened a magnificent, important 7-hour Attack on Food Symposium + Solutions to Fight Back
See my musical summary below. But first.my take.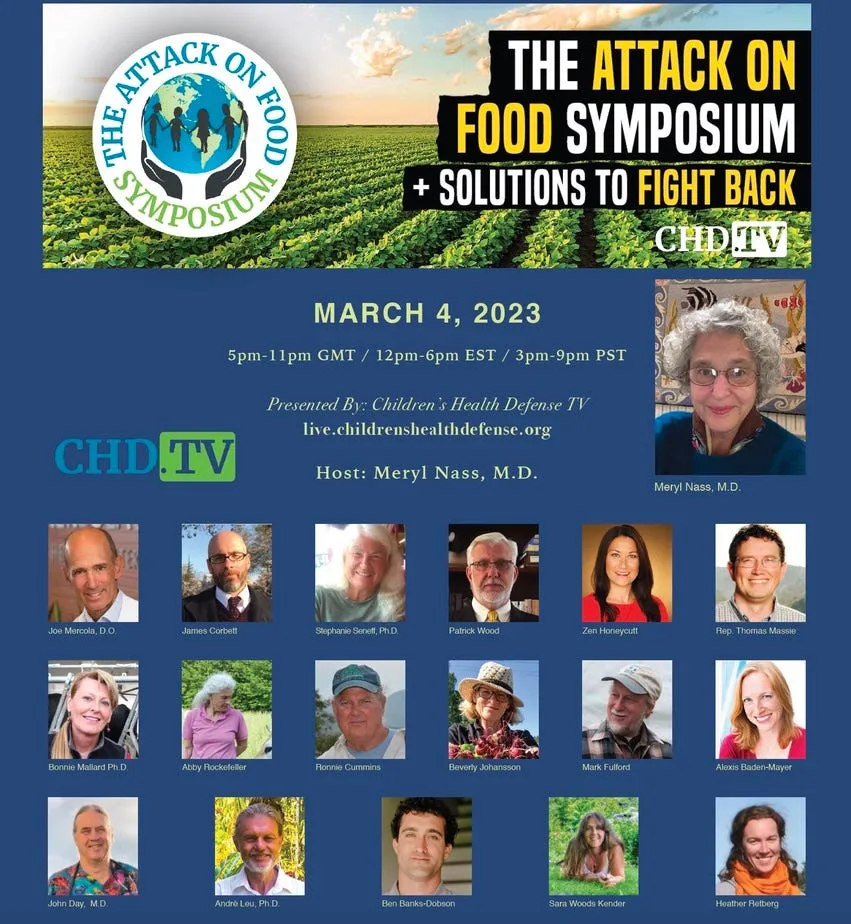 This highly educational symposium was brilliantly coordinated and well-designed. It was like a symphony with each speaker playing their instrument in the orchestra and singing their song in the chorus to create a unified whole.
·      The whole was greater than the sum of the parts
o   Each speaker was excellent in their own right

o   Each speaker shed light on a particular aspect of the entire global food crisis.

o   More than additive, the combination of all the speakers allowed viewers to connect many dots. Talks were mutually reinforcing and there was no contradictory information.

o   The integration of all content painted a coherent, compelling, undeniable picture of the depth, breadth and extent of what is known and knowable about going on, while much remains hidden and mysterious.

o   Speakers raised similar questions and connected similar dots.

o   While some might challenge the implications presented by any one speaker, the sum totality was corroborating and rendered it near impossible to deny.

o   Witnessing this together as a group created a community that shared the experience and made much shocking information more bearable

o   By combining difficult information with problem-solving, the symposium inspired individual and collective action rather than overwhelm, psychic numbing and paralysis.
Last week I analyzed the Refreshing Post-Partisan "Rage Against the War Machine" Rally as a sign of political evolution. I believe that like the rally, this symposium is also sign of political evolution.
After three years of awakening, informing ourselves, coming to grips, finding each other, teaching and learning from each other, watching innumerable videos, webinars, connecting countless dots and detecting patterns, many have risen to the surface to play a higher game.
·      Another Sign of Political Evolution and political maturity
o   It was post-partisan, not political.

o   Every speaker was focused on sound truth, facts, public education, nature, science, health, humanity, and solutions.

o   The emotional tone was thoughtful, earnest, compassionate, serious, mature, enlightening and constructive.

o   One could not tell any person's political beliefs, as it should be.

o   Much of the information was presented in a way that was self-evident

o   It supported a foundation for all to participate in a shared reality.

o   It provided solutions

o   It provided a way for us to transcend differences to unite at a higher level.
·      Education is all important. The Symposium is exactly what we need now.
o   This symposium was a well-designed educational experience.

o   Many of our differences and conflicts arise from ignorance, partisanship, propaganda, and psychological manipulation. Knowledge presented in a compelling way goes a long way in reducing unnecessary tensions so that we can align with each other based on accurate information.
My Summary of the Summit in Song– not a substitute for watching the speakers. The first 2 sessions provide essential background information.
First listen to this wonderful classic from the 1968 movie for the melody and because it's beautiful and endearing. Oliver! – Food, Glorious Food
Feel free to add verses or suggestions in comments
Feel free to perform it if you have musical talent
Note: I was unable to figure out how to format the spacing or make single spacing within verses on this Substack.
FOOD INGLORIOUS FOOD – The Song
Is it worth us working for?
Is it 1984?
All we ever get is Roundup
Even though we say our prayer —
Still Monsanto's bought by Bayer
So we get the same old Roundup!
There's not a fruit or a vegetable to find,
that doesn't have glyphosate
everywhere that we turn we are being surveilled
Cause their trying to dominate our
Food, engineered food!
They're corrupting our diet
They all should be sued
They genetically modify it
Killing chickens and livestock too
Why aggressively culling?
This enables the very few
To be world controlling
Food new Frankenfoods
Impossible burgers and fake meat
We're biologically screwed
Til Bill Gates meets with defeat
Just picture a bowl of bugs
Fried, roasted, or stewed
Oh food! chemical food! Unhealthy food! Modified food!
Food sabotaged food
Explosions, crashes and fires
Connect the dots to be clued
And to expose the deniers
Why are they grabbing up so much land
dispossessing the farmers
Understanding what they have planned
should set off alarmers!!!!!!
Food, organic food!
It's on us to regain it
We must be super shrewd
Educate ourselves to maintain it
We need not be be fated to
Do nothing but brood for food
Organic food, Natural food, Grow your own food,
Healthier food, Dynamic food, Magical food!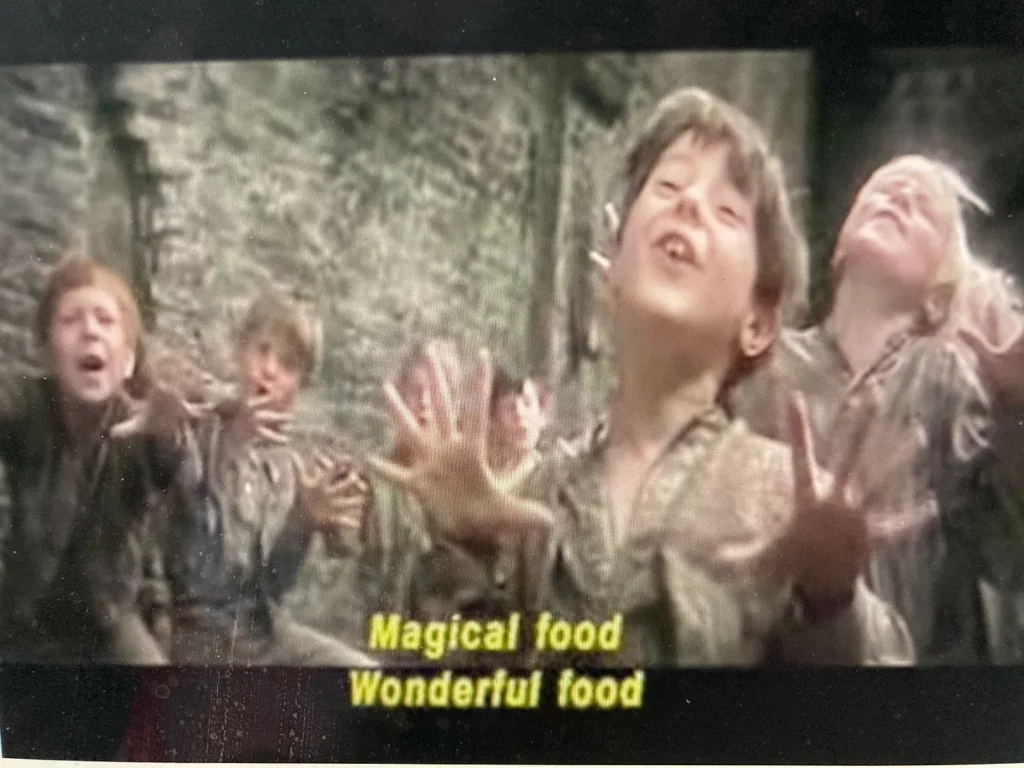 _____________________________________________

Diane Perlman, PhD   is a clinical and political psychologist, devoted to applying knowledge from psychology, conflict studies and social sciences to designing strategies and policies to reverse nuclear proliferation, to drastically reduce terrorism, reduce enmity, and to raise consciousness about nonviolent strategies for tension reduction and conflict transformation. She is a visiting scholar at the School for Conflict Analysis and Resolution at George Mason University, is active in Psychologists for Social Responsibility, the TRANSCEND Network for Peace Development Environment, and on the Global Council of Abolition 2000. Some of her writings can be found on her websites, www.consciouspolitics.org  and  www.SanityandSurvival.com. Email: dianeperlman@gmail.com
Go to Original – coronawise.substack.com
Tags:
Children
,
Organic food
,
Right to Food
DISCLAIMER: The statements, views and opinions expressed in pieces republished here are solely those of the authors and do not necessarily represent those of TMS. In accordance with title 17 U.S.C. section 107, this material is distributed without profit to those who have expressed a prior interest in receiving the included information for research and educational purposes. TMS has no affiliation whatsoever with the originator of this article nor is TMS endorsed or sponsored by the originator. "GO TO ORIGINAL" links are provided as a convenience to our readers and allow for verification of authenticity. However, as originating pages are often updated by their originating host sites, the versions posted may not match the versions our readers view when clicking the "GO TO ORIGINAL" links. This site contains copyrighted material the use of which has not always been specifically authorized by the copyright owner. We are making such material available in our efforts to advance understanding of environmental, political, human rights, economic, democracy, scientific, and social justice issues, etc. We believe this constitutes a 'fair use' of any such copyrighted material as provided for in section 107 of the US Copyright Law. In accordance with Title 17 U.S.C. Section 107, the material on this site is distributed without profit to those who have expressed a prior interest in receiving the included information for research and educational purposes. For more information go to: http://www.law.cornell.edu/uscode/17/107.shtml. If you wish to use copyrighted material from this site for purposes of your own that go beyond 'fair use', you must obtain permission from the copyright owner.