Articles by Eva Bartlett
We found 18 results.
---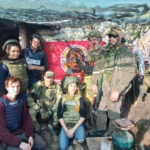 Maligned in Western Media, Donbass Forces Are Defending Their Future from Ukrainian Shelling and Fascism
Eva Bartlett | CovertAction Magazine - TRANSCEND Media Service, 28 Nov 2022
19 Nov 2022 – Western Media Inverted Reality, Lauding Nazis and Demonizing Defenders: The U.S. is widely understood to be a key instigator behind conflict in Ukraine that has pitted brother against brother.
→ read full article
---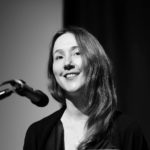 Western Media Continues to Ignore Ukraine's Public 'Kill List' Aimed at Those Who Question the Kiev Regime
Eva Bartlett – TRANSCEND Media Service, 12 Sep 2022
11 Sep 2022 – The Mirotvorets list is an issue trending in independent and Russian media, but not in the mainstream international press.
→ read full article
---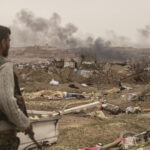 The NYT Reports US Forces 'Killed Dozens in Syria'–The Reality Is Far Worse
Eva Bartlett | RT - TRANSCEND Media Service, 20 Dec 2021
15 Dec 2021 – Two recent reports by the New York Times highlight some of the US' manifold crimes in Syria, murdering untold numbers of Syrian civilians over the years, under the pretext of fighting the Islamic State.
→ read full article
---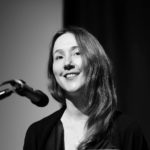 Today I Saw Syrians Dancing and Celebrating Life, and a Return to Peace – but, of Course, the Western Media Won't Report That
Eva Bartlett | RT - TRANSCEND Media Service, 31 May 2021
26 May 2021 – Although the West has waged 10 years of war on Syria, and there is much destruction, the entire country isn't in ruins and the pulse of life continues, albeit strangled by brutal Western sanctions. In Douma, I saw lovely, smiling children, excited to practise their English with me.
→ read full article
---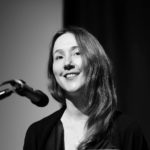 Israel Violates International Law Anew, Again Bombing Syria…To Further Indifference of Western Media
Eva Bartlett | RT - TRANSCEND Media Service, 22 Feb 2021
16 Feb 2021 – Israeli missiles targeted Syria again yesterday. Usually under the pretense of "targeting Iranian/Iranian-backed militias," Israel's strikes violate Syria's sovereignty and international law. Israel's military chief of staff boasted about hitting over 500 targets in just 2020 alone. If Israel's routine bombings of Syria are reported in Western media at all, it is with the usual downplaying of (and normalizing of) Israel's violations of international law.
→ read full article
---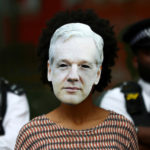 London's 'Media Freedom' Conference Smacks of Irony: Critics Barred, No Mention of Jailed Assange
Eva Bartlett – RT, 22 Jul 2019
15 Jul 2019 – Irony is the word which comes to mind at the mention of the "Global Conference for Media Freedom" co-hosted by the UK and Canadian foreign ministers. Everything about this twilight zone gathering smacked of irony.
→ read full article
---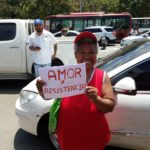 US Is Manufacturing a Crisis in Venezuela so that There Is Chaos and 'Needed' Intervention
Eva Bartlett – RT, 8 Apr 2019
29 Mar 2019 – Venezuela is America's current target for mass destabilization in the hope of installing a puppet government. America has for years been waging an economic war against Venezuela, including debilitating sanctions which have dramatically affected the state's ability to purchase medicines, and even mundane replacement parts needed in buses, ambulances, etc. Alongside the economic war there has been a steady propaganda war, but in recent months, the propaganda has escalated dramatically, from corporate media to US political figures.
→ read full article
---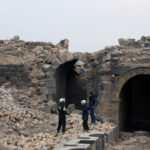 Organ Theft, Staged Attacks: UN Panel Details White Helmets' Criminal Activities, Media Yawns
Eva Bartlett – RT, 31 Dec 2018
25 Dec 2018 – Utter silence. That is the sound of Western corporate media days after a more than one-hour-long panel on the White Helmets at the United Nations on December 20.
→ read full article
---
Faked Concern: Haley & Corporate Media Bleating about Idlib Civilians, Ignore Terrorists' Presence
Eva Bartlett – RT, 15 Oct 2018
8 Oct 2018 – They ignore, too, the reality of life in areas which were once occupied by these terrorists: the torture, imprisonment, maiming, assassination, and starvation endured by the civilian population at the hands of these extremists and paid mercenaries supported by the USA.
→ read full article
---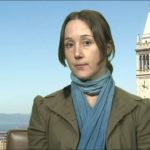 How the Mainstream Media Whitewashed Al-Qaeda and the White Helmets in Syria
Eva Bartlett – Global Research, 8 Jan 2018
6 Jan 2018 – There was not a single occasion in which I ever heard the medics (in Sunni Gaza) shout takbeeror Allahu Akbar upon rescuing civilians, much less intentionally stood on dead bodies, posed in staged videos, or any of the other revolting acts that the White Helmets have been filmed doing in Syria. They were too damn busy rescuing or evacuating the areas before another Israeli strike, and usually maintained a focused silence as they worked, communicating only the necessities.
→ read full article
---
Father of Iconic Aleppo Boy Says Media Lied about His Son
Eva Bartlett – MintPress News, 12 Jun 2017
Mohammad Daqneesh, the father of the now-infamous Aleppo boy Omran Daqneesh, says his son was exploited by Syrian rebels and the media for political gain.
→ read full article
---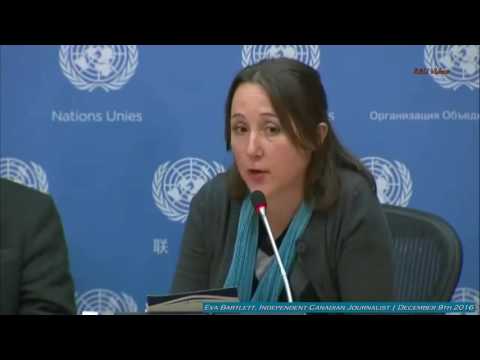 Western Media Lies about Syria
Eva Bartlett - TRANSCEND Media Service, 6 Mar 2017
Press Conference at the United Nations by Independent Canadian Journalist Eva Bartlett
→ read full article
---
Western Media Ignoring Reality on the Ground in Syria
Eva Bartlett – Russia Today, 14 Mar 2016
The interview was typical of the infrequent times corporate media has bothered to interview Dr. Shaaban: loaded lexicon, pre-priming the audience with false allegations about the Syrian government, repeatedly cutting-off the high-ranking guest, and a notably rude and condescending demeanor not afforded to guests who tow the NATO narrative on Syria.
→ read full article
---
The Real Syrian Moderates: Voices of Reason
Eva Bartlett – Russia Today, 16 Mar 2015
While the Western-led, anti-Assad bloc mind-blowingly speaks of arming non-existent "moderates" to fight in Syria, they also continue to demonize and silence the very voices that offer a true means of bringing peace and stability back to the region.
→ read full article
---
'We Grow, They Bulldoze, We Re-Plant'
Eva Bartlett – Inter Press Service-IPS, 18 Feb 2013
"The Israeli army destroyed my house and my five dunums of land (a dunum is 1,000 square metres), as well as 20 other homes," he says. With signs reading 'Boycott Israeli Agricultural Products' and 'Support Palestinian Farmers', Mandil and others protesting Israeli oppression of Palestinian farmers joined together Saturday [9 Feb 2013] to plant olive trees on Israeli-razed farmland and to implore international supporters to join the boycott of Israeli agricultural produce.
→ read full article
---
Undefeated, Freedom Flotillas Expand
Eva Bartlett – Inter Press Service-IPS, 6 Jun 2011
Flanked by flags of various nations whose citizens have sailed to the Gaza Strip to highlight the all-out siege on Gaza, the memorial's inscription bears the names of the Turkish solidarity activists who died one year ago by Israeli commandoes firing onto the Freedom Flotilla, killing nine, injuring over 50, and abducting over 600 civilians in international waters, Gaza's harbour bustles with people and energy. Undaunted by last year's massacre, international activists have organised the Freedom Flotilla 2, due to sail in one month's time with at least 10 boats and over 1,000 activists. Canadian and U.S. boats will join those of Europe, Turkey, and other nations.
→ read full article
---
(Castellano) Crecen los Huertos en las Azoteas de Gaza
Eva Bartlett – Periodismo Humano, 20 Dec 2010
El gris del cemento de los campos de refugiados de Gaza contrasta con el color de los huertos de verduras de las azoteas. "En los campamentos no hay espacio, ni árboles, ni parques públicos". La "zona de exclusión" impuesta por Israel en las fronteras ocupa un tercio de las tierras agrícolas de la franja.
→ read full article
---
The Roof Is Now the Field
Eva Bartlett – Inter Press Service-IPS, 6 Dec 2010
"We grow on our roof because we are farmers but have no land now," says Moatassan Hamad, 21, from Beit Hanoun in northern Gaza Strip.
→ read full article
---