Articles by Dave DeCamp
We found 2 results.
---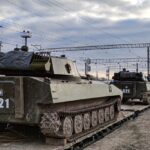 Russia Announces Withdrawal of Troops near Ukraine as Drills End
Dave DeCamp | Antiwar - TRANSCEND Media Service, 21 Feb 2022
15 Feb 2022 – Amid the hype around a potential Russian invasion, Moscow announced today that it is withdrawing troops from areas near Ukraine as military drills in the region conclude. The Russian Defense Ministry said the troops are returning to their permanent bases.
→ read full article
---
Blinken: US Policy Is to 'Oppose the Reconstruction of Syria'
Dave DeCamp | AntiWar – TRANSCEND Media Service, 1 Nov 2021
The US Has Ruled Out Normalizing with Syria
→ read full article
---