Articles by Al Jazeera
We found 797 results.
---
1967 War: How Israel Occupied the Whole of Palestine
Zena Tahhan – Al Jazeera, 19 Jun 2017
6 Jun 2017 – Fifty years ago this week, the state of Israel shocked the world when it seized the remaining Palestinian territories of the West Bank, East Jerusalem, Gaza Strip, as well as the Syrian Golan Heights, and the Egyptian Sinai Peninsula, in a matter of six days. Palestinians are marking 50 years since the 1967 occupation.
→ read full article
---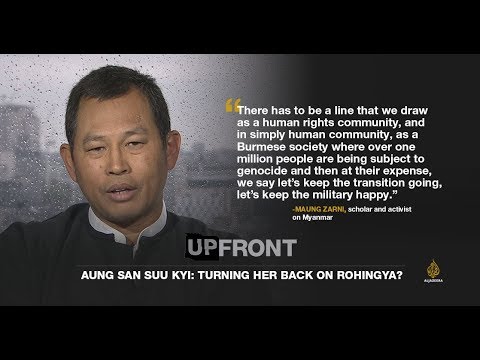 Aung San Suu Kyi [Nobel Peace Laureate, Buddhist]: Turning Her Back on Muslim Rohingya in Myanmar/Burma?
Mehdi Hassan | UpFront – Al Jazeera English, 12 Jun 2017
"We know that Aung San Suu Kyi does not control the armed forces," says [TRANSCEND Member] Maung Zarni, an exiled dissident from Myanmar. "[But] she controls four other ministries that are directly involved in dismissing, denying, and legitimising the persecution of the Rohingyas."
But former East Timorese President Jose Ramos-Horta disagrees, claiming Suu Kyi inherited an "extraordinarily difficult situation".
→ read full article
---
Israel's Occupation: 50 Years of Palestinian Oppression
Philip Luther | Amnesty International – Al Jazeera, 12 Jun 2017
After 50 years of Israeli war crimes on Palestinian land, the world has to act and ban Israeli settlement goods.
→ read full article
---
What is the Muslim Brotherhood?
Al Jazeera – TRANSCEND Media Service, 12 Jun 2017
The Muslim Brotherhood came up frequently during the GCC rift. Here is a breakdown of the group's ideology and roots.
→ read full article
---
The Elastic Girl: Living with Ehlers-Danlos Syndrome
Emily Jane O'Dell – Al Jazeera, 5 Jun 2017
5 Jun 2017 – I am elastic girl. I'm as stretchy as they come, but I'm coming undone. My joints keep dislocating. Tendons tearing, ligaments loosening. Even my voice box is leaping out of place. What's a girl with messed up glue to do? Emily Jane O'Dell has a rare connective tissue disorder that can cause dislocating joints, rupturing organs and death.
→ read full article
---
State Of Emergency in Yemen's Sanaa over Cholera Crisis
Al Jazeera – TRANSCEND Media Service, 22 May 2017
More than 184 Yemenis have been killed by a cholera epidemic that is gripping the Houthi-controlled Sanaa. "With the imminent collapse of the public health system, UNICEF is taking on as much of the burden as possible, procuring essential drugs and vaccines, and covering basic operations costs such as electricity and fuel."
→ read full article
---
What Next for Brazil's Decaying Kleptocracy?
Dawisson Belem Lopes – Al Jazeera, 22 May 2017
Temer's popularity hardly reaches two digits in reliable opinion polls. Social policies are being downsized. Foreign policy chiefs are failing to explore some new windows of opportunity, insisting on same old formulas. Brazil looks desperately in need of a new beginning, of a fresh start. Very unfortunately though, political options seem scarce, vicious and chronically unfeasible. Nobody can predict what move is coming up next, but only one thing is for sure: this story is to be continued.
→ read full article
---
Child Soldiers Reloaded: The Privatisation of War
Al Jazeera News – TRANSCEND Media Service, 15 May 2017
1 May 2017 – From opportunistic guns for hire on the fringe of domestic conflicts to a global force operating within a multibillion-dollar industry – the private military sector seems to be flourishing. How private companies recruit former child soldiers for military operations in Iraq, Afghanistan and elsewhere.
→ read full article
---
The Trouble with Nobel Peace Laureate Aung San Suu Kyi in Burma/Myanmar
Aela Callan – Al Jazeera, 15 May 2017
If Myanmar's leader and democracy icon Aung San Suu Kyi fails to act on the things that lie within her power, then she fails on her own terms.
"She runs her party like a dictator."
"She doesn't listen, or accept advice."
"She treats us as if we are school children and that we dare not question her as the elder."
→ read full article
---
Life in Slovakia's Roma Slums: Poverty and Segregation
Patrick Strickland – Al Jazeera, 15 May 2017
Institutional racism, unemployment and poor housing are among the hardships endured by Slovakia's half-a-million Roma.
→ read full article
---
Two Koreas: History at a Glance
Al Jazeera – TRANSCEND Media Service, 8 May 2017
A brief history of how North and South Korea got to where they are today.
→ read full article
---

Occupation of the American Mind – Video Documentary
Media Education Foundation | Al Jazeera – TRANSCEND Media Service, 8 May 2017
March 2017 – Occupation of American media and mind by a pro-Israel narrative that has diverted attention from conflict resolution: end the occupation and the settlements so that Palestinians can finally have a state of their own. Narrator: Roger Waters (Pink Floyd)
→ read full article
---
Killed for Their Bones: The Trade in Human Body Parts of Albinos in Africa
Al Jazeera – TRANSCEND Media Service, 8 May 2017
April 2017 – In Malawi, people with albinism are being killed and their bodies harvested; children and adults hacked to death with machetes and kitchen knives. More than 115 people have been attacked in the past two years, at least 20, fatally. Those who have survived have been left with deep physical and psychological scars, and remain fearful that those who hunt them will return.
→ read full article
---
The Hypocrisy of the Religious Slaughter Ban
Mimi Bekhechi – Al Jazeera, 8 May 2017
The idea of humane slaughter is a myth and a religious slaughter ban cannot end animal suffering. Going vegan can. The meat, egg and dairy industries are hell on earth for animals, and we already have the power to put an end to this misery simply by choosing to eat plant-based meals.
→ read full article
---
Resistance Is a Way of Life for Kashmiri Youth
Ather Zia – Al Jazeera, 8 May 2017
26 Apr 2017 – The year 2017 is not even halfway through, but in the Indian-controlled Kashmir it has already been named "the year of the student uprising". Why Kashmir's millennials have stones in their hands.
→ read full article
---
How Israel's Violent Birth Destroyed Palestine
Ramzy Baroud – Al Jazeera, 8 May 2017
As Israel celebrates the Palestinian Nakba as its triumphant independence on May 1, it is preparing for a massive celebration for the 50th anniversary of its occupation of East Jerusalem, the West Bank and Gaza. Two dates are often used to frame the so-called Palestinian-Israeli conflict: Nakba Day on May 15 and Naksa Day on June 5.
→ read full article
---
UN Peacekeepers: Keeping the Peace or Preventing It?
Nimmi Gowrinathan and Kate Cronin-Furman – Al Jazeera, 8 May 2017
The UN peacekeepers' capacity to commit rape with impunity undermines prospects for sustainable peace around the world.
→ read full article
---
When NGOs Save Children Who Don't Want to Be Saved
Neil Howard – Al Jazeera, 1 May 2017
Western media misrepresent voluntary child labour as slavery.
→ read full article
---
Double Standards: Do All Journalist Lives Matter?
Shafik Mandhai – Al Jazeera, 1 May 2017
Little attention is paid to reporters from the Global South who are killed, abused, or left stranded by foreign media.
→ read full article
---
The Earth versus Capitalism
Belen Fernandez – Al Jazeera, 24 Apr 2017
Unfortunately, as of Earth Day 2017, capitalism is winning the war it has been waging against the planet.
→ read full article
---
Infrastructure Vulnerabilities Make Surveillance Easy
Bruce Schneier – Al Jazeera, 17 Apr 2017
Weakness in digital communications systems allows security to be bypassed, leaving users at risk of being spied on. Corporations are doing it for their own purposes; collecting and using this data has become the dominant business model of the internet.
→ read full article
---
International Organization for Migration: African Migrants Traded in Libya's 'Slave Markets'
Al Jazeera – TRANSCEND Media Service, 17 Apr 2017
People are held for ransom, forced labour or sexual exploitation after being sold for up to $500, UN agency says.
→ read full article
---
Trump's Strike on Syria: A Convenient Distraction
Ibrahim Al-Marashi – Al Jazeera, 10 Apr 2017
It's not the first time a US president launches missile strikes that do not amount to much but boost ratings.
→ read full article
---
[Nobel Peace Laureate] Aung San Suu Kyi Has Lost Her Voice in Burma/Myanmar
Wayne Hay – Al Jazeera, 3 Apr 2017
Aung San Suu Kyi has lost her voice and if she doesn't find it soon, many people say they will lose faith in her leadership.
→ read full article
---
Why Washington Was a No Show at Human Rights Hearings
Lauren Carasik – Al Jazeera, 3 Apr 2017
27 Mar 2017 – The Trump administration's failure to appear at hearings at the Inter-American Commission on Human Rights on March 21 telegraphs its disregard for international institutions generally and human rights in particular.
→ read full article
---
What Did the UN Apartheid Report Expose in Reality?
Mark LeVine – Al Jazeera, 27 Mar 2017
As Israel moves towards confronting apartheid, the questions raised by the report will become impossible to avoid.
→ read full article
---
The Politics of Water Insecurity
Majed Akhter – Al Jazeera, 27 Mar 2017
This 22 March 2017, World Water Day, we focus attention on global issues of water access. The statistics are not comforting. The poorest ninth of us – about 800 million people – do not have reliable access to clean drinking water. To achieve universal water security, we need to let politics and culture drive water planning as much as economy does.
→ read full article
---
Israel's Human Rights Spies: Manipulating the Discourse
Neve Gordon and Nicola Perugini – Al Jazeera, 27 Mar 2017
22 Mar 2017 – A fascinating expose in Haaretz reveals how, in the mid-1970s – not long after the occupation of the West Bank, Gaza Strip, East Jerusalem, and Golan Heights – Israel used university faculty members to infiltrate Amnesty International. Revelations shocked many but human rights 'spies' are still out there.
→ read full article
---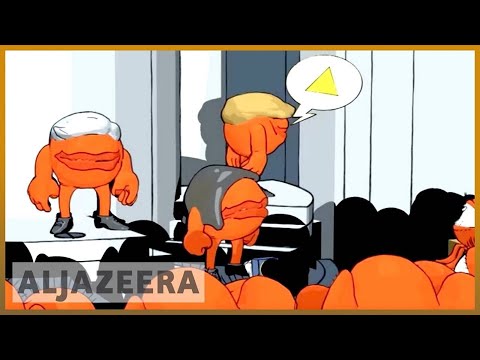 Noam Chomsky – The 5 Filters of the Mass Media Machine
Listening Post | Al Jazeera – TRANSCEND Media Service, 27 Mar 2017
According to American linguist and political activist, Noam Chomsky, media operate through 5 filters: ownership, advertising, the media elite, flak and the common enemy. Narrated by Amy Goodman, Executive Producer of Democracy Now! Mar 2, 2017
→ read full article
---
The Futility of Secrets in the Age of Technology
Andrew Mitrovica – Al Jazeera, 27 Mar 2017
The latest CIA leak proves that state actors no longer get to decide who can be privy to information stamped 'secret'.
→ read full article
---
UN Report: Israel Has Established an 'Apartheid Regime'
Ben White – Al Jazeera, 20 Mar 2017
15 Mar 2017 – A new UN report accuses Israel of having established "an apartheid regime that oppresses and dominates the Palestinian people as a whole". It urged governments to "support boycott, divestment and sanctions [BDS] activities and respond positively to calls for such initiatives". It was authored by Virginia Tilley, professor of political science at Southern Illinois University, and Richard Falk, former UN special rapporteur on the situation of human rights in the Palestinian territories, and professor emeritus of international law at Princeton University.
→ read full article
---
How to Tackle the Challenges Posed by Electronic Waste
Eric Williams – Al Jazeera, 20 Mar 2017
18 Mar 2017 – Electronic waste, or e-waste, refers to computers, mobile phones and other devices after users have thrown them away. We want to have a creative mind, a critical eye, and a helping hand if we are to find solutions.
→ read full article
---
Is Israel Imposing 'Apartheid' on Palestinians?
Al Jazeera | Inside Story – TRANSCEND Media Service, 20 Mar 2017
Mar 16, 2017 – The UN Economic and Social Commission for Western Asia has issued a report which condemned the Israeli government for its treatment of Palestinians. The authors call Israel an apartheid regime, saying it operates a system of divide and rule. But the office of the UN Secretary General has distanced itself from the report.
→ read full article
---
The Walled Off Hotel: The Struggle for Decolonization
Jamil Khader – Al Jazeera, 20 Mar 2017
13 Mar 2017 – The British street artist known as Banksy is no stranger to controversy and the recent debate over his new installation in the town of Bethlehem, the Walled Off Hotel, does not come as a surprise. It is a powerful anticolonial statement about the Zionist colonial project.
→ read full article
---
[Nobel Peace Laureate] Aung San Suu Kyi and the World of Buddhist Islamophobia
Maung Zarni – Al Jazeera, 13 Mar 2017
Myanmar's Muslim minority, demonised and persecuted for decades, is facing a fresh wave of violence amid media silence. "Suu Kyi's denial of what Human Rights Watch has called "ethnic cleansing" and "crimes against humanity" deserves international scrutiny," writes Maung Zarni.
→ read full article
---
The Dangers of the New Child Marriage Law in Bangladesh
Soumya Guha – Al Jazeera, 6 Mar 2017
This law has unimaginable impact and has the ability to change the future of millions of girls in our country.
→ read full article
---
The Brazilian Hangover: When the Party Ends
Ramon Blanco – Al Jazeera, 27 Feb 2017
Brazil is expected to have a significant role in international politics. However, the crisis that the country is currently going through structurally prevents it from fulfilling this expectation. Brazil is melting down, to put it softly. A euphemistic image is that the country is waking up after a huge party, with a terrible hangover, and now has to face a very hard reality.
→ read full article
---
Israel Wants Settlements, Not Peace
Rami Hamdallah – Al Jazeera, 20 Feb 2017
With each new settlement, the prospect of peace and the formation of a Palestinian state become even more unattainable. Israel is above international law, or so it seems. On Dec 23, the United Nations Security Council passed resolution 2334, re-affirming the illegality of Israeli settlements.
→ read full article
---
Regional Actors Should Take a Stand against Myanmar
Priyamvada Gopal – Al Jazeera, 20 Feb 2017
15 Feb 2017 – Even by the standards of a region that has seen more than its fair share of xenophobic violence, forced migrations and displacements, the grim plight of the Rohingya of Myanmar stands out as an abomination of the worst sort. India and other South Asian nations should be unambiguous in their condemnation of Myanmar.
→ read full article
---
How Factionalism Is Killing the Palestinian Struggle
Mariam Barghouti – Al Jazeera, 20 Feb 2017
19 Feb 2017 – In the first month of 2017, Gazans hit the streets to protest against the daily electricity cuts in the strip. Political leaders seized the opportunity to blame each other, turning it into a Hamas v Fatah debate. Factions have not only monopolised Palestinian politics but have also suffocated the youthful spirit of the struggle.
→ read full article
---
US and Israel Join Forces to Bury Palestinian Statehood
Daoud Kuttab – Al Jazeera, 20 Feb 2017
17 Feb 2017 – Thanks to the lovefest between Israeli Prime Minister Benjamin Netanyahu and US President Donald Trump, ignoring the Palestinian national leadership seems to be back on the front burner. They are trying to push a more blatant and legalised form of apartheid on the Palestinian people.
→ read full article
---
EU Should Invest in Development, Not Security in Africa
Nassim Majidi and Herve Nicolle – Al Jazeera, 13 Feb 2017
So what is the alternative? It must espouse a transnational approach and lead transformative interventions with a clear development agenda that replaces its current security agenda.
→ read full article
---
Plan Approved for 2,500 New Settler Homes in West Bank
Al Jazeera – TRANSCEND Media Service, 30 Jan 2017
24 Jan 2017 – Building plan for occupied West Bank came two days after more than 500 settlement homes were approved in East Jerusalem.
→ read full article
---
Iran after Rafsanjani
Massoumeh Torfeh – Al Jazeera, 16 Jan 2017
Rafsanjani's death has created power vacuum in Iran's political centre.
→ read full article
---
A Brief History of War and Drugs: From Vikings to Nazis
Barbara McCarthy – Al Jazeera, 2 Jan 2017
From World War II to Vietnam and Syria, drugs are often as much a part of conflict as bombs and bullets.
→ read full article
---
2016 and the Truth behind Fake News
Belen Fernandez – Al Jazeera, 2 Jan 2017
But as The Intercept's Glenn Greenwald recently pointed out, "The most important fact to realise about this new term" is that "those who most loudly denounce Fake News are typically those most aggressively disseminating it". Indeed, the ongoing hullabaloo in US mainstream media over the notion that the Russians hacked the election in Trump's favour via a sinister campaign of mass disinformation would itself appear to be a strong contender for the "fake news" category.
→ read full article
---
The UN Settlement Resolution Is Too Little and Too Late
Geoffrey Aronson – Al Jazeera, 26 Dec 2016
25 Dec 2016 – The United Nations Security Council vote decrying Israel's policy of settlement expansion is a welcome, but empty, gesture – all but irrelevant to the contest waged daily between Israel and Palestinians, but perfectly suited to the new fascination with entertainment as policy. Palestinians know that they have been offered only stale crumbs from the UN Security Council's table.
→ read full article
---
Mexico: Neither Pax Mafiosa, Nor Rule of Law
Edgardo Buscaglia – Al Jazeera, 26 Dec 2016
The post-authoritarian political system in Mexico has become a violent symbiosis of organised crime and politics.
→ read full article
---
Circle of Poison
Al Jazeera News – TRANSCEND Media Service, 5 Dec 2016
A look at the powerful pesticide industry, its effect on the developing world and how small farmers are fighting back.
→ read full article
---
Fidel Castro in Context
Belen Fernandez – Al Jazeera, 28 Nov 2016
26 Nov 2016 – As of the year 2006, Fidel Castro, Cuba's revolutionary leader, who has died aged 90, had reportedly been the subject of no fewer than 638 assassination plots by the CIA. The revolutionary's achievements in the face of US meddling made him a powerful symbol of resistance against hegemony.
→ read full article
---
The Fight for Brazil's Future
Rodrigo Nunes – Al Jazeera, 21 Nov 2016
The Brazilian youth is leading the resistance to legislation that would reverse social gains and protect wealthy elites. If one could speak of a coup in Brazil, it was not against Rousseff, but against Brazilian society.
→ read full article
---
Africa's Challenge to the ICC
Solomon Dersso – Al Jazeera, 14 Nov 2016
On November 16, the signatories to the Rome Statute of the International Criminal Court will come together and for the first time they'll have to face defections. In a matter of weeks three states withdrew from the ICC. The scrutiny of the three African withdrawals from the ICC should not be reduced to accusations of seeking impunity.
→ read full article
---
The Balfour Declaration 99 Years Ago Marked the Beginning of a Settler Colonial Project of Tragic Proportions
Ilan Pappe – Al Jazeera, 7 Nov 2016
2 Nov 2016 – November is a painful month dotted with commemorative days that have one theme in common: the partitioning of Palestine. Today is the 99th anniversary of the Balfour declaration. Although it did not offer partition, it sowed the seeds for it, which eventually allowed the Zionist movement to take over Palestine.
→ read full article
---
Palestinian Villages 'Get Two Hours of Water a Week'
Eloise Bollack – Al Jazeera News, 7 Nov 2016
Israeli control over water supplies in the occupied West Bank has left Palestinians desperate.
→ read full article
---
Why the Rich Can't Be Trusted with Money
Larry Beinhart – Al Jazeera, 31 Oct 2016
The members of the investor class are programmed to destroy. It is way too smart to stick under the mattress. Money is supposed to be out there making money, damn it!
→ read full article
---
Israel's War on Peaceful Activism
Khaled Diab – Al Jazeera, 10 Oct 2016
Despite increasing dangers Palestinian and Israeli activists continue their efforts to oppose the occupation peacefully. The Knesset recently passed the controversial 'NGO law' to single out left-wing and rights groups as treacherous agents of insidious foreign powers.
→ read full article
---
Christopher Columbus: The Myth That Keeps on Giving
Belen Fernandez – Al Jazeera, 10 Oct 2016
Why has a symbol of mass slaughter been unrepentantly idolised for more than half a millennium? On October 12, 1492, a geographically misguided voyager by the name of Christopher Columbus happened upon the so-called New World. Dismantling the myth of Columbus as hero would require some serious national introspection that would inevitably raise uncomfortable questions…
→ read full article
---
Why Colombians Opposed the Peace Deal with FARC
Hisham Aidi – Al Jazeera, 10 Oct 2016
The outcome of the referendum on the peace accord may be shocking but it is largely a result of domestic politics. Critics of the accord have argued that, by granting amnesty to FARC, the agreement secured peace at the expense of justice.
→ read full article
---
Gaza-Bound Flotilla Sails Off from Spain's Barcelona
Al Jazeera News – TRANSCEND Media Service, 19 Sep 2016
A new flotilla of international activists has left for the Gaza Strip from the Spanish city of Barcelona, hoping to break a nearly decade-long Israeli blockade. Two sailing boats with 11 women on board each sailed off on Wednesday [14 Sep] under the banner "The Women's Boat to Gaza".
→ read full article
---
Maung Zarni on the Kofi Annan Commission and Persecution of Rohingya in Myanmar/Burma
Al Jazeera – TRANSCEND Media Service, 12 Sep 2016
Sep 7, 2016 – Dr Maung Zarni comments on Kofi Annan Commission and Myanmar Genocide of Rohingya, Al Jazeera English News Hour.
→ read full article
---
Towards a New Economic System for the 21st Century
C J Polychroniou – Al Jazeera, 12 Sep 2016
A revolution in consciousness is mandatory in order for a great shift to occur in the way the global economy works and the future we want. The new economic system should be based on localised forms of industry, finance and participatory democracy.
→ read full article
---
Kashmir and Palestine: The Story of Two Occupations
Goldie Osuri – Al Jazeera, 29 Aug 2016
The growing pockets of solidarity expressed for Kashmiris are heartening, as is the solidarity for Palestinian struggle.
→ read full article
---
Dreaming Again for Equality in India
Devanuru Mahadeva – Al Jazeera, 15 Aug 2016
The Dalits need to be mindful of what to expect and wise to organise the community, and continue their struggle.
→ read full article
---
World Leaders Perpetuate Failed Anti-Terror Policies
Rami G Khouri – Al Jazeera, 1 Aug 2016
After decades of failed military action we still don't know what drives citizens to terror.
→ read full article
---
Going Green: Morocco Bans Use of Plastic Bags
Aida Alami – Al Jazeera, 11 Jul 2016
As a ban on the production and use of plastic bags comes into effect across Morocco on Friday [1 Jul], green campaigners say that the country's consumers may need years to fully comply with the new law. A landmark bill passed by the Moroccan parliament last October banned the production, import, sale and distribution of plastic bags across the country.
→ read full article
---
Why Are the Dutch Funding Settlers in Palestine?
Hanine Hassan – Al Jazeera, 4 Jul 2016
Dutch ministers don't seem to mind bending the laws to incorporate territory to Israel that does not belong to it. Dutch Jewish colonists receive income support on top of their pensions, and have their taxes, which Dutch citizens living in the Netherlands have to pay, covered by the SVB. As a result, you are better off financially if you are a Dutch Jewish settler on Palestinian stolen land.
→ read full article
---
Myanmar's Shame
Wayne Hay – Al Jazeera, 23 May 2016
Rohingya Muslims, in camps, wait for what democracy led by a Nobel Peace Prize winner will bring them. So far: Nothing.
→ read full article
---
Iraq, Sykes-Picot and Mr Five Percent
Ibrahim Al-Marashi – Al Jazeera, 16 May 2016
16 May 2016 – May 16 marks the 100-year anniversary of the Sykes-Picot Treaty, a secret agreement between Britain and France during World War I to carve up the domains of the Ottoman Empire upon its defeat. Mr Five Percent, the nickname of the oil broker Calouste Gulbenkian, certainly deserves attention a century later. Gulbenkian served as a midwife of sorts to not only Iraq, but also to the birth of the world's major oil corporations.
→ read full article
---
Rebuilding the EU or Breaking Free from It?
C J Polychroniou – Al Jazeera, 2 May 2016
The powers that be continue to defend ferociously a Frankenstein-like creation, a playground for financial vultures.
→ read full article
---
Amy Goodman: How the Media Ruins Elections
Al Jazeera - TRANSCEND Media Service, 2 May 2016
Amy Goodman, of Democracy NOW!, tells us about Trump-land and how the media is ruining this election.
→ read full article
---
Refugee Crisis: When Is a Tragedy a Massacre?
Richard Seymour – Al Jazeera, 2 May 2016
The EU is simply determined not to be a destination for refugees. With illegal pushbacks, brutal detainment, and harassment at sea, the options for refugees are increasingly severe.
→ read full article
---
Palestine Land Day: Here We Shall Stay
Lamis Andoni – Al Jazeera, 4 Apr 2016
The Judaisation strategy did not only aim at confiscating lands, but also to undermine the rise of Palestinian leaders.
→ read full article
---
The Dark Prisoners: Inside the CIA's Torture Programme
Al Jazeera – TRANSCEND Media Service, 4 Apr 2016
Despite US admissions that it tortured people after 9/11, little has been heard from the victims themselves.
"There is a proverb that a human being is stronger than a stone and more tender than a flower."
— Habib Rahman, brother of Gul Rahman (Prisoner #24) who died in CIA custody.
→ read full article
---
Japan Enacts Laws Allowing Combat Missions Abroad
Al Jazeera – TRANSCEND Media Service, 4 Apr 2016
Critics say military engagement in conflicts for reasons other than self-defence is breach of pacifist constitution. The legislation, which took effect on Tuesday [29 Mar] after being passed last year despite nationwide protests, have been backed by Prime Minister Shinzo Abe and Defence Minister Gen Nakatani, who said it was needed to improve international co-operation of armed forces.
→ read full article
---
Brexit and the Failure of the European Union Project
Andrea Mammone – Al Jazeera, 7 Mar 2016
Granting special powers back to member states essentially mean legitimising local nationalisms.
→ read full article
---
Kurds: Pawns and Kings in Syria and Iraq?
Sharif Nashashibi – Al Jazeera, 7 Mar 2016
The Kurdish issue is causing tensions within the US-led anti-ISIL coalition.
→ read full article
---
ISIL and the Poor Man's Nuke
Luke Coffey – Al Jazeera, 7 Mar 2016
It's only a matter of time before ISIL employs a dirty bomb either on the streets of the West or in the towns of Syria. It is no surprise that a terror group such as ISIL, which has declared its intent to acquire weapons of mass destruction, would be eager to get its hands on enough radioactive material for a dirty bomb.
→ read full article
---
In Israel, Racism Is the Law
Ben White – Al Jazeera, 7 Mar 2016
Successive Israeli governments since 1948 are responsible for the institutionalised discrimination against Palestinians. The Palestinians in the West Bank and Gaza Strip, under military rule within this de facto single state, are subjected to severe policies of discrimination and segregation, as well as military brutality and repression.
→ read full article
---
Hooray for Cultural Marxism
Malcolm Harris – Al Jazeera America, 22 Feb 2016
You don't need a bedside picture of Lenin to believe in what sociologists call conflict theory, or the idea that society is composed of struggling classes. Class analysis is popular because it's true.
→ read full article
---
BDS Tactics Are Not Anti-Semitic
Alastair Sloan – Al Jazeera, 22 Feb 2016
Criminalising political dissent is only going to reinforce perceptions of Jewish conspiracy theories – so why do it? BDS should stick to lobbying publicly accountable bodies, but it is this entirely legitimate activity which Prime Minister David Cameron is now planning to criminalise.
→ read full article
---
New Hope for India's Gay-Rights Movement
Chandrahas Choudhury – Al Jazeera, 15 Feb 2016
Two decades of spirited debate has had its effect across the board. Indian thinking on gay rights may still lean towards the conventional, but it is no longer static, and when it becomes overly shrill or self-righteous it is widely mocked. Support for gay rights is no longer a niche demand restricted to those with a personal interest in the matter.
→ read full article
---
Blame Capitalism for Doping in Sports
Bhaskar Sunkara – Al Jazeera America, 11 Jan 2016
Players who take performance-enhancing drugs are only responding to the incentives of the free market. When it comes to corruption in sports, don't hate the players—scapegoats for capitalism; hate the game.
→ read full article
---
What's Left of the Latin American Left?
Hisham Aidi – Al Jazeera, 21 Dec 2015
As happens in democracies, Latin American voters are punishing parties of the left for economic mismanagement. That leftist and rightist parties are no longer immune to electoral punishment is a sign of the stability of Latin American democracy.
→ read full article
---
Tehran's Damascene Moment?
James Denselow – Al Jazeera, 14 Dec 2015
14 Dec 2015 – The wider regional conflict between Riyadh and Tehran has influenced much of the machinations of the Middle East over the past decade. The fact that the two countries are sitting at the same table discussing Syria rather than negotiating through violence on the ground is a significant – and under-reported – success of the Vienna process to date.
→ read full article
---
Finally, the EU Stages an Israel Intervention
Rachel Shabi – Al Jazeera, 14 Dec 2015
The EU decision to identify and label Israeli products from occupied territories is a brave move to penalise occupation.
→ read full article
---
ISIL Sells Its Oil, but Who Is Buying It?
Carole Nakhle – Al Jazeera, 7 Dec 2015
The group hasn't only recruited suicide bombers, it has also drawn technicians and engineers to manage the oil fields. The grim reality is that black markets have a highly organised and extensive web of shadow partners and clients, who are attracted by the dollar sign, irrespective of their nationalities, religious beliefs or principles.
→ read full article
---
The Dark Alliance of Global Philanthropy and Capitalism
William G Moseley – Al Jazeera, 7 Dec 2015
It's a problem if endowment investments generate the very poverty foundations are trying to alleviate.
→ read full article
---
Myanmar's Punk Rockers Challenge Anti-Muslim Rhetoric
Hanna Hindstrom – Al Jazeera, 9 Nov 2015
Ahead of crucial election, musicians rail against government-sanctioned repression of persecuted Rohingya minority. Some musicians in Myanmar are risking their lives and freedom to sing out against injustice.
→ read full article
---
Breaking Down Genocide in Myanmar
Al Jazeera – TRANSCEND Media Service, 2 Nov 2015
For eight months, a Yale University Law clinic assessed evidence obtained by Al Jazeera and Fortify Rights.
→ read full article
---
USA: Historic Election Could Return Sovereignty to Native Hawaiians
Brittany Lyte – Al Jazeera America, 2 Nov 2015
30 Oct 2015 — In 1893, Queen Liliuokalani, the last monarch of Hawaii, yielded power to a group of businessmen backed by Marines in order to avoid the bloodshed of her people. She did so believing that the U.S. government, when presented with the facts, would eventually restore the Hawaiian kingdom. Instead, the coup led to the dissolution of Hawaiian sovereignty and the tropical archipelago's eventual admission to statehood.
→ read full article
---
The Tide Is Turning against Zionist Extremism
Mark LeVine – Al Jazeera, 26 Oct 2015
The inherent contradiction of Israel as both a modern democratic state and brutal occupier is becoming clear to all. Anti-BDS initiatives are doomed to fail, particularly when they attempt to bully universities and even Jewish students into muting criticism.
→ read full article
---
See Jerusalem through Palestinian Eyes
Yousef Munayyer – Al Jazeera, 26 Oct 2015
Israel should take concrete steps to reverse its Judaization efforts in occupied East Jerusalem. For Palestinians, Israel's actions – past and present – leave an impression that the walls are closing in on them and what little is left of their sacred city, including the holy sites.
→ read full article
---
Criminal Prosecutions Won't Change the Financial Industry
Chase Madar – Al Jazeera, 19 Oct 2015
Indictments will catch some small fish, but reforming Wall Street requires much, much more. Criminalization is a toxic heavy gas that tends to sink to the bottom of any social ladder, leaving those at the upper rungs untouched.
→ read full article
---
The World Needs Investigative Journalism
David Cay Johnston – Al Jazeera, 19 Oct 2015
The risks reporters take are great, but the rewards for the public are worth it The freedom of the press we take for granted in the United States, Canada, Western Europe and some other countries is but a dream for journalists in much of the world.
→ read full article
---
The Ongoing Epidemic of Corporate Crime
Dean Baker – Al Jazeera, 5 Oct 2015
Volkswagen is just the latest scandal from an epic decade of white-collar criminality. Reforming the SEC will not by itself be sufficient to reverse the corporate crime epidemic, but it would be a big step in the right direction.
→ read full article
---
Murdoch Purchases Nat Geo for Infotainment Synergy
Chris Lehmann – Al Jazeera America, 21 Sep 2015
Like The Wall Street Journal, National Geographic will lumber on; this deal is all about the boob tube. There's no need to traffic in outright propaganda, after all, when you've already downgraded scientific values into infotainment ones.
→ read full article
---
It's Time for Israel to Disarm
Alex Kane – Al Jazeera America, 14 Sep 2015
A Nuke-Free Israel Will Create a More Stable Middle East – The American policy of shielding Israel's nuclear weapons continues to be the main obstacle to nuclear disarmament in the region.
→ read full article
---
The West's Hidden Tribalism
Khaled Diab – Al Jazeera, 14 Sep 2015
Tribalism and sectarianism afflict Western societies too. So why do they seem to be tearing the Middle East apart? There isn't a country in Europe whose borders are not artificial, whose past frontiers do not overlap with those of its neighbours and whose population is not a messy mix of peoples.
→ read full article
---
El Salvador's Gangs Have Something to Say
Magally Zelaya – Al Jazeera, 7 Sep 2015
1 Sep 2015 – The time has come for El Salvador's government to do something it has never done before: openly engage in dialogue with the gangs that are tormenting the country. Talking to the gangs may not be the politically popular thing to do, but it will take the steam out of this two-decades-long conflict.
→ read full article
---
India Village Council Orders Rape of Two Sisters
Al Jazeera – TRANSCEND Media Service, 31 Aug 2015
30 Aug 2015 – Council orders sisters to be raped and paraded naked after their brother elopes with married woman.
→ read full article
---